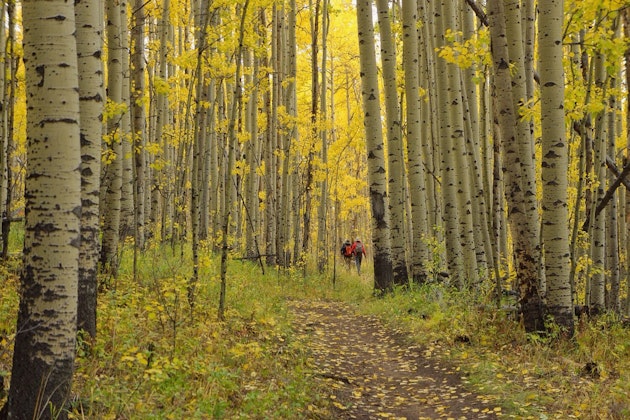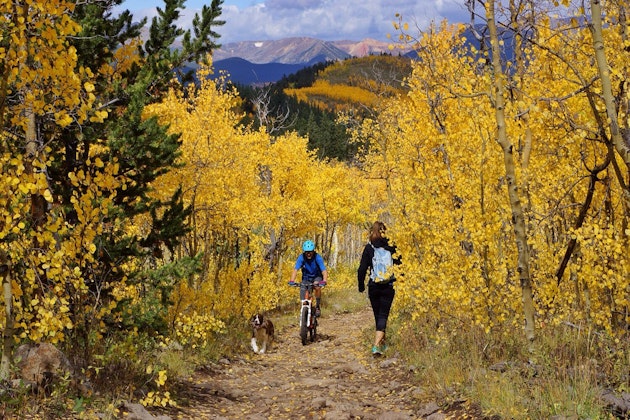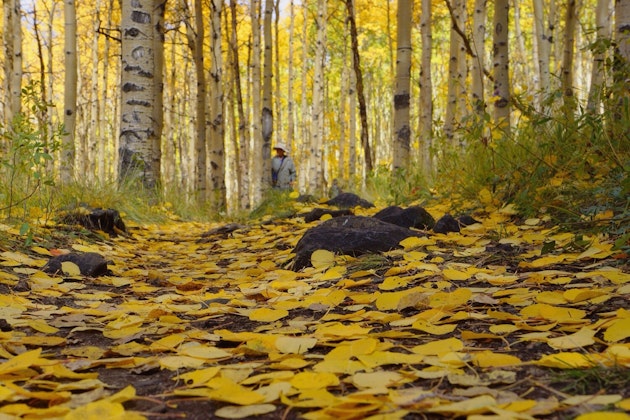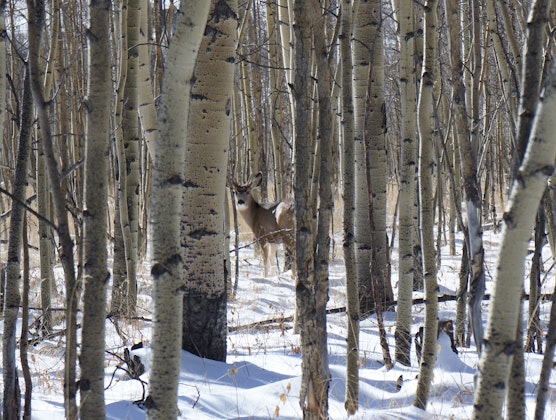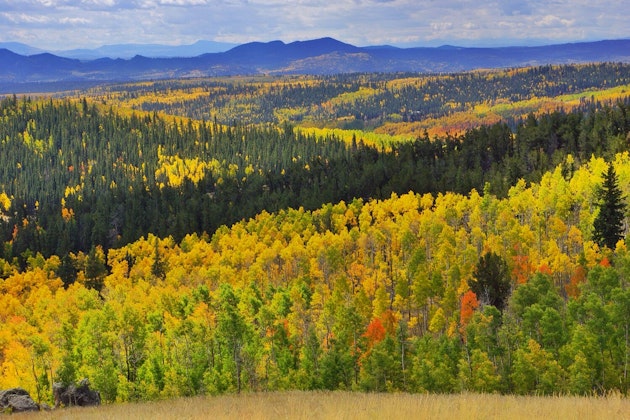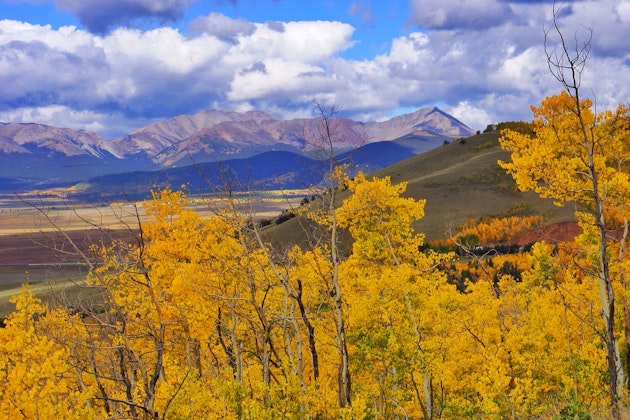 Added by Amy Kesic
Kenosha Pass is an easy hike that can accommodate all levels of hikers. This trail offers stunning fall foliage, spectacular long-range views, and a chance to experience part of the famed Colorado Trail.
The Colorado Trail (http://www.coloradotrail.org) is 500 miles long and stretches from Denver to Durango. Perhaps the most-traveled portion of the Colorado Trail is at Kenosha Pass. Kenosha Pass is well-known for its thick, colorful stands of aspen in the fall. During peak leaf season (late September-early October), the trailhead at Kenosha pass is packed with leaf-peepers. The vast majority of these people park their cars, jump out to take a few pictures, and drive off again. All the better for hikers and mountain bikers! The best views—and photographs—are along the hiking trail.

Because the trail is unending, you can hike as little or as much as you want. The trail continues on both sides of Hwy 285, but this article is about the segment east of the highway. About 3 miles out is about as far as a typical day-hiker goes; at that point, the views open up to a spectacular 270-degree view of the aspen-covered mountains. This segment is a fast-moving trail because it's so easy. Over three miles you get about 400 feet elevation gain. And since the surface is not very technical, it's easy on the feet as well. Because it begins at about 10,000 feet, altitude could be an issue for some.

If you've only ever driven through Kenosha Pass, I recommend that you park your car and stay awhile. If you drive down the dirt road on the east side of the highway, you'll come to another parking lot with bathrooms. Three roads branch off for camping and hunting access; you'll also see the singletrack that is Colorado Trail. Immediately you're immersed in a thick stand of tall aspen trees. This is a great place for taking pictures, but don't stop here. If you continue on, you will pass through several stunning stands of golden leaves. Between these stands, you'll catch glimpses of Mount Evans and many other mountains to the north. The photos tell you what words can't.

This trail is also a great snowshoe/xc ski route in the winter. The white on white of aspen bark on snow is magical in its own way. With the leaves gone you can see for miles, and the evergreens are emphasized.

UPDATE:

I recently hiked the portion of the Colorado Trail west of Hwy. 285. I went about 4 miles out and back, for a total of 8 miles. Sadly, I was too late to see the fall foliage this year, and judging by all the bare stands of aspens, I really missed out! This is definitely on my "must go back" list for next fall.

After a gentle climb for about a mile through aspen and pine forest, the views begin to open up. By the second mile, the views over South Park are wide open, and … wow. The valley floor is ringed by millions of aspen trees, and those trees are against a backdrop of 13ers. The effect is just jaw-dropping. I cannot wait to go back and photograph this!

The trail gently drops to the valley floor and weaves through an aspen-forested section of South Park. You'll cross a creek and a couple of dirt roads at about the three-mile mark, and the fourth mile is relatively flat. Once you hit mile four, you'll start to climb again as the trail aims towards Jefferson Hill and the mountains behind it. If you're out for a day hike, this is a good place to turn around. Because this section of the trail is so easy, you can go a little further than you normally would—and with such endless beauty around you, why not?

This four-mile section of the trail has a minimum altitude of 9846, maximum altitude of 10,452 (trailhead is at 10,040'), with a total ascent of about 1200 feet. Most of the altitude gain is on the return trip.
Pack List
Water
Trail snacks
Sun protection (hat, sunglasses, sunscreen, lip balm)
Hiking poles (optional)
Trail shoes or hiking boots
Camera

Still lots of peeping to be had
I was here on 9/25/16 and while much of the forest, trail, and vistas were peaking bright yellow, there was also a good amount of green left. So expect to see another few weeks of amazing views here this year! Stick to the Colorado Trail, go out as far as you'd like in either direction. Enjoy!!

Amazing Views, but start in a different spot
I love this hike and have done it twice now in two years, both in peak season. Peepers tend to stay on the top part of the pass, I personally like going to the Jefferson Lake area and starting from there. You have to pay to get in (~$7), but it is a lot less crowded on weekends. There is camping available although the spots have always been full when I was there. I have always gone late Late September or Early October and have never been disappointed that is for sure.
Great Views in Autumn (and year round)
The views from Kenosha are amazing, especially when you're looking out over South Park. In the fall the parking lots and trails can get pretty busy, but if you get out early you can still find some solitude.

Too Late for Foliage Viewing?
Hey Guys, I'm trying to gain a sense of when the update was posted (stating that she missed out on the foliage viewing). Do you think it'd be too late to see the aspens if I did this hike tomorrow? (Oct. 9th). Thanks!
Great way to spend an afternoon outdoors
I absolutely love Kenosha Pass and the Colorado Trail through there. It's easy to get to and there is plenty to explore. As your photos show, it's also a top-knotch place to see the Aspen in the fall, and I've been snowshoeing there as well! Kenosha rocks, thanks for posting this to share with other outsiders!

Gorgeous and Easy
We just came back and hit the trail (9/26). The leaves were bright with yellows and oranges. It felt a little late as most of the leaves were on the ground but it was still beautiful. We actually did both West and East. East at the time I went, was more full and beautiful, but was more packed and hard to get any type of seclusion. The west side was more secluded, you would occasional bump into a few mountain bikers coming down the trail. It was actually nice to watch them. You eventually went to an amazing overlook that you could see a view of mountains and fields for miles. Worth it. If there was anything even bad to say about this hike is that it is a popular hike and if you like to hike alone or be one with nature, this trail will be better to do on a weekday or very very early in the morning. Regardless, its a must if you are in this area during this time of year.

Fun and easy hike for anyone!
Great Hike & close to Denver! Only took a little over an hr to get to, and I drove up later in the afternoon so the crowds weren't as bad and fewer people on the trails. Easy elevation gain & my pup had no trouble keeping up!

Happy First Day of Fall!
Great suggestion for a fall colors spot! Hiked the end of September and aspens are showing off their gold! Hike was pretty easy, a nice Saturday. Hoping to get some backpacking in this area in the future. On the way home (to Denver) took a left at Grant to connect with Guanella Pass/Georgetown for a loop of a drive.

i plan to do this adventure, if i want to hike then see the sunset then camp and the following morning see the sunrise.... what area do you recommend? (not campgrounds, just primitive camping) Thank you! This sounds awesome! And that way i could do the East and the West sections!

Before October 4 for colors!
Added by Amy Kesic
A mom who decided to get fit a few years ago, I took up running and hiking to keep myself moving. Since moving to the Front Range foothills a year ago, I've spent my free time discovering all the trails I possibly can. I'm in love with Colorado and the Rocky Mountains; I also like to take pictures, and I share my adventures here on The Outbound and on Instagram at @run2themountains.
Follow
Activities:
Photography, Mountain Biking, Running, Hiking
Features:
Bathrooms
Dog Friendly
Easy Parking
Family Friendly
Forest
Groups
Scenic
Wildlife
Are we missing something?
Suggest an edit
More Adventures Nearby
Mountain Bike the Notch Trail
Colorado / Notch Trailhead
The trail is shared by mountain bikers and ATV users. The Notch Trail is located in the San Juan National Forest.  Photos: William Snow, Davey Nin, and Kent Kanouse
Hike the Hidden Valley Loop
Colorado / Hidden Valley Loop Trails
The trail is shared by mountain bikers, hikers, and trail runners. The Hidden Valley Loop offers amazing views of the Animas Valley, especially when the foliage changes in the fall.