Road Trip to Mars: Moab, Utah
No Aliens or UFO's, just some dudes and some dope-a** rocks.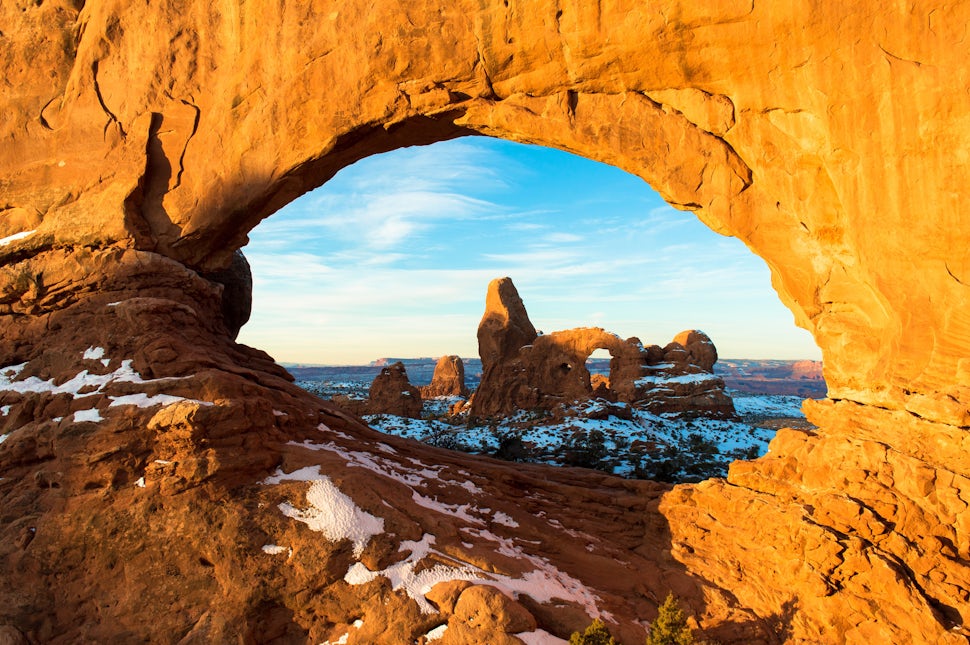 Living in the Pacific Northwest is a luxury in many ways. Ironically, most people don't think of the PNW as a leisurely place to live. But for an outdoors enthusiast such as myself, the most luxurious quality of the PNW is living within driving distance to dozens of the most beautiful places, not only in the country, but on the planet.
Back in January, me and three friends decided to kick off 2016 with a road trip to an entirely different planet (or at least as close as we could get to another planet within driving distance).
That place, you ask? Moab, Utah.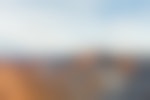 For those who are unaware, Moab is commonly referred to as the "Mars of Earth," due to its plethora of abnormal jaw-dropping rock formations, which are most prevalent in Arches and Canyonlands National Park(s). In fact, the entire state of Utah and much of Northern Arizona are known for their Mars-esque qualities, including Monument Valley, Bryce Canyon, The Wave, and plenty more extraordinary locations. So, with a few months savings and a week off from school, me and three friends took a week-long road trip to Mars.
First of all, I insist that you owe it to yourself to embark on a road trip with a few of your closest friends before you die. Undeniably, there are certain things that you will learn about people that, perhaps, you may not ever learn without being consolidated in a vehicle with them for dozens of consecutive hours. These things range from discovering who is comfortable with silence to who the natural initiator of conversation is. You will also discover how willing someone is to sacrifice their own state of comfort for the sake of another's. Additionally, you'll become aware of how long or short someone's sanity fuse extends. Because if we're being honest, you're much more prone to completely lose your shit when you're stuck in a car with the same people for an entire week. But the most important reality about road trips is that you're given the privilege to witness and experience others as their raw and authentic selves. Ultimately, it's quite a beautiful thing.

From our starting point in Spokane, Washington, our first stop on the itinerary was Arches National Park. We spent a couple of days exploring the park and ended up staying at an Airbnb in Moab for the couple of nights we were in the area. Which brings me to my first tip: if you ever take a road trip down to Moab, book an Airbnb with Sam Sturman (who my friends and I refer to as "Moab Sam"). He is such a kind and generous host with a gorgeous home, and he'll provide you with plenty of history and insight on places to explore in the area.

One hike that Moab Sam suggested to us was the short, yet very scenic trek to Corona Arch. The trailhead to Corona Arch is actually about 15 miles outside of Arches National Park itself, and it's well worth the time and effort. During our hike, we were blessed to have absolutely beautiful weather, especially considering that it was the last week of January. The sun shined on us the entire way, and the temperature was warm enough that a couple of us decided to hike the mile back to the parking lot without shirts. It was glorious, if I do say so myself.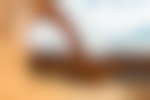 Corona Arch in mid-afternoon
The rest of our time in Arches was just as spectacular. We spent one morning catching sunrise at the North Window Arch and exploring and climbing the rock formations surrounding Turret Arch. The most unique thing about visiting this part of the country in January is that you increase your chances of seeing it covered in snow. Mind you, Arches National Park already looks like a different planet as it is. But with the addition of scattered patches of snow glazed over the park, you're in for an even more delightful treat.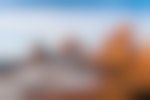 Snow-glazed rock formations surrounding Turret Arch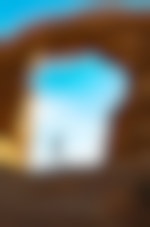 Exploring Turret Arch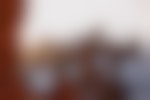 Sunrise behind North Window Arch
Another afternoon we spent hiking to landscape arch; an arch that is honestly very difficult to do justice for in photographs. Most photos of this arch simply don't adequately capture its massive scale--not just in width, but also in height.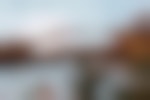 Landscape Arch
After our time in Arches National Park, we drove over to Canyonlands National Park (which is just over a half hour from Arches) for the remainder of the afternoon and evening. Upon entering the park, the visitor's center sits right at the iconic viewpoint of the 'Island in the Sky.' Luckily, the viewpoint was absolutely deserted, leaving the entire view to ourselves in complete peace and silence. The moment was surreal. For the first 10-15 minutes we were there, the four of us literally never said a word or even took a picture. We just sat and admired what was before us. The odds of getting a view like this to yourself are literally once in a lifetime--if that. When opportunities like that arise, you owe it to yourself to respect and cherish them for the rare blessings that they are.
Eventually, we broke the serenity and began taking pictures, because, well... you'd be a fool not to, especially as a photographer.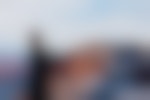 A jaw-dropping moment at Island in the Sky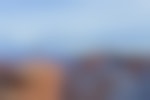 I shouted in disbelief and joy after capturing this shot. Oops.
After checking out Green River Lookout and Mesa Arch just before sunset, we began our drive down to Monument Valley, which was completely veiled by fog when we woke up in our hotel the next morning. Our plan was to spend the entire day exploring the valley, but without any visibility we thought that we might be leaving for Page, Arizona sooner than originally expected.
Thankfully the fog cleared up enough by lunch time that we could see a good portion of the valley, but the tops of the monuments remained caressed by a thick layer of fog as we drove the loop on the valley floor.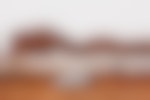 Judy, our faithful transportation to Mars on Earth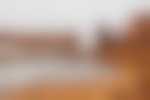 Needles off on the distant valley floor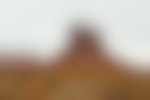 Clouded Monument
That evening, we arrived in Page, Arizona; the last planned stop on our itinerary. The following morning we spent taking a very rushed, yet magical tour through Antelope Canyon, which was the sight I had been the most eager to see. And it did not disappoint. The slot canyon is known for its famous photographs of sunbeams hitting the canyon floor during late morning and early afternoons. Even though we visited the canyon on a cloudy and snowy day, the canyon was still nothing short of enchanting. However, I would definitely recommend reserving a private photography tour in order to increase your chances of solitude in the canyon. The traditional tours are fairly large, even in the heart of winter, and it can get tiresome having to deal with the dozens of other tourists trying to get their cheesy iPhone portrait.
Of course, after our tour of Antelope Canyon, we made a quick stop over at Horseshoe Bend, because, well... duh.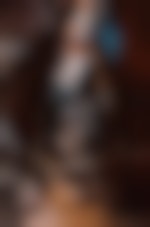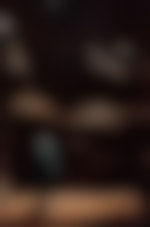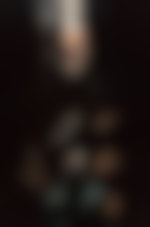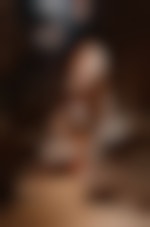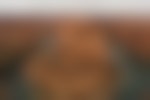 From Page, AZ, we had a long drive back to Salt Lake City, where we would be staying with some friends for the night before driving ten hours back to Spokane the next morning. A little over an hour into our drive, we came through a little town called Kanab. We drove up to a stop sign where we discovered a traffic sign revealing that we were only 30 miles from Zion National Park. Going to Zion meant that we wouldn't arrive in Salt Lake until midnight at the earliest, but even after being fatigued from the previous five days of driving and exploring, we knew that Zion wasn't an opportunity that we could allow to slip through our fingers.
If you haven't been to Zion, simply driving the road from one end of the park to the other is overwhelmingly beautiful. There's something about Zion that sets it apart from all other national parks. Not to diminish the beauty of other national parks, but for some reason Zion feels more... divine, in an indescribable way. But then again, that's just my perspective.
We only had a couple hours of daylight while we were in the park, so we spent some time walking the paved section of trail that leads to The Narrows, but with the sun playing 'peek-a-boo' all afternoon, we knew that there was a good chance of catching a sunset. And we did. And it was freaking glorious.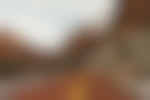 Zion got them red roads, yo.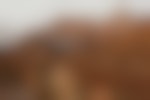 Definitely one of my top three favorite pictures I've ever taken.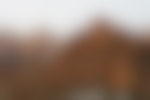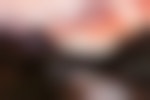 Sunset over The Watchman.
All in all though, it wasn't our spontaneous adventure to Zion that made our trip to Mars worthwhile. In fact, none of the pictures or stories that I've shared from this trip can accurately depict the raw essence of it. During this road trip, the four of us witnessed some absolutely amazing things, but not all of the beauty we saw was compacted within a single landscape or destination. In fact, a large portion of the beauty we encountered was contained within the laughs we shared, the stories we told, or the meals we ate together. But as is true of every story, we also encountered moments of frustration, conflict, and exhaustion. But these are all the key components to a story worth telling.
So, I would like to finish my story in the same way as I began it; by encouraging you to embark on a road trip with some close friends for a few days--or even weeks! Go out and create your own stories. Experience your own triumphs and frustrations. Go collect your own moments to cherish. No one can witness and experience a place for you. You must experience and see the world for yourself.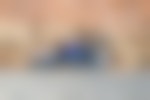 The crew (from left to right): Cory Crawford, Chris MacMurray, Jacob Millay, John Marshall
For more insight on our trip to Mars, check out a fantastic video made by my best friend, John Marshall:
We want to acknowledge and thank the past, present, and future generations of all Native Nations and Indigenous Peoples whose ancestral lands we travel, explore, and play on. Always practice Leave No Trace ethics on your adventures and follow local regulations. Please explore responsibly!
Do you love the outdoors?
Yep, us too. That's why we send you the best local adventures, stories, and expert advice, right to your inbox.