10 Days Across the Plains of Arizona and Utah (in a van!)
#vanlife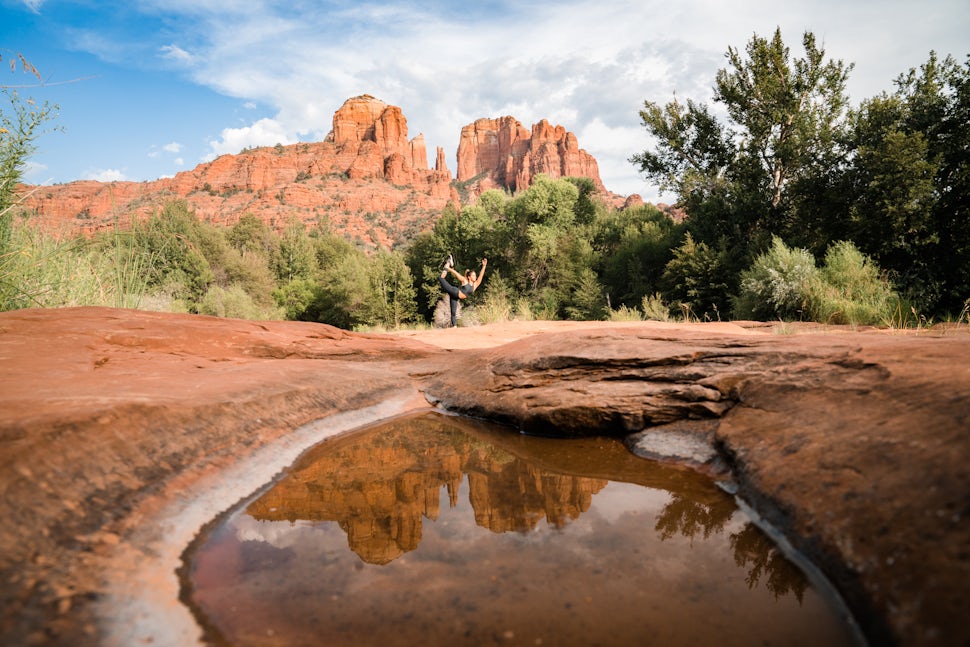 As summer comes to its close, we scrambled for one more adventure. What better way to end the season than a 10-day road trip in the van. After flipping through photos and listening to stories, we decided to drive to Sedona, Bryce Canyon National Park, Zion National Park, and the Grand Canyon.
This would be the first long road trip in the van, something I've always wanted to do. I built it with hopes that it would become a "tool" that would allow me to tell stories about traveling to different places.
There was one thing I wanted to do on this trip: create.
My friends at prAna they gave us some gear to rip around Arizona and Utah with. It's been a goal of mine this past year to create the space for an opportunity to work with prAna. So, when they asked to partner up for their #EndofSummer campaign, I was stoked for this assignment.
prAna is a company that I full-heartedly stand behind. Their focus on fair trade, sustainability, and the use of organic cotton is powerful. Culture is big for me, and that's why I've always been drawn to prAna.
The Wheels Began to Roll…
The van had been in somewhat of hibernation these past few months. Yosemite was the last trip I went on which was about 5 months ago. Yosemite was amazing, but it wasn't enough. I wanted more. More miles, more camping, more locations, more creativity, more of everything.
It's safe to say the tires were in need of some miles and dirt.
In the midst of the monsoon season, we charged. I actually didn't do research on this; I didn't even know monsoon season was a thing. We had no idea what we were in store for.
But this didn't stop us. It was just the beginning of our adventure.
With high hopes of maybe some changes in the weather, we slapped on our optimism and drove into Sedona.
Red Rocks and Thunder
Within hours of arriving in Sedona, blue skies shifted to moody clouds in a matter of minutes. Our bodies were rattled from the unfamiliar thunder above. It was powerful and made you feel vulnerable.
This was my first time in Sedona, so the weather and the scenery was very unfamiliar. I was in awe of what surrounded us. The rock formations looked as if they could be found on another planet.
Don't get me wrong, this place is something worth seeing. However, to me, Sedona was more of a spot to quickly visit rather than a place to camp. The city was packed with tourists and the nearest campground was where we stayed 15 miles north.
We packed our stuff in the van after 3 days and headed for Bryce Canyon.
Rain Pushed Us Out of The Queens Garden
Driving through the night from Sedona, we didn't make it to Bryce Canyon until well past sunset. Our fingers were crossed for a campsite as we didn't make any reservations. We were surprised and stoked to roll up to several open sites.
In the morning, we were greeted by clear skies and a sea of orange rocks. The colors were so vibrant it looked like a movie. With yet another storm headed our way by the afternoon, we threw our hiking boots on and headed to the Navajo Loop Trail. Down the Navajo Loop and around the Queens Garden, we were happy to be in Bryce Canyon.
Raindrops began to fall as we hiked up from the base of the canyon. With our prior experience in Sedona, we trusted our guts and made our way back to the van. Within minutes the storm had engulfed the canyon leaving us torn between sticking it out or calling our time here short.
We decided to stay the night since we could use the van as shelter. The thunder didn't stop and the storm only got worse. I knew it was a sign to leave.
We gathered our wet belongings, flipped on the wipers, and drove away from the Queens Garden.
Natural Beauty in Zion
It's easy to let poor weather conditions shape a trip. It kills your energy and motivation to see what you originally set out for in nature. You've been there, whether at your house or camping when it rains you don't want to do anything.
Some think that storms take away the beauty of the outdoors. You know like the gloomy skies, cold air, and wet floors that ruin your day. But that's just looking at the negatives. I think just the opposite.
There's a whole other side of a storm, which is what happens after. It's the reaction of nature. It's what makes these types of weather conditions beautiful.
While in Zion, we had our first glance at this. As we were startled by thunder while on top of the overlook trail, we hustled down the mountain. The skies were still somewhat sunny, but something in my gut told me we should go. Within minutes of getting off the trail, the rain picked up and soon became hail.
Jumping in the van, we slowly drove down to camp. When we came around the corner, I was almost brought to tears. The storm settled and something so beautiful formed beyond the edge of the road. Staring up at the canyon walls we could see waterfalls beginning to form. Looking left and right, we were surrounded. The sun broke through the clouds reflecting off the water and lighting up the canyon. It felt like a surreal. Stepping out of the van, I slowly spun in a circle trying to take it all in. I couldn't believe what was around us. I was overwhelmed by nature's show and my body was left with chills.
It was a moment I was reminded of why I go on these adventures.
Shadows of the Grand Canyon
It was time to head south in the direction of home. With one stop left on the itinerary, exhaustion began to kick in. Pulling into the Grand Canyon, I wasn't sure what to expect for the first time.
The van slowly found its way through the long road into the park. I could see the canyon out of the corner of my eye, but I refused to look. I wanted my first glance to be when I was on the rim, a place where I could really appreciate what I was looking at.
Walking to the edge of the rim, I was immediately overwhelmed by the size of the canyon. Looking over, I found myself shaking at the knees. Dark shadows covered most of the canyon floor. The Colorado River gracefully found its way through and clouds gave the landscape even more texture.
It was so much to take in. We decided to take this last stop rather leisurely and enjoy what was in front of us. It's a place where you can't find enough words to explain what you're seeing. I'm still having trouble wrapping my head around it.
One Story is Never Enough
I could type one story recapping these 10 days on the road with prAna, but that wouldn't do the experience justice. There's much more to the places we saw and the hikes we conquered. It's the ups-and-downs, the numerous cups of coffee, the campfire meals, and long drives that makes the story worthwhile.
I have also put together Trip Reports for each location. If you're new to my work, my Trip Reports are a photo journal series showcasing life on the road. This is a medium I created to fulfill my dreams of sharing my stories.
We want to acknowledge and thank the past, present, and future generations of all Native Nations and Indigenous Peoples whose ancestral lands we travel, explore, and play on. Always practice Leave No Trace ethics on your adventures and follow local regulations. Please explore responsibly!
Do you love the outdoors?
Yep, us too. That's why we send you the best local adventures, stories, and expert advice, right to your inbox.