The Ultimate Spring Break Road Trip to Havasupai and Beyond
I don't even know where to start with this trip. You know how I thought my Zion Trip was crazy? Well, this was just a little crazier. 1,323 miles on the road, 21 miles backpacking and 15 more hiking. This trip was one of a lifetime. Desert X, Joshua Tree, Havasupai, Horseshoe Bend and Zion with the boys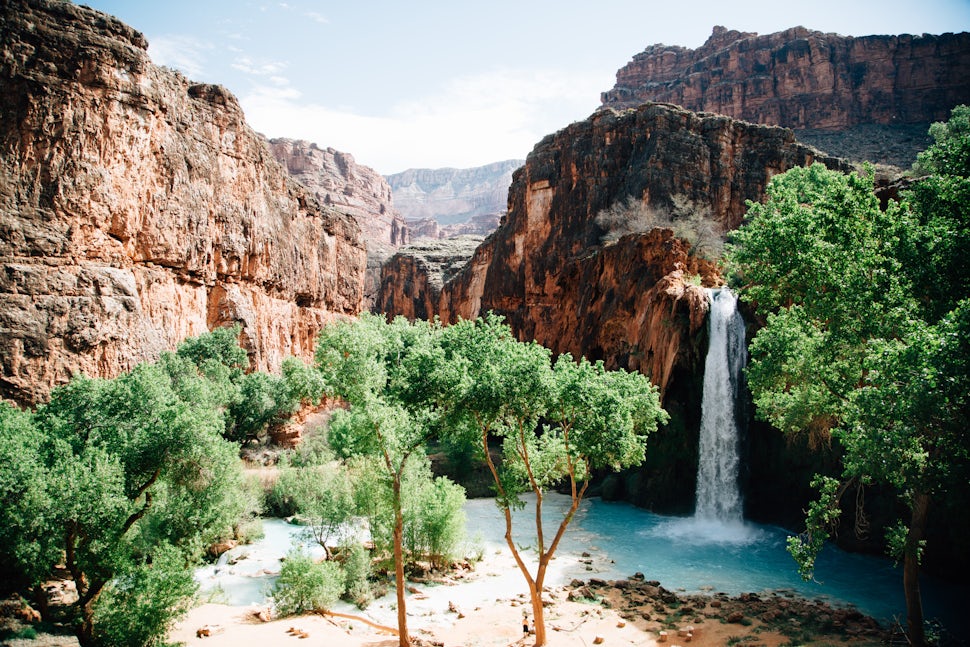 It all started when Tim and James asked me if I knew of Havasupai and Havasu Falls. I told them of course! It's been sitting on my bucket list, tucked away as a dream place because permits are so impossible to get. For those of you who don't know, Havasupai and Havasu Falls are located in northern Arizona near the Grand Canyon and the Colorado, not at all close to Havasu Lake. It's a 10 mile backpack in so you have to plan accordingly with backpacks and weight per item. So our tents were all under 4lbs, our food was dehydrated, and we carried stoves to heat water for our dehydrated food. This isn't just some day hike (which you can't actually day hike because it isn't allowed), its a pretty epic backpack in. There's an option for a helicopter for around $85 a person which reduces the travel time from 4-6 hours to 3 minutes, or if you want to hike in, you can have a mule carry your stuff for $121 one way (but PLEASE read this before considering that option). I never found the time, group or money to put together a trip to go to Havasupai so I never even tried for the permits. So I kept this in the back of my mind in January. February rolls around and I realize I don't have a trip planned yet (weird right) and I needed to figure something out for Spring Break. So I talked to James and Havasupai popped up again, I did my research and decided I'd call and just try. I think I spent 2 hours and called around 65-80 times before I got through and was able to secure 5 permits. I immediately called James and told him that we got them and that we needed to get a group together. We already had 4 for sure, but we were still missing one person. We finally got Sawyer, who's dad didn't believe that we got permits, and that he HAD to miss school and go for this opportunity. Pretty awesome right? So we began planning, and on March 20th, we left Saddleback Church at 4:30am
We started off our trip with a stop at the Desert X exhibition in Palm Desert, specifically the Circle of Land and Sky installment, and caught sunrise at the right moment. It was a pretty sweet moment and a great start.
The crew! From left to right: James (selfie King), Sawyer (video), Tim (eye candy), Drew (can't execute)
We hit the road again and left for Joshua Tree hoping to maybe catch a little of the Super Bloom when we came across this incredible road, and we just had to longboard it.
I also got some sweet drone footage (that I have yet to go through) of us longboarding this perfect road and driving along it. I'll link it once I put it up! (Sawyer is a video god and will probably put up a video of this trip). After that, we sat in for the long haul to drive all the way to Supai.
Not without our sleepers! Always gotta get the sleeping shots. And for those of you nerds wondering, yes, I am using a 24mm in some cases. I recently traded one of my cameras for a 6D for my workflow and because I adore the 6D. I love my 35mm to death and I couldn't remember the last time I'd taken it off, but this trip called for extraordinary circumstances and I had to use a 24mm for the landscapes I'd be capturing.
We knew that there'd be nothing to do once we got to the parking lot so we stretched our time getting there, stopping at some really janky casino outside of Loughlin so I could help James with his law homework, so Drew could sneak into the pool and take a nap, and so that I could eat Panda Express and get Skittles. Once we hit the 18 service road to the reservation, we made some stops at some pretty cool places
Also, we're taking names for Drew's car since he decided to name "him" "Elijah" which obviously breaks the rule. She needs to be a girl. Tatiana is on the table right now but Drew isn't having it. Just send him a text with a name and #drewcantexecute following it and he'll get the message!
The Hilltop was pretty sweet, we happened to just catch it at sunset and we were treated to a fantastic light show. We slept in the car and pitched my tent next to the car to sleep before going in. This little section I pulled out the 6D with my 24-105L kit lens (yes, I used a kit lens for the majority of this trip) and snagged a few pics before setting up to sleep for the night, getting ready to leave at 4am to avoid the heat and have the entire day inside Havasupai
We ended up getting stopped at 4am, saying that we weren't allowed to leave until 6am because of mountain lions. So we piled back into the car and grabbed a couple more Z's before heading out.
We caught a sweet sunrise hiking down the hilltop, I remember running over a ridge just to catch it, desperately switching from my 35mm to my 24mm. By the bottom, we finished about a mile of the trek. Onwards!
The trek in isn't too eventful, other than running into other people and us playing what are the odds with each other and placing bets to pass the time. There are some local dogs that run around that will follow you if they decide to. At 8 miles, there's a cafe/store at the entrance of the village that sells tacos, gatorades, and pretty good breakfast burritos! Further into the village, you check in at the tourism office and they give you directions to the campground and waterfalls
When we hit Navajo the rest of the group wanted to immediately jump in, but having done some research I knew we should just wait, because I knew Havasu Falls was right around the corner. So we pushed on to Havasu and the campgrounds, and we were floored the first time we came over the ledge and saw Havasu.
Once we picked out our campsite, we came back to swim around for a bit and just take in the blueness of the water. Disclaimer: I do edit my photos, but I did not do anything to up the saturation in the blue or modify the picture to exaggerate the color. And wow, is it an experience to swim next to this 125 foot waterfall.
After looking for some places to jump, we ran into these 2 guys who knew where Hidden Falls was and took us there to do some 40-60 foot jumps
The trail there was a little off the beaten path, but the cliffs were worth it. After Drew almost died from belly flopping at 60 feet, we decided to go back to the campground and grab a few things before going down to Mooney Falls
If you've done Angels Landing, you know that there's some pretty sketchy spots. But this, this is next level. This was pretty sketchy on the way down. Some old rickety ladders, chains that aren't attached to anything, mist coming off the waterfall, all added to the experience of the Mooney. Fun fact: Mooney is named after the guy who built the tunnel/ladder system to get down and actually died going down it himself. Soooo that was pretty comforting
This was my favorite waterfall, I think its the most epic. At 200 feet, its massive. There's a little cave and rope swing back near some pools and it was pretty sweet. After hanging out for a bit, snapping a few pics here and there we decided to head back up to the campground. And our legs were begging us to stop. So we called it a day, cooked some dinner and went to sleep early
The next morning we decided to go to Beaver Falls, which is 3 miles from the campground and 2 miles past Mooney. With rain forecasted, we packed accordingly and tried to make the best of it. Beaver Falls itself isn't super impressive, the hike is the fun part. There's multiple trails and multiple river crossings which is really adventurous and great for the sore calves. Plus I got my Teva's worth!
With a rain prediction, we headed back to just prepare for it, get stuff inside and just chill from hiking around 18 miles in the past 2 days. But of course, you can't just pass Mooney up when the lighting gets super moody (see what I did there?)
James on his famous bridge in the campground! And with that, we concluded our trip and prepped for the trek out. Stopping at the fry bread house after, we grabbed some sweet lunch (bring cash, it's worth it!) and just decided to relax, play some cards at Havasu then prep for the trek back out. That night, it rained, but it wasn't too bad. We had a normal amount of people in the tents and were more prepared for the rain so we were fine. We woke up at 4am to leave, eventually getting out of the campground at 5:30am. Not even a mile in, Tim rolled his ankle which would make it extremely difficult to get back up the last hill. After considering his man card and the helicopter, he kept his man card and decided to tough it out. And oh man. That last mile absolutely destroyed me. Every time I took a break, I was so close to taking a nap because of exhaustion. When we got to the top, we had some "leftover" Mountain House meals that Sawyer somehow hid from us and almonds, and they tasted biblical after the trek. We all piled into the car, napped as Drew drove us to Flagstaff for Raising Cane's (our motivation for the trek). After a quick stop, we booked it to Horseshoe Bend to catch a sunset
Hey Teva and Smartwool, sponsor me.
I was a little nervous that the clouds would block the sun and Sawyer was certain that there wouldn't be a sunset, but thank goodness he was wrong. This wasn't my first time to Horseshoe Bend, but each time is so good. After catching the incredible sunset, we booked it to our campground at the Page Lake Powell RV Campground. And this place was practically glamping, there was free WiFi, laundry, an indoor swimming pool and jacuzzi, which we took full advantage. All for $18! I ended up editing my photos that night because I just couldn't wait. In the morning, we hit the road to go to Zion.
Canyon Overlook is probably the best "bang for buck" hike in Zion, being only 1 mile roundtrip and minimal climbing involved, and a pretty rewarding view at the end. After hanging out for a bit, we hit the road and headed home, but of course, we had to stop right outside of Vegas for some fireworks. And what ensued?
A Roman Candle fight, of course! What else? And with that, we concluded the trip at the Hoang household, with steaks and a jacuzzi sesh in the back. I say this is a once in a lifetime trip, but I definitely will be coming back. Next summer! I'm planning on getting a group, so if you're interested, let me know! To the boys, thanks for making this one heck of a trip. Can't wait for our next adventure.
We want to acknowledge and thank the past, present, and future generations of all Native Nations and Indigenous Peoples whose ancestral lands we travel, explore, and play on. Always practice Leave No Trace ethics on your adventures and follow local regulations. Please explore responsibly!
Do you love the outdoors?
Yep, us too. That's why we send you the best local adventures, stories, and expert advice, right to your inbox.