Slickrock Running: Gear Testing 5 Essentials In Moab, Utah
The desert is one of those magical places that stays with you.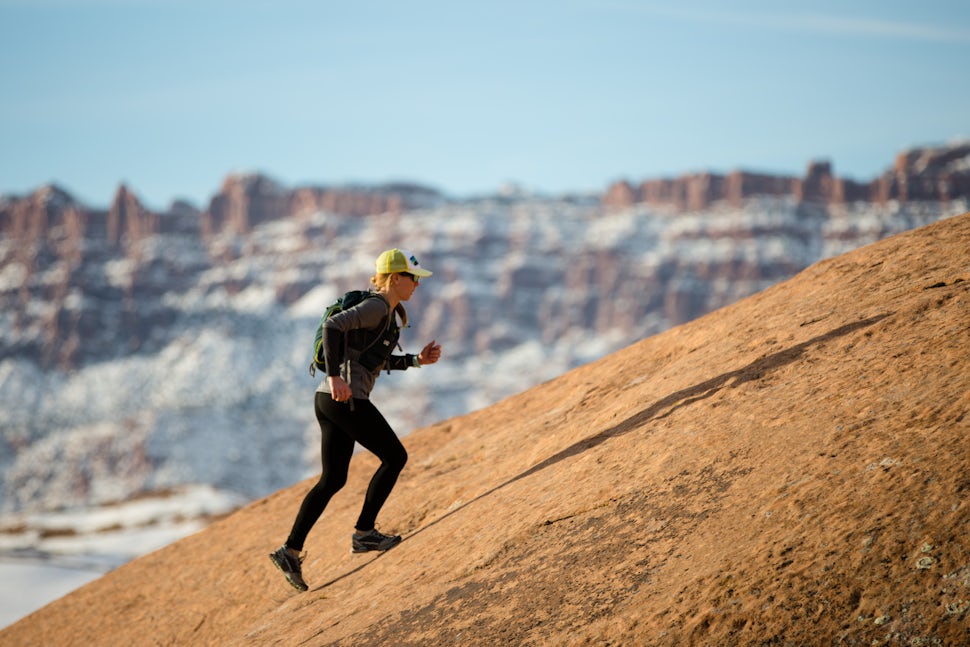 I've been venturing to Moab and it's surrounding sandcastles for the past fourteen years. Every time, I sink my toes and soul in a little deeper.
As a climber, I've spent a lot of time scaling Moab's cliffs, but wandering cross-country in the desert is a new way for me to see more of this wild landscape. I've always been one of those people that ran for the fitness, but about a year ago, something changed in my running—why I ran, how it made me feel, what my motivation behind it was. I started to get itchy to run, and would skip out of work early to hit the trails. My relationship to it changed, in a big way. I've got a lot to learn, but the more I run, the more I see it as being an incredible way to explore and interact with new environments, or my own backyard in the Colorado rockies.
As I've pushed myself further with running, the desert has called out to be explored in a voice I can't ignore. This last trip was a wintery one. While the sun shone, the snow blanketed the ground, making the sand even softer and the air frigid. Slickrock is notoriously hard to run on—you might as well be running on Mars (with oxygen). The terrain is unrelenting—it's like running on uneven pavement, but the adventure potential is epic. You'll want to know how to navigate if you plan on going off trail – it wouldn't be too difficult to get lost in some areas.
Spring is on it's way here, and to get your stoke (and mine) up, I pulled together some of the best running gear to get you moving, whether 5k's or 50k's are your thing.
Other than the Slickrock Trail, a few of my favorite trails to run are Negro Bill Canyon, Dead Horse Point, and Upper Muley Twist Canyon.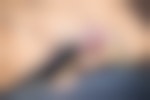 Trail Run Moab's Slickrock Trail | Photo: Ben Duke
I'm infatuated with this watch. It does all sorts of neat stuff, like tracking how many steps I take in a day (let me say—more than I would have guessed!) and my heart rate. And I love it most for running. Before, I was just guessing when pacing myself, and during my first race (a half-marathon above Crested Butte, CO, this fall) I would have killed to have known how far I had to go. The heart rate monitor works pretty well, and I love that it's built into the watch so you don't have to wear a chest monitor. Because, let's be honest, I'm not that gnarly of an athlete and it's not like it really matters if I know my heart rate all the time (plus I mean, I can feel when it's up, you know?). I love plugging this baby into my computer and seeing where I went and my accumulated miles—the GPS system is super accurate, and I've found I tend to push myself a lot harder seeing what my pace is as I am running.
Another interesting feature is that it prompts me to move with a buzz and notification if I've been sedentary for longer than it likes. I've been using that as an excuse to stretch in the office or go get coffee, so that's pretty neat. The buzz also goes off for every mile clocked, which is cool. Your pace for the last mile pops up for a few seconds after, and I've found it pushes me to go further faster, also a cool feature. The battery is rechargeable, and for an idea of how long it lasts, we ran four days in a row in mexico last week, about 5-8 miles per day, and it started to blink low battery near the end of our last day. The charge cord works with USB, and it's quite packable for traveling. If you're not activating the GPS, it seems to last weeks without needing to be recharged.
Trail Run Moab's Slickrock Trail | Photo: Ben Duke
Bushido means "way of the warrior". So obviously these are going to be awesome, because a legit company like La Sportiva isn't going to give that moniker to anything undeserving. I mean, look at the Testarossa (best climbing shoes ever), which are named after a Ferrari and are possibly even better than one (just my opinion). The Bushidos are grippy, crazy lightweight and just supportive enough to hold up some serious miles. I'll add a disclaimer that I've been kind of diehard Sportiva gal for the last decade, and in my eyes they can't really do wrong. That said, these are dope. I've got a pair of the Helios SR for light-action days, which I also adore as much as one can adore a pair of shoes, but for longer days, especially when rock-hopping on alpine trails, these are the go-to's in my quiver. They're definitely most at home on uneven terrain—I've tested these running everywhere from an overgrown jungle in Mexico to the Moab Slickrock, and have to say they're the best all-arounder shoe I've run in yet.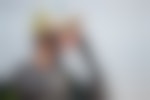 Trail Run Moab's Slickrock Trail | Photo: Ben Duke
These are fast glasses. Meaning when I'm wearing them I am pretty sure I actually pick up speed. This is phenomenal because my fastest setting is maybe about three speeds higher than a sloth—I'm really good at going for a long time, but don't ask me to get anywhere fast. They're so wicked clear… I'd been looking for the perfect pair of running glasses, and I'm hooked. They're also plant-based, which is so dang cool for a variety of reasons, environmental impact certainly being one of them. The lenses are polarized, crystal clear sharp, and have yet to fog up on me despite a lot of cold mornings on the trails. I also love that they're super light-weight, and I more or less forget I'm wearing them after a minute. Keepers, for sure.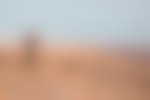 Trail Run Moab's Slickrock Trail | Photo: Ben Duke
I don't like taking this shirt off. It's got thumbholes (which in some bizarre way make me feel safer?) it's cuddlebug-soft and it's really good at drying fast when you sweat. I don't wear that anti-sweat stuff (sorry if that's TMI) so this is especially clutch for me when I'm out in the cold because getting wet is kind of like breaking the cardinal rule when it's chilly, and this is an excellent layer for when the nip is the air is verging on bite. It's got this nice little zip pocket for your keys or some spare cash or chapstick. And it looks just as good as a casual layer as it does on the trail. I'm kind of in love with everything Mountain Standard makes. This is one of those pieces that is guaranteed to make it on every trip I've got coming up this year. It's that versatile.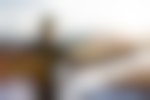 Trail Run Moab's Slickrock Trail | Photo: Ben Duke
This pack is a little much for a shorter run, but I do dig how versatile it is for hiking and backcountry skiing as well. It ratchets down tight for when you don't have as much stuff in it, which is great, but the best thing is how comfortable it is. I thought I would have a hard time getting used to running with a water belt or a pack, but I've been super impressed with UD's gear and have been using their products for the last couple years. They hold up super well, and don't chafe or ride in awkward ways at all.
Water is key, and snacks are essential (I'm a huge fan of all things Skratch Labs). I'm someone who also likes to pack in the layers (never go anywhere far without a Patagonia Houdini and a Buff, for example), so a pack with some wiggle room that doesn't actually wiggle is prime for distance running. I've been guilty of not bringing enough layers before, and it only takes one afternoon of hands that are so cold you can't get your key in the lock, let alone drive out, to cure you of underpacking. Not that I mind the suffering, but it can get old real fast when you're miles from the trailhead. I love how accessible the front pockets are for your phone, gels or sunglasses—easy access is key when you're focused on maximum efficiency. And what's really awesome is if you graduate to fastpacking (running for days at a time ultralight-style) you've already got the gear for it.
Get the gear you need to track your training: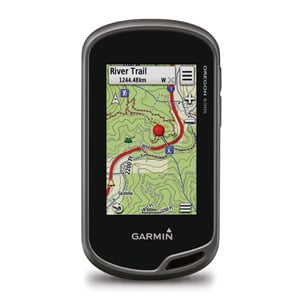 Oregon® 650t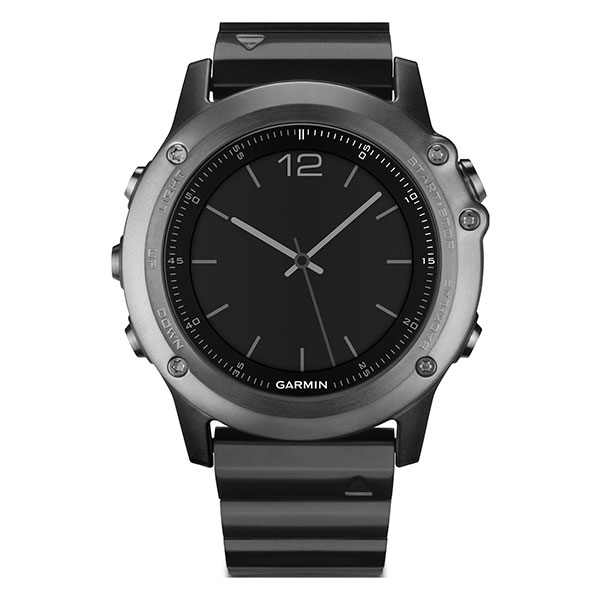 strong>fēnix® 3 Sapphire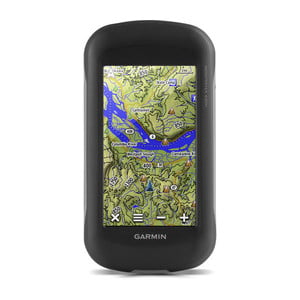 Montana® 680t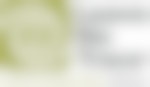 Please respect the places you find on The Outbound.
Always practice Leave No Trace ethics on your adventures. Be aware of local regulations and don't damage these amazing places for the sake of a photograph. Learn More
We want to acknowledge and thank the past, present, and future generations of all Native Nations and Indigenous Peoples whose ancestral lands we travel, explore, and play on. Always practice Leave No Trace ethics on your adventures and follow local regulations. Please explore responsibly!
Do you love the outdoors?
Yep, us too. That's why we send you the best local adventures, stories, and expert advice, right to your inbox.