The Best Base Layers for Plus Size Women
One of the biggest pet peeves I have in my life is not being able to find clothing that fits me. My second biggest pet peeve is not being able to find clothing that fits me and above all, that is suitable for my outdoor adventures!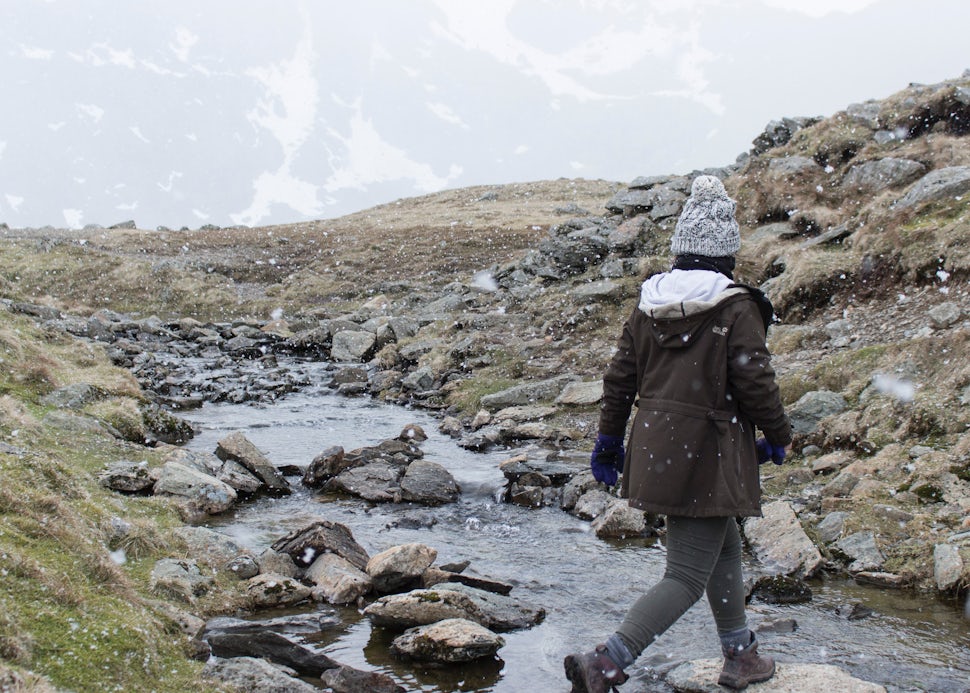 #bodypositiveoutdooradventure
Why is it so hard for a woman in America to walk into a store and find a 2XL or even sizes 16-20?! Newsflash: the average American woman is a size 14, not 2. And we're made to feel bad about this?

I don't. I love myself. I don't have to be a size 2 to be happy or be an outdoorswoman and athlete.
Frustration gets the best of me when I can't find gear and clothing that is my size for the very activities that will help me build muscle and maybe even lose some weight. That is not my goal by any means, but hey, an added benefit.
Women who are plus or extended sized need a few things in a base layer to be comfortable, effective and flattering.
Base Layers Should Be:
Quick drying and moisture wicking
High waisted
Be available in various weights
Be made of wool or synthetic material
Base Layer Weights
Lightweight: Typically used as part of a layering system. Lightweight base layers are lightest offering the best moisture wicking abilities, as a result, lack of insulation properties. Good to wear under a midweight shirt or as a stand-alone baselayer on mildly cool days while participating in a high-intensity activity such as running.
Midweight: My personal go-to! Typically the first layer of layering clothing for insulation and moisture wicking. This is the first skin to skin layer unless you're adding a lightweight layer as well. Provides excellent insulation and moisture wicking in moderately cold temperatures when combined with mid-level intensity activities.
Heavy Weight: These layers are for the coldest of the cold! Think Iceland, Alaska, Arctic Circle. It will not matter if you're active or sedentary with this level of baselayer. You will wear this over your midweight layer and will thick & loose.
Wool vs. Synthetic Base Layers
Synthetic:
Synthetic material is typically made out of nylon, polyester, and polyester blends. The synthetic materials are perfect for a snug fit against the skin and work well at moisture wicking and resist wrinkles. Synthetic materials do a poor job at odor protection while using these as base layers for activities; as a result, this is typically a concern. Synthetic materials will also retain stains and are much slower at regulation temperatures than it's natural counterpart; wool.
Wool:
Wool is the king of base layers and of keeping your warm and dry. I'm a bit biased when it comes to this as wool is natural, and nature typically knows what it's doing
Merino wool is used a lot in modern base layers and wool clothing in general. Soft fibers and soft to the touch against the skin makes it an exceptional choice for a base layer. Wool is capable of holding 30 percent of its own weight in water before the wearer will feel it on their skin. While wool is slower to dry, it still makes is better in moisture absorption. Even saturated in sweat, wool fiber has the construction ability to still regulate temperature and be breathable; making it odor resistant.
But, take care of your wool and it will take care of you. Don't machine dry, wash them properly and you'll have them for years to come.
Don't be Afraid to Size Down
One thing with base layers, and any stretchy clothing really, is not to be afraid to size down. Last summer I bought a pair of 2XL sized leggings from a Columbia outlet mall in Virginia. I got home, tried them on and I was swimming in them!
They were too damn big!
I may or may not have done a happy dance, but then soon realized that when it comes to stretchy materials, I can size down. Most noteworthy it made me feel better about life! I will wear the heck out of some Columbia leggings that are an XL instead of the 2XL!
So, if you find an adorable pair of leggings that only go up to an XL don't be scared to try them on. You never know how something is going to truly fit until you try it on!
High Waisted Is Best!
High waisted leggings and base layers, in my opinion, are critical for a plus size woman. They help smooth out the tummy and hell just feels better having your tummy cinched into a pair of warm leggings! Having high waisted base layers can also help keep your core warm while participating in cold weather activities and sports; consequently keeping your organs nice and warm.
Besides keeping the core warm, one of the most important things to a plus size woman is knowing her wiggly bits aren't all over the place and they're "confined". I don't want base layers that are going to sit below my stomach, I want them high and cinching up the waistline to show I actually do have a waistline.
Now, I could sit here and say, well you're in the outdoors who cares what you look like? No, don't go there; just don't. I don't care what a woman tells you, she wants to look good in all aspects of life and it's a huge psychological booster knowing that you're in the proper gear, your rocking this look and you can do this sport ahead of you.
4 Companies With Amazing Plus Size Base Layers:
Why We Need Plus Size Adventure Clothing
Not being prepared or properly equipped for adventure isn't only unsafe, but can be embarrassing. Certainly, you know what gear and clothing you need, however, if you can't get your hands on it, it's not your fault.
You can snowboard, you can ski, you can backcountry backpack hut-to-hut in the winter. You have to be properly prepared and it's time to start making companies provide those for us.
By highlighting the companies that are waking up and seeing there is a need for plus size women's adventure clothing and gear we are letting the other companies know they need to start creating a line for extended sizes. I see 2XL men sizes all the time. Why are they able to purchase extended sizes?
Finally, women are becoming more and more active in the outdoor industry and participating in more outdoor activities than ever before. It's time for companies to up their game, so we can ours!
What are your favorite base layers? Do you have a brand to recommend that offers women's plus size base layers? Let me know in the comments so other women can find out too!
Cheers to Boundless Adventure in the Outdoors!
Heather
We want to acknowledge and thank the past, present, and future generations of all Native Nations and Indigenous Peoples whose ancestral lands we travel, explore, and play on. Always practice Leave No Trace ethics on your adventures and follow local regulations. Please explore responsibly!
Do you love the outdoors?
Yep, us too. That's why we send you the best local adventures, stories, and expert advice, right to your inbox.