Fat Girl Hiking: Thoughts and Tips for the Overweight Hiker
Women, don't let your size or your weight stop you from achieving your dreams of being an avid outdoors woman!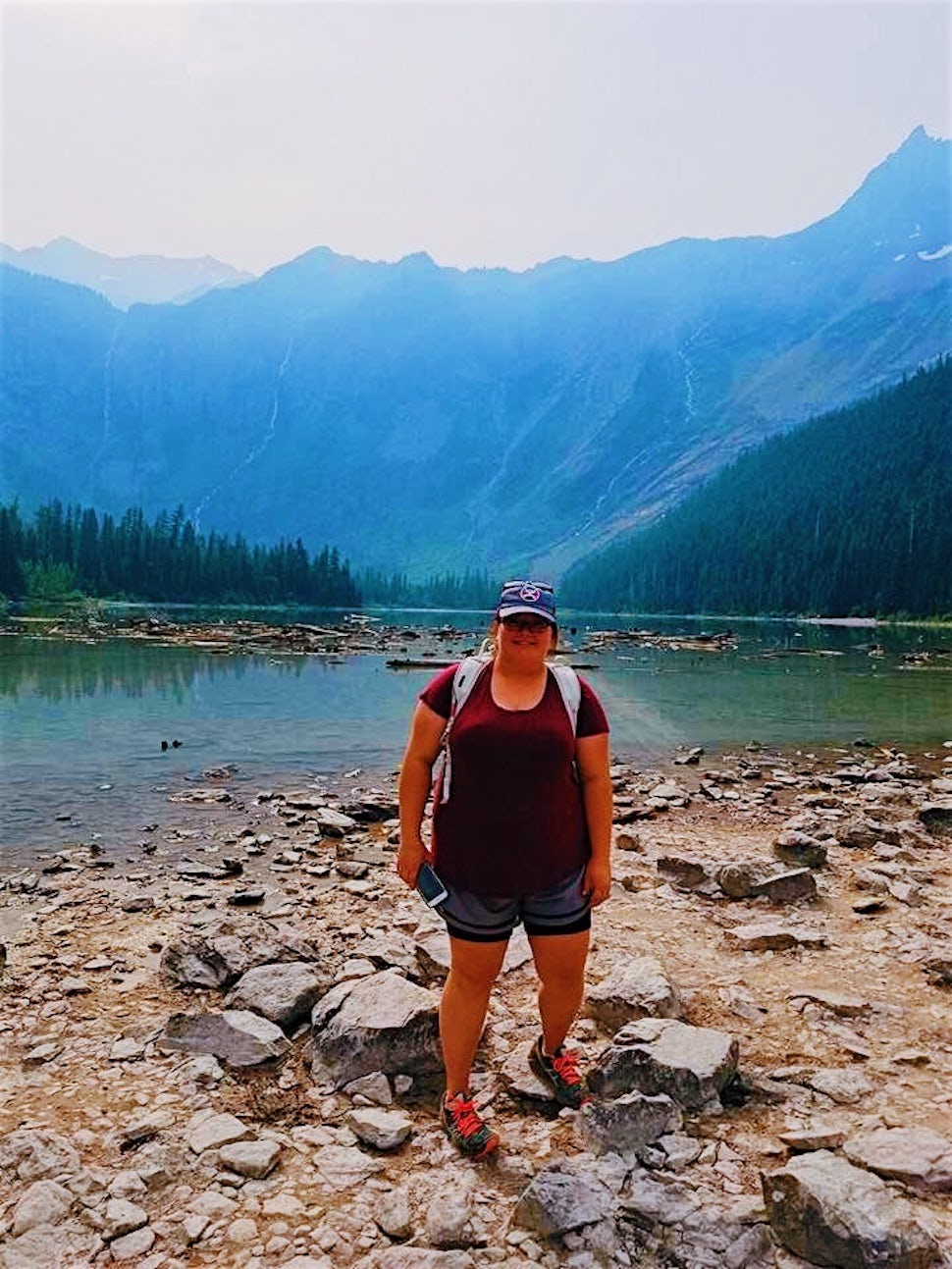 Hi, I'm Heather. I'm an overweight 30 year old gal. No, I'm not lazy, nor a couch potato. This is me in the summer of 2017 at Glacier National Park. My mother and I hiked the Avalanche Lake Trail this day and it was amazing! This glacial lake was an epic treat after a 4.5 mile hike with roughly a 700 feet elevation gain.
The whole hike was amazing. It started with a calm and enjoyable trek around the ancient Trail of the Cedars and then followed along the Avalanche Gorge that allowed us to take some beautiful photos of the formations that the cascading creek carved the stones into. I was amazed at the color of the water and the color of the rocks!
The hike itself offered a great challenge but wasn't too strenuous. It was the perfect combination of enjoyment and challenge. My own personal body weight and a daypack that weighed roughly 10-15 pounds was what made it a little hard. It's obvious by my appearance that I don't look like the average hiking girl that you see on Instagram news feeds, but that's what I am; an avid hiking girl with a love of the outdoors and numerous outdoor activities.
I suffer from a syndrome called, Polycystic Ovarian Syndrome; PCOS for short. It's a hellacious syndrome that affects the whole body of a woman and no two women always have the same symptoms or conditions. My PCOS loves to keep my estrogen levels dominate, my thyroid not functioning properly, and my adrenals and cortisol to stay at a lovely level of keeping me exhausted . . . all. the. time. It also loves to help me pack around a belly that looks like I binge drink 30 packs of beers every night and consume large pizzas on the regular. Thankfully however, due to growing up riding horses, snowboarding, hiking, playing volleyball and basketball, I'm equipped with an awesome set of muscular legs and a brain that gives me the willpower to seek and conquer what I desire.
Being outdoors with my condition honestly revives my soul and spirit, it's a natural high that helps me feel alive and renewed. There's actual studies that have found being outdoors helps cortisol levels and is good for womens' health. I can tell the difference in my body, physically and mentally, when I've been spending a lot of time outdoors. I'm also a much happier person when I do.
There are some challenges when it comes to being overweight and wanting to hike, be an active participant in the outdoors, and be a wilderness advocate. Several times I've walked into outdoor stores in hopes of finding some clothing or a piece of equipment for my needs and sadly they didn't accommodate my size. The highest size I seen in one store for a pair of wool base layers was a large and the largest pair of hiking pants was a 10. Want wool base layers? They are hard to find! I have come across a few companies that are starting to branch out into extended sizes which makes it exceptionally nice for the gal who wants to get outdoors but needs bigger sizes.
Columbia is by far one of my favorite brands. I've purchased several articles of clothing and outerwear from them that fit me perfectly and I'm so thankful they carry extended sizes. Minus33 is a company that sells wool base layers and the like and they too carry extended sizes! I love their stuff.
I think something that many of the outdoor gear and clothing companies are missing is that most people don't want to be a larger size. We want to shed pounds and be more active, so help us! Provide us with clothing for the trails and kayak cockpits that accommodate us. I believe that if more companies would have extended sizes we could see a dramatic decrease in obesity and an increase in healthy humans.
Not every person who is overweight is technically in poor health. Many people are overweight without any negative markers affecting them. I have a friend who's been overweight her whole life but is as healthy as a horse.
Tips For Hiking While Being Overweight
1. Trekking poles are your friend! They can help you stabilize yourself while hiking and will keep balanced over rocky terrains.
2. Drinking plenty of water and electrolytes.
3. Walk somewhere everyday and use stairs whenever possible.
4. Never underestimate the power of doing squats while doing dishes and do lunges around the house.
5. Wear clothing that allows for maneuverability.
6. Don't overpack but take what you need in your pack.
7. Never underestimate the power of anti-chafing balm.
8. Hiking takes you out of your comfort zone, everyone gets tired, everyone looks like they are about to die when they reach their destination. Never feel like you look more awkward and uncomfortable than anyone else.
9. One step at a time ... you'll get there. I promise. If it takes you twice as long as anyone else, that's ok. And take as many breaks as you need.
10. Have the right gear.
11. Be committed to the trail in front of you.
12. Be aware of your surroundings.
13. Always take an encouragement buddy!
14. Depending on your skill level and health don't over extend yourself to where you will seriously hurt yourself or create a health issue. If you are going on a hike with serious elevation gain pay attention to your breathing. If you cannot catch your breath and breath normally after a 10 minute break it's probably best to start back down and try again at another time.
One more word of advice: never, ever let anyone tell you that you are too big to tackle on outdoor activities. You can hike, climb, jump, swim, board, or trek your way through the wilderness and take advantage of the great outdoors just like anyone else. Just know your limits and train properly!
You can catch me regulary on Instagram @wanderlust_mtn_girl where I share tips, travel pics, and the occasional coffee pic ;)
Happy Trails!
We want to acknowledge and thank the past, present, and future generations of all Native Nations and Indigenous Peoples whose ancestral lands we travel, explore, and play on. Always practice Leave No Trace ethics on your adventures and follow local regulations. Please explore responsibly!
Do you love the outdoors?
Yep, us too. That's why we send you the best local adventures, stories, and expert advice, right to your inbox.