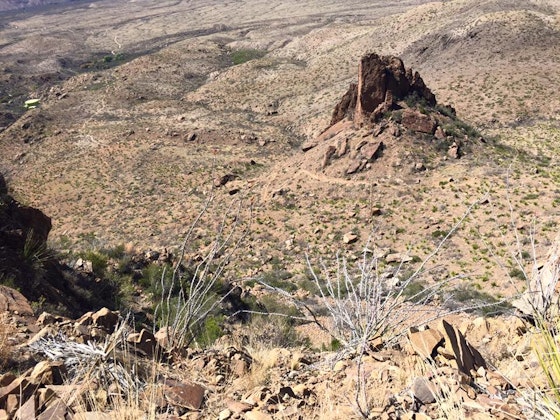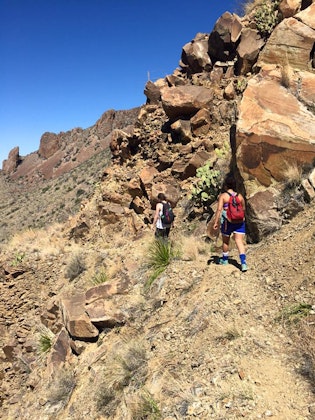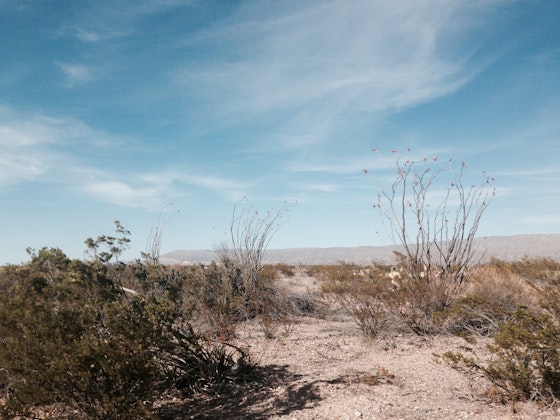 Added by Marilla Havens
An incredible and unique, but hot and strenuous hike along an old abandoned ore tramway that takes you through a valley into the Dead Horse Mountains. It roughly follows the cable of the old ore tram and takes you up and down mountains for great views of the Rio Grande, ending with a walk through the desert to the ruins of the terminal.
Before I describe this trail, what season are you hiking? If summer, stop reading now and find another hike. Not summer? Okay, great, let's get started.
Do not take inexperienced hikers on this trail, particularly in hotter weather. While it's only 8 miles total (4 out, 4 back), it's constantly gaining and losing elevation, making for a pretty strenuous hike. There is also pretty much no shade. I went with a group of fairly tough and experienced hikers in early spring and we thought we were gonna die (have I sold this hike yet?).
To get to the trailhead, go North from Rio Grande Village campground until you hit the junction with Boquillas Canyon Road (about a mile). Follow Boquillas Canyon Road to Boquillas Canyon Overlook. The trailhead is just past it, on the left side of the road. There's some parking on the right of the road. There was a sign there that said cars are often broken into there, so keep that in mind when packing.
The trail is well marked with cairns. It starts in the gravel of a dried out riverbed. Pay attention to rock markings along the way to find the trail out of the wash a short way in. When we went, there was a line of rocks pointing to the trail. When you climb out of the riverbed, you'll see the first collapsed tower. The trail then follows the fallen cable to more collapsed wooden towers. You'll hit a junction with the Strawhouse/Marufo Vega Trail; take the left fork to keep heading towards the terminal (there's a sign).
The trail continues to follows the tram route out of the canyon. Keep a lookout for old ore carts, and more fallen towers.
Eventually, the trail splits away from the tram route (keep looking for cairns if you lose it) and keeps climbing up. Look more more towers in the distance. It then reconnects with the route to an impressive canyon. You can see where the tram route used to cross the canyon. Unfortunately, you'll have to walk around it instead of going straight across with the cable. If you look closely south from the top of the canyon, you can see Rio Grande Village.
Skirt around the canyon and up another hill to the hike's highest point. You're almost there! If you look west, you may be able to see the terminal in the distance (about half a mile away, but I will say it felt much longer). There's a gradual downhill into the valley and the trail goes through the desert to the terminal. Look closely for rock cairns, as it does get a little faint. When we were there, the terminal was still standing, but who knows how long that will last. There's a big pile of ore on the ground, and the whole area is sort of lost and abandoned feeling; very old west movie type of thing. Take a break, find a little shade, and get ready to retrace your steps for the longest four miles you've ever experienced.
Pack List
Water! (I would bring three liters a person depending on the heat; we brought two each and ran out)
Snack
Have you done this adventure? Have something to add? You could be the first to leave a review!

Added by Marilla Havens
Wash U grad putting my liberal arts degree to good use in Jackson Hole/Grand Teton.
Follow
Season:
Spring, Autumn, Winter
Features:
Easy Parking
Scenic
Wildflowers
Wildlife
Are we missing something?
Suggest an edit
More Adventures Nearby

Camp at Roadrunner Campground
Texas / Roadrunner Flat Primitive Campground
We set off from Austin to Big Bend, a 7 hour drive with no stops. Some advice had wizened us to the idea of staying in a state park along the way.
Camp at Shaffer Bend Recreation Area
Texas / Shaffer Ben
After turning off Highway 1431 you'll drive through a little quiet and narrow one road neighborhood to arrive at the entrance to Shaffer Bend Recreation Area.