Turquoise Water and Grizzly Bear Encounters on Our Overnight Adventure to Cracker Lake
A glacial lake, stunning scenery, and wildlife encounters are the makings of an eventful backcountry experience!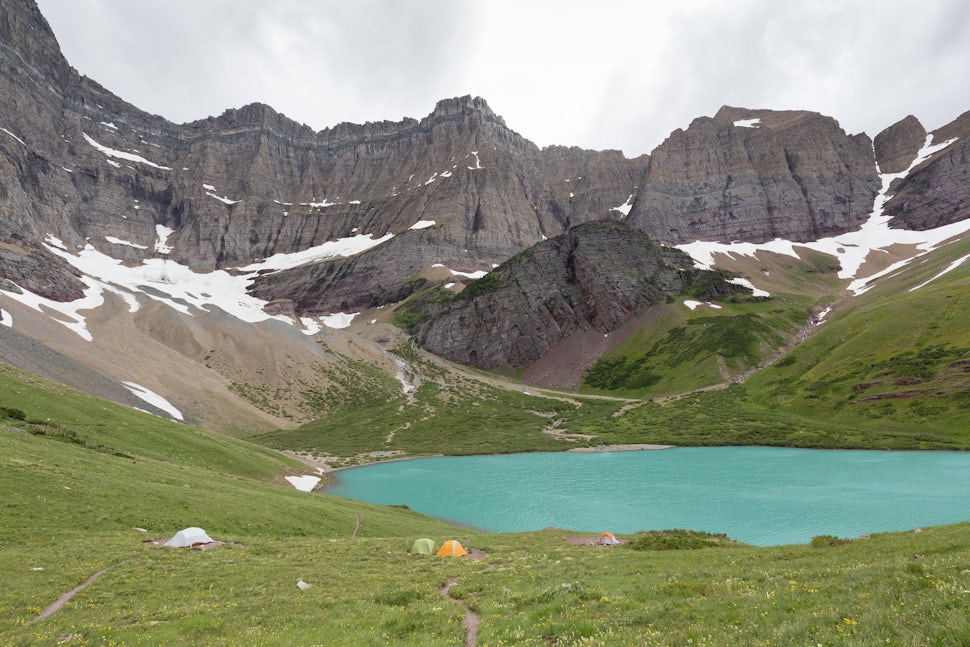 The highlight of my boyfriend Alex's and my trip to Montana earlier this month was an overnight at the Cracker Lake backcountry campsite in Glacier. It is a destination I had been wanting to make it to since last summer and it felt so surreal finally rounding the corner to see the icy blue Cracker Lake nestled below towering 4000' mountains. Unfortunately, the weather left something to be desired for the duration of our time in Glacier and this hike was no exception but we pushed through and made the best of it, even if that meant stopping every 15 minutes to either put on or remove our rain gear.
The hike to Cracker Lake began at the Cracker Lake trailhead located at the south end of the parking lot behind Many Glacier Hotel. There was plenty of parking, in fact I think it's the most parking I've ever seen at a trailhead! This trail was not difficult but it was also not particularly scenic as far as Glacier hiking trails go, however, the end reward was more than worth the 6.1 mile hike in.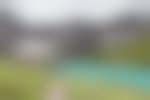 The first 1.7 miles of this trail are shared with a horse loop so we stepped in and smelled more horse poop than any person should in their entire lifetime. Apparently the 6" cat hole rule doesn't apply to them! The first portion of the trail wound through a dense forest with plenty of blind turns so we were vigilant about making noise. We hollered and clapped often to warn any bears that we were headed their way! After about a mile the trees broke and we were graced with some stunning views of Lake Sherburne as the trail followed its western shore.

The next few miles of trail ascended and descended via switchbacks through a forest and dense, overgrown vegetation. We passed over the top of a hill where we had a stunning view of Canyon Creek rushing through the forest and were given our first glimpse of the cirque that surrounds Cracker Lake. Our destination was beginning to feel closer!
We crossed Canyon Creek and entered back into the forest and ascended a couple switchbacks. On this portion of the trail we met only the third group we saw on the trail that day. It was a family on their horses and they told us they saw a grizzly not more than 30' from the trail right before the lake. Alex and I thanked them and doubled down on our noise-making duties, cupping our hands around our mouths and bellowing out loud A-OH's as we made our way down another long stretch of trail through thick forest. Finally, the trees broke for the last time and the cirque that had seemed impossibly far away when we were on the other side of Canyon Creek was right there. Still on the lookout for a bear we slowed our pace and I vigorously jingled my bell, but we arrived at the northern end of Cracker Lake without a bear sighting. We breathed a sigh of relief and then gasped as we fully took in the scene: Cracker Lake sitting under Mt. Siyeh and Allen Mountain. From a distance the mountains didn't look significant but at their base we could truly appreciate their scale and grandeur. It was a welcome sight after trudging through the forest for the past few hours. We stopped here for awhile and just soaked in the view of the turqouise-colored lake from the north end. There was also an adorable crew of marmots hanging out and squeaking at us. From this spot it was just another half mile to the backcountry campsite, which is located at the southern end of the lake.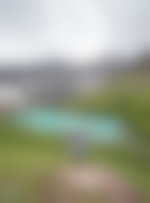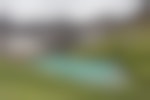 After Alex and I arrived we strung up our food and picked out one of the remaining two campsites available and began setting up our tent. This task proved quite difficult because the wind was buffeting us and it had just started to rain. We opened up the tent and threw our packs and rocks in and the wind was still able to move it! After fighting with the wind for a good 15 minutes and getting soaked by rain in the process the tent was up and the rain had passed (just our luck). Alex took one look at the tent and said "I don't think we can leave this thing alone, it's going to fly away." So I volunteered to lay inside it while he guyed it out. Even with all the guylines utilized the tent was bending at a concerning angle but it seemed to be holding steady so we decided to venture out and leave the tent unattended.
We walked to the top of the large rock formation near camp and were able to get a stunning panoramic view of the cirque, the lake, and the valley extending north. I kept expecting to look towards camp and see an orange tent tumbling down to the lakeshore but thankfully that scenario only played out in my head. After a little exploring we decided to fire up the JetBoil and make ourselves a backcountry feast, I even brought portable single-serve wine bottles for the occasion! As we were finishing up our meal a family of four sat down. Alex and I had both noticed that their tent looked like it was bolted to the ground as if it were unfazed by the wind, and highly impressed, we mentioned that to the family. The father told us that ten years previous he and his son had visited Cracker Lake and 80mph gusts had destroyed the tent they brought so he wasn't going to let that happen again. They had an MSR and had sacrificed head room for security. Alex and I just bought a new tent and one of the reasons we picked it was because of the additional head room...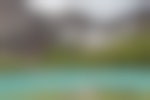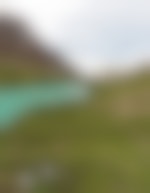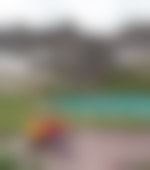 After dinner we headed to the tent and turned in early. Exhausted after a long few days of hiking I was asleep almost immediately. For once Alex and I opted to sleep instead of take night photos or sunrise photos. If it had been the first night of our trip we could have had no problem forgoing some sleep but we were worn down after a week of hiking, camping, and driving. When we peeked out of the tent in the morning we were surprised to see that there was blue sky! We quickly took the opportunity to explore a little more. We headed to the south shore of the lake. Alex wanted to see how far up the side of the cirque he could get but I wanted to just sit on the beach and take in the peaceful scene.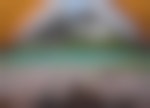 To the right of the beach was a large pile of junked machinery and equipment that the miners used at the mine located at this lake in the late nineteenth and early twentieth centuries.
I sat and just enjoyed the scenery. I was staring into the lake, thinking about what a beautiful scene it was when I heard something huffing to my left, I quick looked to see what it was and my stomach dropped when I saw a bull moose standing about 30' from me, staring at me. The look he gave me couldn't be described as anything but "excuse me?". I shot up and started walking quickly away from him. Then I remembered you aren't supposed to turn your back on bears and mountain lions, but what do you do if you see a moose!? The ranger in the backcountry office made me watch a video on the dangers of the backcountry and it thoroughly covered bear and mountain lion encounters but never said what to do if you are sitting on the beach and a bull moose wants to cross the beach to eat breakfast. So I turned back around and instead started backing away, just in case. The moose walked along the shoreline, glancing at me every few steps. I was heading towards the junkyard of equipment. I remembered there was a tiny train car that had a hole that I was 95% positive I could fit through should the moose decide he was angry I interrupted his morning commute. So I hung out there as the moose lumbered up the trail and passed through camp coming within feet of the family of four's tent. They were still inside. The moose walked directly to a spot of trees and high vegetation near our food prep area. He stayed there and ate for a good half an hour. Alex and I returned to camp. Alex had watched the whole me vs. moose scene unfold from his spot on the mountain and even got a few photos of my traumatic experience. After the moose had his fill he headed along the east shore of Cracker Lake and laid down for a post-breakfast rest.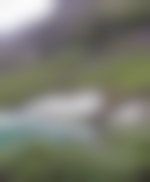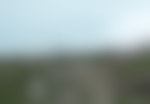 After that eventful morning and a small breakfast Alex and I packed up camp. The wind ended up dying down in the night and our tent held strong, which was a relief. We happily began hiking back towards the trailhead from the way we came. We were looking forward to getting back to the car and putting our packs down and changing into some clean clothes. We entered the wooded portion of the hike and once again began hollering and clapping around blind turns, as we were headed towards one blind turn in particular we both let out an "A-OH!" and almost immediately, right around the corner we heard something heavy rustling around. Alex and I gave each other concerned looks and he unholstered his bear spray and I thought please let that be a deer. It wasn't.

We tentatively peered around the corner and saw another couple about twenty-five yards down the trail and they told us "you scared the bear off the trail". Alex asked "where is it?!". The other man pointed and said "about twenty feet in front of you". We looked into the woods and saw the unmistakeable form a large grizzly plodding through the trees. The bear started to head deeper into the forest and we met up with the other couple and they told us the bear had been sitting in the trail and we had scared it off with our "A-OH!". We exchanged a few encouraging words and headed on in our separate directions. We followed the trail a little further but then it switched back around, in the same direction the bear had headed. As Alex was voicing his concern about this we rounded the corner and the bear was right there. Sitting in the middle of the trail, 20' in front of us, contemplating us. Immediately everything I learned about bears came rushing to the forefront of my brain (thank god it didn't go the other way!): we both averted our eyes, and began slowly backing away, I was a too startled to make a noise but Alex had enough gumption to calmly speak to the bear and he said things like "hello Mr. Bear, we don't mean any harm, we're just walking through the woods, don't worry we aren't going to eat any of your berries" and other niceties along those lines. The bear then tore off down the trail away from us. His speed was startling, especially since moments earlier he had been slowly plodding through the forest. He took three bounds and was down the trail and out of sight in the literal blink of an eye. I knew bears were fast but to witness just how fast a bear can be when it is mere yards from me was disconcerting.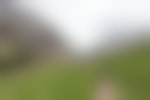 We decided to stay in that spot for awhile longer, just to give the bear some extra space and possibly allow other hikers to catch up to us so we could form a larger group. The other groups who stayed the night at Cracker Lake didn't materialize so we decided to continue on. We were almost continuously making noise at this point: talking, clapping, and letting out much more nervous sounding A-OH's than we had a few minutes earlier. We put a bit of trail behind us and then we ran into another couple. We asked if they had seen a bear and they told us they hadn't. This was good news, maybe it had moved on! We continued hiking and then we saw fresh bear scat, and then pee. It wasn't gone at all. We saw another couple. The guy in the couple had his bear spray out in the ready position in one hand, and his other hand was protectively shielding his female companion who looked like she just saw a ghost. She said "you just missed a bear!" She told us that it ran down a hill, crossed Canyon Creek, and then headed up another hill on the other side but it seemed to be leaving the area of the trail. More encouraging words were exchanged and we parted ways.
We made our way down the trail and crossed Canyon Creek, I had wanted to get a picture of the creek since the weather was so much more favorable than our hike in but I couldn't bring myself to stop and take off my pack and take out my camera so we continued on. Alex mentioned that he was getting hot and wanted to take off a layer. We started the hike with too many layers and now the sun was out and our blood was pumping but I still felt uneasy and asked if we could just continue hiking for now. He turned around to say something to me but instead said "oh my God, it's back". I turned around and saw the bear slowly walking along the trail about fifty yards down in our direction. It didn't seem to be aware of us so we quickly continued on, trying to quell our fears.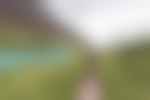 We didn't see the bear again. It had probably been trying to get away from the people and was taking the path of least resistance which also happened to be the maintained trail the people were hiking. We had another five miles to the trailhead. We hiked six miles the day before and twenty miles the day before that. When I had woke up that morning I was feeling sore; my feet hurt and my thighs ached, but I didn't feel anything those five miles back to the trailhead because adrenaline coursed through me. I have never been as happy to get to a parking lot than I was after that experience. We unloaded our packs and tore off our layers. We were dripping in sweat because we were both wearing puffer jackets and fleece but were too shaken up to stop on the trail.
We flagged down a ranger driving by and told him about the bear. If you ever see a bear on a hike you have to report it to a ranger so they can track the bear's activity.
In retrospect I think that our experience was an incredible, once-in-a-lifetime encounter with a fascinating creature but in the moment it was scary. I like to think that Alex and I handled our situation in the best possible way. The ranger asked if we took any photos of the bear (again, to ID and track the bear) and when I told him I was too scared to lift my camera and point it at the bear who was looking at me he laughed and said that was an understandable reaction, which made me feel a little better.
We want to acknowledge and thank the past, present, and future generations of all Native Nations and Indigenous Peoples whose ancestral lands we travel, explore, and play on. Always practice Leave No Trace ethics on your adventures and follow local regulations. Please explore responsibly!
Do you love the outdoors?
Yep, us too. That's why we send you the best local adventures, stories, and expert advice, right to your inbox.