Kayak Camping the Pristine Backcountry of Glacier Bay's West Arm
Mountains, glaciers, majestic wildlife, milky blue waters, and solitude.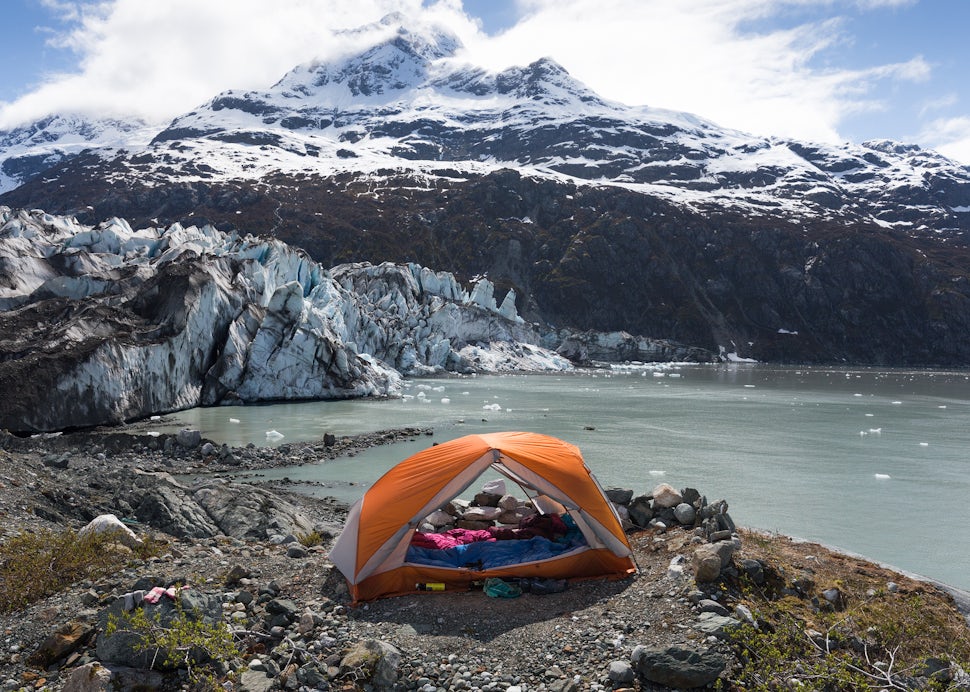 Paddling through the waters of Glacier Bay National Park in southeastern Alaska is one of those adventures that remain on your bucket list even after you complete it because it's so beautiful and so special that one visit could never possibly be enough. Nothing I've ever experienced has come close to matching Glacier Bay's grandness.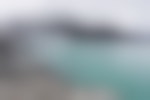 Check out my Kit to see what gear I packed for my trip.

I looked out the foggy window at the scenery slowly cruising by us. The park ranger, who had been informing us of fun and interesting facts about Glacier Bay National Park all morning, ensured us that there were mountains somewhere within the dense blankets of clouds that extended almost to the shoreline. This shoreline and, in fact, this entire area of the park did not exist a few hundred years ago. Geologically speaking there aren't many places that are newer than this piece of land we were exploring, only fresh volcanic land is younger. Had the ranger not told us this fact I never would have guessed it based on what I was seeing. Everything was full of life. Vegetation cloaked the hills and mountains, seemingly so dense that it looked impenetrable. And there was an abundance of wildlife as well: humpback whales, porpoises, bears, sea otters, seals, sea lions, moose, and more bird species than I could ever list. And yet just a couple hundred years ago this was all buried under ice.

During the height of the Little Ice Age in the mid-to-late-1700s, the place we know as Glacier Bay was all glacier, no bay. Glaciers extended some 65 miles from their locations today and reached into the Icy Strait. After the Little Ice Age passed the glaciers quickly retreated, leaving an entirely new landscape in their wake. These glaciers, though relatively sustained by the high snowfall the Fairweather Mountains bring each year, are retreating at an ever-increasing rate. This fact, coupled with the high praise the region receives as being indescribably beautiful was the reason I was aboard this boat on a cold and rainy May morning.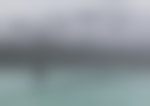 My fiance and I were mere minutes away from being dropped off at Scidmore Bay, the launching point of our 6 day/5 night kayaking trip through the West Arm. The beautiful scenery should have been calming my nerves but instead the knot that had recently taken up residence in my stomach tightened. I had spent extended periods of time in Alaska's backcountry before, but never unguided. There was always someone else to take responsibility and lead the way, this time that someone would be Alex and me.
There are two main regions to explore in Glacier Bay: The West Arm and the East Arm. We picked the West Arm because it is still home to tidewater glaciers — glaciers that have a toe that extends into the ocean. Reid, Lamplugh, Margerie, and Grand Pacific were the four tidewater glaciers we would see and explore on this trip.
Our first stop was Reid Glacier. As we were paddling from the mouth of the Reid Inlet the glacier appeared small and unimpressive compared to its neighbors Margerie and Grand Pacific up-bay, but as we approached the glacier we were able to better appreciate its size. Since we arrived at a low, albeit incoming, tide there was a large swath of beach in front of the glacier so we decided to head ashore and explore the glacier by foot. We were dwarfed when standing face to face with the brilliantly blue glacier, craning our necks in order to take it all in.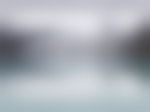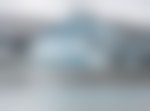 On the second day we set up camp at my favorite spot of the trip: Lamplugh Glacier. When I put together the itinerary I anticipated that we would spend only one night at Lamplugh, but the moment Alex and I arrived we changed our plans and decided to spend two nights at Lamplugh instead. The scenery that surrounded us was too good to leave after only one night!

That afternoon I tried to read the book I brought but I kept getting distracted by the scenery — the clouds rolling over the 4,000'-5,000' mountains that shot impossibly from the sea, the glacier calving and its ice chunks bobbing about in the bay, the seals and sea otters that unexpectedly popped their heads above the water and then just as quickly descended back below the surface, the oystercatchers that would chase off any animal (or human, as Alex and I found out the hard way) they deemed to be too close to their nest, and even the occasional bald eagle that soared by on its way to a lofty perch. It was all too grand to ignore so I just sat and soaked it all in, trying to burn the scene and the exact feelings it elicited into my memory. I sat there for hours and only read ten pages.
Our paddle to Margerie on the fourth day ended up being the most eventful. As we were slowly making our way up the Tarr Inlet the weather seemed to be favorable — blue skies peeked through the clouds, there was little wind, and the water was calm. As the day wore on the sky to the northeast began to look more ominous. Dark clouds consumed the peaks of mountains and a wall of rain looked to be heading in our direction. In what felt like a few minutes our beautiful bluebird day had transformed into a small storm. The wind buffeted us and threw water from the crests of waves, subjecting us to whitecaps that didn't come from one singular direction. In an instant our efforts went from enjoying the scenery to staying in our boats. We jabbed at the water with our paddles, trying to weave in and out of the waves. The ordeal lasted all of ten minutes but by the end I was so drained I could do nothing more than nod when Alex asked, "Are you okay?"
Thoroughly worked from the storm I wanted nothing more than to make it to camp. Finally, after a nine mile paddle we found ourselves on the rocky shores of a beach.
Since a bear can appear at anytime and anywhere in Glacier Bay we combed the beach, searching for bear signs: Prints, digging, scat, and belly holes (little pits they dig to rest their bloated bellies after a feast). We found a few belly holes but there was no telling how old they were so we found a spot away from the belly holes, set up camp, and spent the remainder of the afternoon enjoying the view (and sounds) of Margerie and Grand Pacific Glaciers.
The following morning we had to embark on our longest paddle yet: 15 miles from Tarr Inlet back to Reid Inlet. We wanted to leave with the outgoing high tide, which meant our time of departure was about 4am. When our alarms rang altogether too early, I groaned and tried to retreat further into the warm embrace of my sleeping bag. Then Alex unzipped the tent and we were greeted with pastel skies over the glaciers. I couldn't believe how beautiful the scene was. We hadn't seen a sunrise or sunset in days but this view made me realize how much we may have been missing.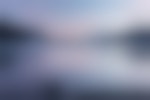 Our early departure meant that the water was glassy smooth and we made it back to Lamplugh in half the time the journey took us the previous day, a testament to how much more effort it takes to paddle in inclement weather.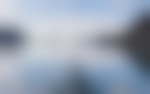 After a long but calm day of paddling we arrived back at Reid Inlet, our final campsite for the trip. Anticipating another early morning we retired to the tent shortly after dinner.
That night Alex woke me at midnight by whispering, "There's a whale outside our tent." I sat up, alert and listening. A few moments later I heard the distinct sound of a humpback whale's exhalation. It must have been feasting in the waters outside our camp because we heard it for the next couple of hours, splashing and breathing, disappearing back into the depths of the bay and then surfacing again a few minutes later.
By the time the sun rose we thought the whale had moved on to another feeding ground but as we were breaking down camp we heard it surface again, and then, for the first time since hearing it hours prior, we saw it. Its breath hung in the air in a mist, glowing in the early morning light. Its smooth back broke the surface and as it prepared for another dive, its tail flicked out of the water and slowly faded into the inky sea. I couldn't have asked for a better last morning of the trip. It was as if everything had culminated into this final show and I was overcome with a feeling of gratitude and appreciation for this park. It's a place that has so much to offer, endless beauty, bountiful wildlife, and solitude.
A note about Glacier Bay: The Tlingit people called this area home for millennia. They knew it as a lush valley with a healthy salmon supply that sustained their families for generations. However, as the glaciers encroached on their land they were forced to search out a new place to live. They moved to Huna. After the Little Ice Age passed the glaciers quickly retreated, leaving new and "unoccupied" land in their place. The United States government claimed it, despite the fact that the Tlingit knew it as their home and had planned to return. This has caused some tense relations between the Tlingit people and the US government. To me it's important to know the history of the places I recreate on, to know that while this is currently named Glacier Bay National Park, it is an entire people's homeland and those people and their home deserve our utmost respect.
We want to acknowledge and thank the past, present, and future generations of all Native Nations and Indigenous Peoples whose ancestral lands we travel, explore, and play on. Always practice Leave No Trace ethics on your adventures and follow local regulations. Please explore responsibly!
Do you love the outdoors?
Yep, us too. That's why we send you the best local adventures, stories, and expert advice, right to your inbox.