How to Choose the Right Ski
If you've ever gone into a ski shop or looked online, you will notice there are a lot of different skis out there. Skis come in all different shapes and sizes: rocker, camber, flat…all mountain, freestyle, powder, big mountain, carving…wide, skinny, and in-between. So then how do you choose a size?? It's so complicated. Well, we are here to help with a comprehensive ski guide!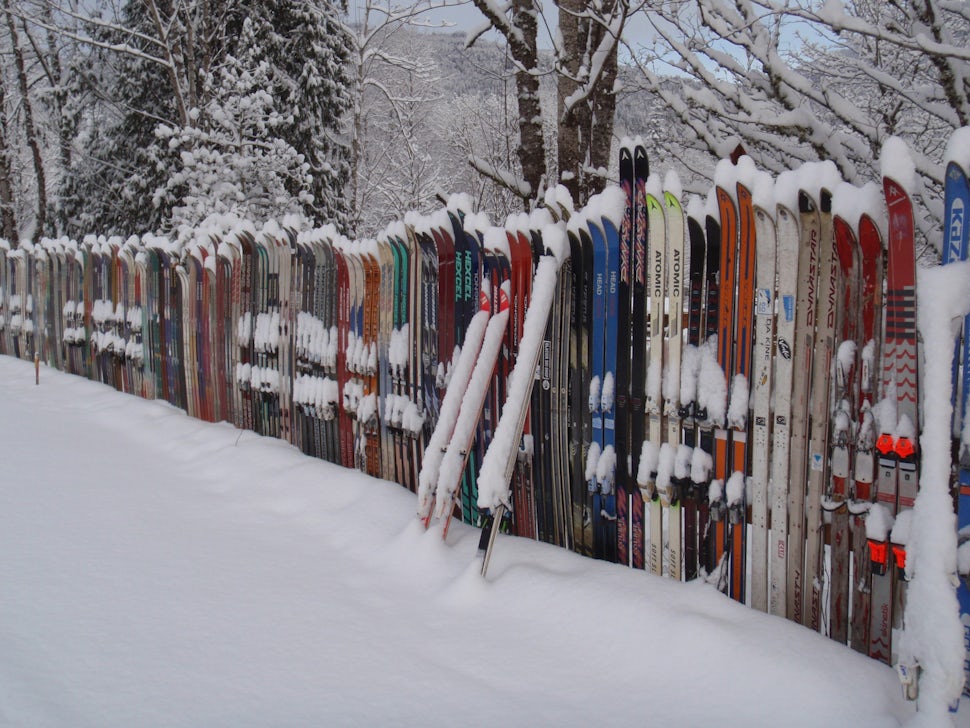 There is no magical equation to determine the perfect length ski for you and there is no formula for choosing the perfect width either, but today we are here to help answer a few basic questions and begin. First, we need you to answer a few personal questions.
1. Where do you ski and on what type of terrain?
2. What is your ability level?
3. How many days per year do you ski?
We want to help you avoid finding a screaming deal that does not actually work for what you need. Factors such as height and weight provide an excellent starting point but there are other things to consider. Ski category, snow type, terrain and personal preference are just some of the things to take into account.
The general rule is to pick a ski length that is somewhere between your chin and the top of your head. Advanced and expert skiers may choose skis that are slightly longer than head height. Length changes the way a ski performs while you're going in a straight line, while you're turning, and while you're skiing at any speed. Within your suggested ski size range there are several reasons to choose a shorter or longer ski.
Reasons to Ski Shorter Skis:
You are a beginner or intermediate skier.
You weigh less than average for your height.
You like to make short, quick turns and seldom ski fast.
You want a carving ski with only camber, no rocker.
REASONS TO Ski Longer Skis:
You are skiing fast and aggressively.
You weigh more than average for your height.
You plan to do the majority of your skiing off the trail.
You plan to ski a twin-tip ski.
You want a ski that has a lot of rocker.
When thinking about width, wider skis put more surface area in contact with the snow. Snow is uneven, thus a wider ski creates a more stable platform for the skier. Wider skis also spread the weight of a skier over a larger surface area, making the skier effectively lighter per square inch of surface; this is why powder skis allow you to "float" above the snow instead of sinking into it.
How this translates to actual ski widths is a matter of snow conditions. Soft snow deforms under the weight of the skier, so a wider ski will flatten out the irregularities and be more stable underfoot. Hard snow doesn't deform as easily, so a narrower ski is needed to concentrate the weight of the skier and give the edges purchase for turning. But here is a loose guide for ski waist widths, using no scientific instruments whatsoever.
Recommended Ski Waist Width By Condition
Ice / Scraped Hardpack / Race Conditions: 60-70mm
Groomed Packed Powder: 70-90mm
Ungroomed Packed Powder: 85-105mm
Crud / Chop: 100-115mm
Powder: 110+
Now to try and help with the labeling of ski types, here is a break down of the different types of skis and how they are labeled.
ALL-MOUNTAIN SKIS
As the name suggests, all mountain skis are for skiing the entire mountain. They are designed to handle anything you throw at them including powder, ice, groomers, steeps, heavy snow, and everything in between, but they aren't necessarily a master of any one terrain or snow type. If you're only going to own one ski to do it all, this is what you want. That said, all-mountain skis come in a range of shapes and widths to match the specific needs of different skiers. All-mountain skis generally have what we call mid-fat waists that range from 80-110mm. The key is to figure out where you will be spending the majority of your time on the mountain and what type of terrain you like to ski most.
POWDER SKIS
These skis are for the deep days. If you like to find powder stashes at your local resort, go on backcountry missions for the freshest of fresh or heli ski trips to AK, powder skis are what you need to stay afloat. Skis in the powder category are wide (115 mm or more in the waist) and most often have some form of rocker or early rise plus a relatively soft flex. Many powder skis today are versatile enough to handle mixed conditions and harder snow.
BIG MOUNTAIN SKIS
Big mountain skis are designed for charging big lines with high speeds and big airs. These skis vary in width from wide, powder-oriented skis for skiing Alaska spines to narrower, mixed condition skis for ripping the beat up headwall at your local mountain. Skis in this category tend to be on the stiffer and heavier side, often with more rocker in the tip and less in the tail.
CARVING SKIS
For those that like the classic feeling of laying a ski over on edge and arcing a perfect turn, carving skis are what you want. These skis have narrower waists and shorter turn radius for edge to edge quickness and responsive turn initiation and exit on groomed runs and hard pack. The beginner-intermediate skis in this category are designed to make learning how to turn as easy as going from pizza to French fries.
PARK AND PIPE SKIS
Park and pipe skis, often called freestyle skis, are for skiers who spend the majority of their time in the terrain park. If jumps, rails, and jibs of all kinds are your thing then check out this category. Though traditionally park and pipe skis have narrower waists with full camber profiles, this category is incorporating more rocker patterns and different shapes. You will almost always find these skis with twin tips as well as other park specific features like thicker, more durable edges, dense extruded bases, and butter zones.
ALPINE TOURING SKIS
Also known as backcountry skis, alpine touring (AT) skis are designed for going uphill as well as downhill. These skis are typically light for their width and many feature fittings that accept climbing skins. AT skis vary in width and weight, with the wider heavier versions usually used for winter/deep snow touring and the skinnier, lighter skis usually used for spring/summer/long distance touring.
SYSTEM SKIS
System skis come with bindings in one convenient package. They use a plate or plates that require a specific model of binding. System bindings usually do not come attached to the skis, and you should always have a certified technician adjust your bindings to your boots.
The most important lesson to take away from this article is that nobody can tell you what ski you "should" be using; it's up to you to go out there and borrow, rent, or demo skis until you know what feels right, and of course talk with the experts when asking questions.
We want to acknowledge and thank the past, present, and future generations of all Native Nations and Indigenous Peoples whose ancestral lands we travel, explore, and play on. Always practice Leave No Trace ethics on your adventures and follow local regulations. Please explore responsibly!
Do you love the outdoors?
Yep, us too. That's why we send you the best local adventures, stories, and expert advice, right to your inbox.