Hunger Games on the Trail to Olympic NP's Upper Royal Basin
What doesn't kill you makes you stronger.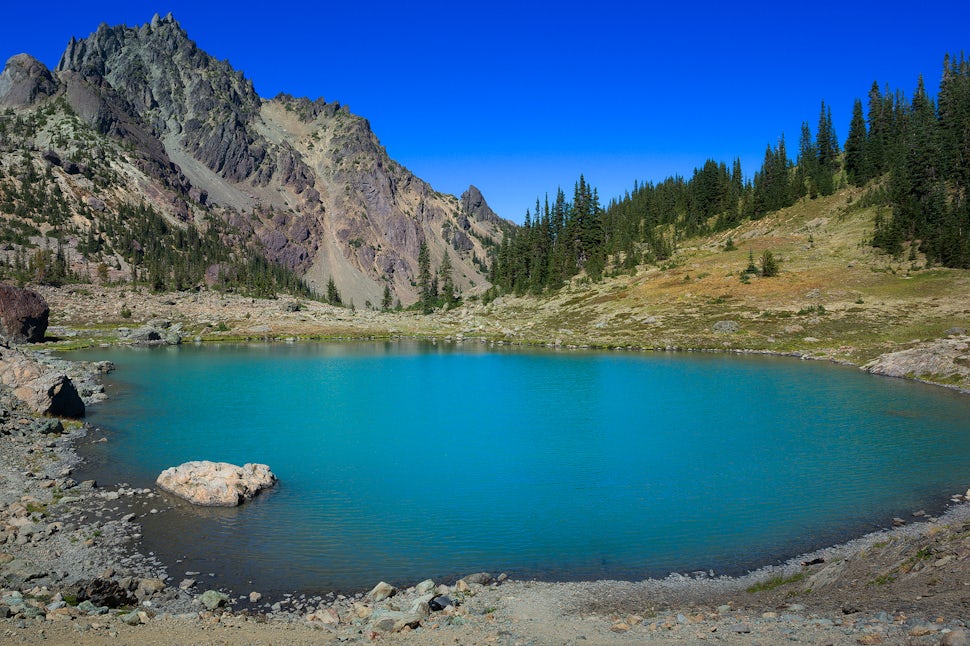 Was it my best hike of the year? Absolutely. Was I worried the end was nigh? Certainly.
I flew to Seattle for Labor Day weekend to continue my national parks quest. I was going to check Olympic National Park off the list. The primary objective in Olympic was to explore the Royal Basin. I was attracted by a turquoise glacial tarn that rests at the Upper Basin region.
The alluring pool of blue!

Few considerations:

Upper Royal Basin is an 18-mile out-and-back hike with 2,500 ft of elevation gain. Most visitors camp at the basin overnight. Fewer make it to Upper Basin. However, I took the challenge of making it a day-hike.
My hiking buddy was a really nice guy who had recently moved to Seattle. However, there were a couple of realities that marred his infectious enthusiasm.

He was not experienced in long hikes, especially with elevation gains. To do Royal Basin would be like running a 10K with a fever.
He had recently fractured his ankle. Agreed, that probably should have been a straight veto for the hike but as I said, his enthusiasm was infectious.
We packed trail bars and sports drinks for our ambitious endeavor. The plan was to reach the Upper Dungeness trailhead by 6 am so we could observe a comfortable pace on the trail and return before dark. (Well, we overslept by a couple of hours.)
I will not get into the details of the trail itself but let me present a brief description of the sections so that you know where I was when I describe my ordeal in the hours that followed. The first section is through a mossy forest straight out of J.R.R. Tolkein's world. (I regretted my decision to only take photos on the return trip as the filtered morning sunlight on the green was magical!) The second section exits the forest into steeper, rocky talus sections with views of avalanche chutes. Then, you arrive at a meadow nestled between beautiful peaks before reaching Royal Lake. However, the journey ascends sharply to a plateau before inviting you up another steep climb to the prize – the glacial tarn of Upper Royal Basin.
The mossy forest (taken by phone).

With straps fastened and a banana consumed, we set off! Thirty minutes into the mossy forest, we paused for a break. I forgot to mention above that until that morning, my buddy was not used to hiking with a full daypack either! Two miles later, these breaks were not enough as the slope gradient increased. I was in a dilemma.

On one hand, I was aware the trail would get only more challenging and my co-hiker was struggling. His morale was fading fast. Given his not-100% ankle, the prudent choice would be to abort. On the other hand, I was determined to complete the journey. It was a gorgeous day and I had flown to Washington for that morning. I did not want to leave him behind either. It would be a really long wait at the parking lot! He understood my conundrum and offered a solution I was not very comfortable accepting – but I did. He encouraged me to complete the hike while he turned back. So, I marched on to the alluring blue glacial tarn by myself!
In the midst of the rocky segment, the first pang of hunger struck. I reached into my backpack but immediately exhaled an expletive! Majority of the replenishment was miles away in my friend's backpack! As the bulk of my daypack housed a camera, I only had space for half-a-gallon of water, a half-eaten footlong, and two trail bars. I wanted to ration the food for the return trip but I needed some energy. I munched half of a trail-mix bar. By the time I reached the meadow of Royal Basin, I had finished the other half. My eyes had been feasting on the scenic beauty all that while – no complains there!
Royal Lake

A little past noon, I reached Royal Lake. I found a nice little picnic spot on the shore and gobbled down the half-sandwich. With renewed energy, I tackled the climb to Upper Royal Basin. I reached the plateau from where I could see the last section – a narrow, slippery, and angled path that ascended steeply into the base of the peaks above!
The final ascent.

The energy gained from lunch was already depleting. I was aware that my body was probably low on electrolytes. One misstep and my calves could cramp. Slowly, I negotiated the angled trail. At a precarious spot on the slope, my fear came true. A cramp – but it wasn't the calf muscles. It was the quadriceps!
Not the best place to stretch - though picturesque! (taken by phone)

It was an emergency. I gulped down the remaining water. Then, I struck one of the most picturesque yoga poses you could witness to stretch the quadriceps. The core muscles engaged to balance my weary body on the narrow, slippery slope. Fortunately, it all helped. However, I still had a fair amount of elevation to climb – and that demanded quadriceps power! I channeled all my resolve and gingerly placed every step.
Finally, I was at Upper Royal Basin! I rounded a bend and alighted a gentle mound. Et voilà! There it was!! Glimmering in all its glory, the milky teal tarn looked even better in person!
Behold - the tarn!

Cooling my feet in the cool blue, I breathed a sigh of relief! The stunning surroundings made all the effort worth it. I wished I could have shared the view with my friend but I knew he'd be happy that at least I got to experience it.
I cooled off at the amazing water!

Now, you may think my ordeal does not sound as terrible as you thought it would be. Let me just say that the worst was yet to come! I still had to complete the return trip before nightfall. Going downhill required greater focus and control. For a hungry and tired body, it was daunting.
I shed inhibitions of drinking stream water and refilled all my bottles from Royal Creek. At least from a hydration perspective, I was sorted. At the meadow below, I ate half of the last trail bar. The sugar and salts were like a jolt of electricity. However, like a jolt, it dissipated quickly; it wasn't enough. My body was burning energy at a serious rate!
I did make a detour through Royal Basin Falls on the return leg.

Six miles to the parking lot, I finished the last trail-mix bar. About forty minutes later, I felt my legs waver. They needed rest. Some water and preventive stretching later, I continued through the rocky segment of the trail. With every step, I was convinced the mind was an evil entity. I wasn't just getting visuals of the best meals I have had but I could literally taste all of them in my mouth. From the sumptuous Mutton Biriyani I had in Hyderabad to the delightful mint-chocolate I had years back in Zurich, my mind tortured itself!
A mile later, I reached a breaking point. I was almost about to eat some wild berries. The last vestige of fortitude advised me better. I resisted the temptation. However, exhaustion took its toll and I stumbled. As I broke the fall and dusted myself back up on my feet, I thought it was almost unfair how I could not transfer the abundance of strength in my upper body to the fatigued legs. The situation looked hopeless as the sun started its decent to the western horizon.
Right around here I reached breaking point. The sun was setting as well. (taken by phone)

Suddenly, I heard some movement from the trail behind. Was it a bear? Then, I heard voices…humans! Perhaps the last people returning, they rounded the bend and looked at my distraught face.
"Do you have some food?" I intoned. The kindness of man blessed me with a "Sure!"
On an average day, a salted-caramel peanut trail-mix bar would not rank very highly as a gourmet meal. However, as my teeth sunk into the rich amalgamation of sugar and protein, an explosion of psychedelic emotions ran though my senses. That first bite was one of the best things I have ever tasted in my life!
Infused with a second wind, I did not just walk down the trail – I hiked it. A mile later, I entered the magical mossy forest. Almost there! There was a campground nearby and I used it to access the Dungeness river. As I refilled my bottles, I noticed a lady preparing dinner by her tent. Given my hunger, I could not help but observe. Well, "observe" would be euphemism for "stare."
She looked at me and smiled. "Would you like something to eat?" She seemed to understand where I was coming from (literally). Or perhaps it was my puppy-dog eyes. My expression beamed a resounding "Yes!" More food!
Mother nature provides! I made regular fill-up's.

I was then set! Resolve was high again. The adrenaline started pumping. Three miles remained. I marched down the trail. My hitherto enervate legs now picked up the pace. With the sun setting and the finish line approaching, I played some thematic music on my phone. "What doesn't kill you makes you stronger…" sang Kelly Clarkson as the parking lot came into view.

I knocked on the window of our car. My friend greeted me with an expression of relief. Before telling him how awesome the basin was, I asked for his backpack and delved into the abundance of food and drink!
A day-hike to Upper Royal Basin is one adventure I would recommend for its stunning views and awesome reward. However, had it not been for the two instances of kindness, my day could have ended horribly. Knowing the limitations on that day, we should not have attempted it in the first place. In the heat of the moment, I forgot to readjust the replenishment loads. Definitely, a few lessons were learned!
Am I happy to have hiked Upper Royal Basin? Absolutely. If we went back in time, would I have continued? Certainly not.
Hope you get to experience the beauty of (Upper) Royal Basin!
We want to acknowledge and thank the past, present, and future generations of all Native Nations and Indigenous Peoples whose ancestral lands we travel, explore, and play on. Always practice Leave No Trace ethics on your adventures and follow local regulations. Please explore responsibly!
Do you love the outdoors?
Yep, us too. That's why we send you the best local adventures, stories, and expert advice, right to your inbox.