A Spiritual Encounter in Sedona
A spiritual epicenter, many incredible experiences have been documented in Sedona — this was our first.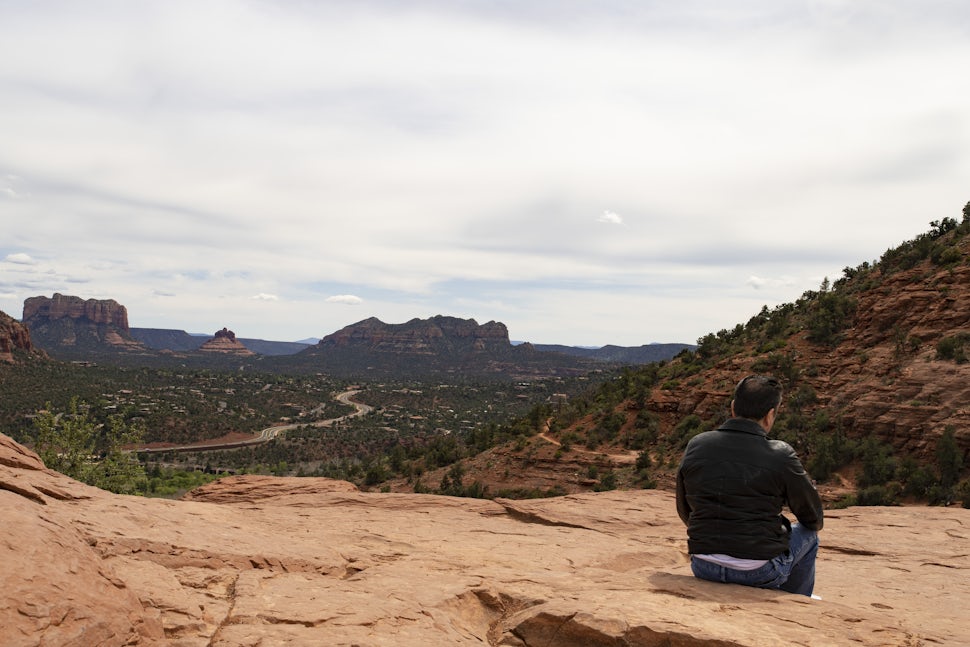 Airport Vortex, Sedona, Arizona
(This was written in April 2019)
Yesterday, we spent the day in Sedona. It is one of, if not my top favorite place I have ever been (Very close with Iceland & Ireland). I had been to Sedona 10 years ago with my parents while I was on a grad school clinical rotation, but this time was different. I am more experienced, on a spiritual path, and living in much more awareness. We wanted to go to one of the vortexes, and with Kait, my wife, 6 months pregnant we opted for the easiest — the airport.
Firstly, the views of the massive distant rocks towering over the tiny civilization below is consistently stunning. The colors, the nature, and people all wonderful. Maybe it is my memory, maybe it is my experience and expanded clarity, maybe it was the weather yesterday, but I experienced a much more vibrant Sedona than I did 10 years ago. Vibrant in nature, not in human activity. We start at the top at Airport Overlook with the sweeping view, then head down the 0.6 mile path to the start of the airport loop trailhead. No intentions of doing the loop, but heading down to a large rock at the start. Everything was incredible the whole way down.
We stop several times when it felt right. I took my shoes and socks off to feel the earth. It was soft and gentle, yet firm. I was expecting to have to brush the red dust off of me feet when I put my socks back on, but nothing. They were clean.
We went a little further, and sat close to the edge of a cliff where the loop started. We enjoyed the moment. A lot of the chatter in this area is about the energy of the vortex. We overheard an older man exclaim "Now, I don't believe in this stuff, but this one time….. Again, I think this is a bunch of hooey, but this one time…… " He's afraid of what he does know and his mind cannot understand.
We walk to the top of this giant rock at the start of the Airport Loop Trailhead (in picture). More beautiful views. Significantly colder up there, as clouds are also moving in between us and the sun. We meander, take photos, gaze, and listen. We hear a tour guide talking about two recent UFO sitings from this area, one about 10 days ago and one 6 months ago. Same description, different people. A cigar shaped flying machine seen over the rocks that then disappeared. He tells more stories about UFOs.
The larger group leaves, and there are only a few of us up there. The wind picks up, a lot. A man, later to be known as Avi, makes a comment about the wind to us. We have a quick chat, find out he is from California and decided to come to Sedona for the first time after a work trip to Phoenix. We go to our separate areas of the rock. I feel the urge to take photos of him sitting on the rock.
We are sitting, conversing amongst ourselves, and observing. People come and go. The wind consistently seems to die down when more people are around, and pick up when there are a few.
Kait - 6 months pregnant
Avi came to join in some grounding and conversation
Candid shot of Avi prior to our interaction
I decide to go barefoot again, to feel the rock. Practice some grounding, to be with nature and feel the energy. Avi takes note, comes over and says "Oh, he's getting serious now. I think I'll join. Kait and him crack a joke. He sits and takes off his shoes and socks.
We bond over a couple taking photos on the edge of the rock by discussing all of the people who have fallen to their death with taking selfies recently. 3 people have already died this year at the Grand Canyon while take selfies. He seemed angry at this couple for being on the edge. We talk about the negatives of social media and external validations.
Our conversation continues by Avi mentioning the beauty and energy of our location and Sedona in general. He then goes on to mention the tour guide who was discussing the UFOs and alien beings. He says, "I know they are real because I was abducted when I was 5. My brother too, he was about 1.5 years old. I don't remember too much, but my brother remembers every detail because he had more recently come from the other side. So he was more pure still."
Avi is a small man, maybe in his 60s. Long bushy eyebrows. Clean, well dressed, but wearing an old leather jacket with a curious triangular type tear on the front of his right pocket. He grew up in Israel, not sure how long he's been in the US.
He goes on to tell us he never knew his brother remembered everything until much later in life, actually more recently. He says he didn't really understand why but he knew more things, truths, about life after his experience at 5 years old. He set out to find out more. He notes that there are aliens among us that can change what we are seeing. There are hybrids too, because they combined their DNA with human DNA. He says he has been reincarnated many times, an old soul. He has friends, too, from past lives. He used illusionists as examples. He speaks with absolutions.
You may think that Avi is crazy and not in touch with what society calls reality. However, he referenced movies like the Matrix, a Kardashian, teachers like Deepak Chopra. He appears to be very aware, spiritually and perceived reality.
We go on to discuss spirituality, as he has been on a spiritual journey for the past 20+ years. This is where it hits me hard. He describes perceived life as vibrations, negative and positive vibrations on a spectrum or sliding scale. Through vibrations, he is talking about the ego or separate self, and the true self and true nature. He is talking about living in the now, being present, living in peace and happiness vs guilt, anger, shame, disgust, frustration, resentment. It's easy to get into the negative and often difficult to see that you are there, until you get out of it. The more aware you become, and the more time you spend in the positivity the more you want to spend there and the more you can get back to it.
I describe my path, he provides very encouraging words that I have told myself, I hear from others, but he reiterates. Have the vision, keep working on yourself. Live in the now, be positive and it will all come together.
Kait and I bring up living in Philadelphia and how there is something that just doesn't feel right. Avi immediately understands and says, "Oh yes, Philadelphia is suppressing you. You're never going to get to what you want by staying there. It's not the place for you." That is exactly how we have been feeling.
Kait goes on to lightly describe her trials and tribulations with her personal situation. He nails exactly what she needs to do too. "First you must cleanse yourself of the negativity, only then can the positive vibrations shine." He goes on, to describe a path of self inquiry to let go, live in the present, be aware, and the clarity will come. Again, he is not saying anything new, but a complete stranger reiterating the path to clarity and happiness is powerful.
As we say goodbye, he gestures for a hug. We all hug. Kait then initiates name introductions for the first time. Avi leaves us with, "Your son is going to be very spiritual. He is going to have a lot of this amazing energy. And don't worry, he's going to make a lot of money!"
To me, he is comforting and brings joy. Contrarily, he brings out resistance in Kait, only to be expressed when we part ways. I felt there was a reason we were to connect with this man, and there was.
We want to acknowledge and thank the past, present, and future generations of all Native Nations and Indigenous Peoples whose ancestral lands we travel, explore, and play on. Always practice Leave No Trace ethics on your adventures and follow local regulations. Please explore responsibly!
Do you love the outdoors?
Yep, us too. That's why we send you the best local adventures, stories, and expert advice, right to your inbox.