3 Recipes to elevate your camp food game
Want to impress your friends and improve your camp food options? Try these three recipes!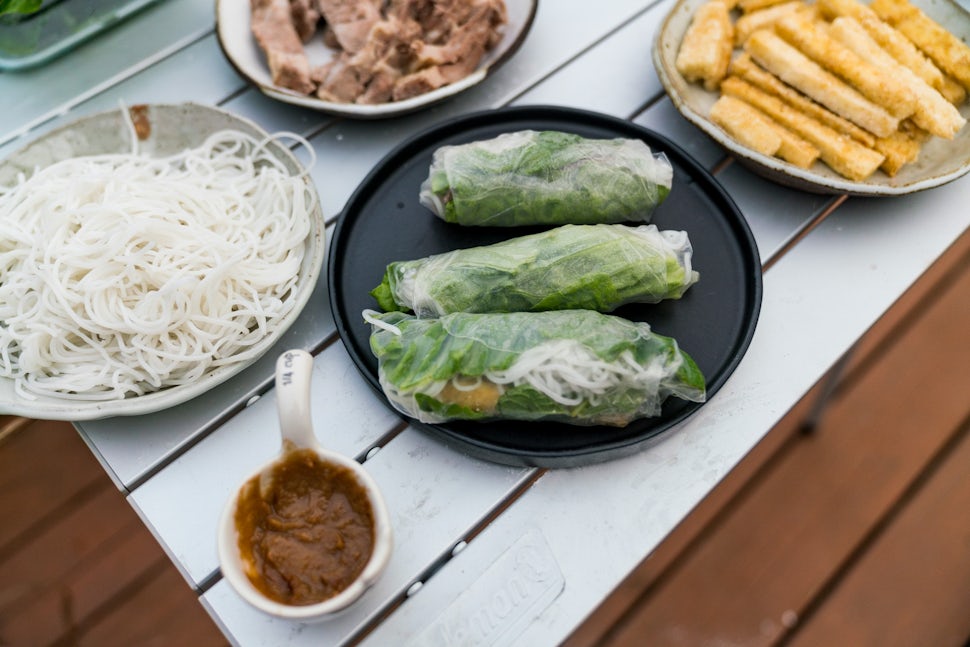 Vietnamese Spring Rolls
Spring rolls are one of my favorite dishes. They're an awesome appetizer, snack, or even a full-on meal. I grew up with them as a staple meal. Once all the cook prep is done, spring rolls are easy to whip up and surprisingly filling!
Best of all, they're customizable for even the pickiest of eaters. Rather than painstakingly roll each one myself, I lay out all the ingredients on the table and everyone can make their own.
Ingredients
Round rice paper
Fine vermicelli noodles
Red butter lettuce or butter lettuce
Cucumber
Extra firm tofu
Corn starch
Seasoning salt
Vegetable oil
Pork shoulder
One full-size carrot
1/2 onion, peeled
Ginger
Salt
Pepper
Creamy peanut butter
Hoisin sauce
Water
Fried onions or shallots (optional)
Mint, to taste (optional)
Basil (optional)
Mung bean sprouts (optional)
Cilantro, to taste (optional)
Crushed peanuts (optional)
Jalapeño (optional)
Sriracha, to taste (optional)
Equipment
Pot
Colander
Cutting board
Knife
Medium sized plates
Saucers
Large bowl, large enough to dip the rice paper in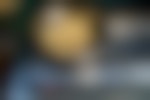 Tofu
1. Remove extra firm tofu from packaging and blot dry with a paper towel.
2. Slice the tofu into thin pieces.
3. Mix together corn starch and seasoning salt to taste.
4. Dredge the tofu in the corn-starch-and-salt mix until well-coated.
5. Fry the tofu in vegetable oil until crispy golden brown.
6. Place on a plate covered with paper towel to cool.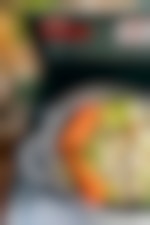 Pork shoulder
1. Place the pork shoulder in a large pot and cover with water.
2. Peel the onion.
3. Add carrot, onion, and ginger to the pot.
4. Add salt and pepper to taste.
5. Bring the water to a boil and cook the pork shoulder thoroughly.
6. Let the pork shoulder cool to room temperature.
7. Trim off any fat and cut the pork into roughly 1"x 3" thin pieces. Set the meat aside.

Tip: Save the broth. I like using it as a soup base for future dishes!
Noodles
1. Bring water to a boil.
2. Add the vermicelli noodles. Cook until noodles are soft and white.
3. Drain and rinse the noodles thoroughly with cold water, swishing them around so they don't stick to each other. Set the noodles aside.
Peanut sauce
1. Add a little bit of water to a pot.
2. Add in a spoonful of peanut butter.
3. Mix the peanut butter and the water. If it's too thick, add a little more water.
4. Add hoisin sauce to taste.
You can make it super peanut-y by adding more peanut butter or not as peanut-y by watering it down. Set the sauce aside. It may congeal a bit while you are prepping. That's ok!
If you like it liquidy for eating, heat it back up right before you dig in! Let it cool if you prefer a thick texture.
Prior to eating, dish the sauce into smaller containers for each person.
Optional: add a dollop of sriracha to your saucer. Sprinkle on crushed peanuts, if you'd like.
How to roll the spring rolls
1. Slice the cucumbers into thin, rectangular pieces.
2. Fill your large bowl with warm to hot, but not scalding, water.
3. Grab a sheet of rice paper and dip the whole thing into the warm water to soften it. You may need to rotate the paper to coat the whole thing.
4. Place the paper on your plate.
5. Rip off a piece of lettuce. Discard the stem because it makes your spring roll wonky. Place the lettuce at the bottom of your piece of rice paper.
6. Grab a small handful of vermicelli noodles. Place on top of lettuce.
7. Layer on a piece of pork, tofu, or both.
8. Add other toppings like mung bean sprouts, jalapeño, fried onion, and cilantro. Keep in mind that you still need to roll the paper, so don't add too many ingredients. You can always use different ingredients in each roll to get all the flavors.
9. Fold in the left and right sides of the rice paper about half an inch to prevent the insides from spilling out as you're rolling.
10. Roll from the bottom up, tucking in the ingredients as you go so they don't fall out.
11. Dip in peanut sauce and enjoy.
Tip: You'll likely lose some ingredients in the dip after taking your first bites. Use a spoon to scoop the sauce onto the roll without losing the insides.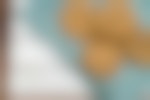 Sea Salt Chocolate Chip Cookies
Sharing these cookies will make you everyone's favorite person! This recipe is adapted from the Cookiepedia by Stacy Adimando and makes a dozen thick, chewy cookies.
Ingredients
1/2 cup of unsalted butter, room temperature
1/2 cup of brown sugar
1/3 cup of white sugar
1 egg
3/4 teaspoon vanilla extract
Generous 3/4 cup of whole wheat flour
1/3 cup of bread flour (all-purpose flour is OK too)
1/2 teaspoon of salt
1/2 teaspoon baking soda
1 cup of chocolate chip cookies
Flaky Maldon sea salt
Directions
1. Cream butter and sugars until they look light and fluffy.
2. Add the egg and vanilla extract until mixed.
3. Add flour, salt, and baking soda and mix until they are all combined.
4. Stir in chocolate chips.
5. Scoop out dough balls about a quarter cup in size and space evenly on a cookie sheet lined with a nonstick silicone mat or parchment paper. There should be enough batter to make about a dozen cookies.
6. Sprinkle flaky Maldon sea salt on each cookie ball.
7. Place the cookie sheet in the freezer for an hour or two.
8. Pre-heat the oven to 350 degrees.
9. Bake for about 18-20 minutes, or until the edges are lightly browned.
10. Let it cool, until it won't burn your tongue, then devour.

Store the cookies in an airtight container to retain the chewy texture if you're taking them camping!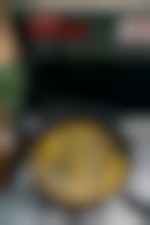 Ramen and Freeze Dried Veggies
Instant ramen is my comfort food. I can eat it for days in the backcountry. It also makes an easy breakfast or lunch while you're out and about. Here's how to make it a little healthier and less bland.
Ingredients
Your packaged instant ramen of choice
Freeze-dried corn
Freeze-dried peas
Freeze-dried spinach
Freeze -dried broccoli
Dehydrated soup veggies
Directions
1. Open the ramen packet and seasoning packet.
2. Break up the ramen and place it in a bowl.
3. Add as many freeze-dried veggies and dehydrated soup veggies as you'd like.
4. Sprinkle on the seasoning packet.
5. Boil as much water as is mentioned in the ramen packet instructions.
6. Pour hot water over the ramen and veggies.
7. Let it hydrate.
8. Enjoy!
We want to acknowledge and thank the past, present, and future generations of all Native Nations and Indigenous Peoples whose ancestral lands we travel, explore, and play on. Always practice Leave No Trace ethics on your adventures and follow local regulations. Please explore responsibly!
Do you love the outdoors?
Yep, us too. That's why we send you the best local adventures, stories, and expert advice, right to your inbox.