Permits 101: The Basics of the Backcountry Permit System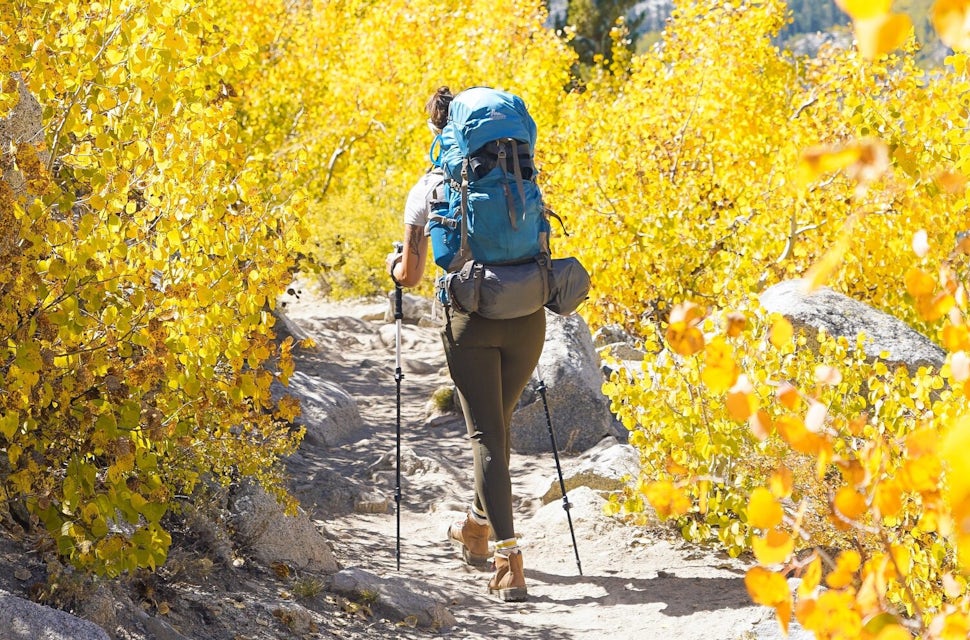 Originally published on NoelRuss.com
[Disclaimer: I originally wrote this piece over a year ago, before many new regulations and restrictions were put in place. Please research each region you intend to visit and be sure to check any local alerts regarding closures, precautions, and new recommendations for travel. Heed the urging of trail organizations that are discouraging thru-hikes along certain popular trails, and prioritize the overall well-being and safety of the places and communities you're traveling to.]

Waking up to a perfect reflection of towering granite monoliths, reflected on the surface of crystal-clear, alpine lakes is a surreal way to start the day. Surveying the horizon, it's often hard to pick out the tiny brightly-colored tents, speckled across the landscape – giving one's senses a much-desired dose of solitude. But these stunning, wild spaces, and the experience of feeling alone in them – is, in part, thanks to the permit systems in place which afford us the privilege of exploring safely and trekking tranquilly in the outdoors.
If you're new to backcountry travel in popular regions of the U.S., you might be surprised by the prevalence of permit requirements in place. But don't be dismayed, with a little research and some patience, you can learn to navigate these systems with the ease of following a well-groomed trail.
Here's a quick intro to the "what", "why" and "how" of backcountry permit systems:
Why are permits required?
Permits help keep people safe. With required info – like license plate numbers, number of people in your party, and a record of your intended itinerary (including entry and exit trailheads and geographic locations where you'll be setting up camp) – rangers can help keep track of where you are in case of emergency or accidents. Upon being issued a permit, visitors are also notified of unexpected backcountry conditions, as well as rules pertinent to the area you're adventuring in.
Permits also help keep wild spaces safe – by requiring visitors to overview and acknowledge certain wilderness rules and regulations, such as the requirement of bear bins, wag bags, and campfire restrictions.
Lastly, the permit system also helps outdoors officials regulate the impact of backcountry travel, placing quotas to prevent overcrowding, while also helping generate the information necessary to better allocate resources needed for management and oversight of these beloved places.
Where are permits required?
All national park backcountry regions require permits for overnight travel and many national forests require the same.
Some areas require permits only during specific times of year, others maintain seasonal quotas limiting the number of people permitted to enter from designated trailheads into specific regions each day.
There are even some regions that require permits for day hiking.
The best way to determine what is required, and when, is to reference the website for the national park or forest that you intend to visit. Ranger stations and visitor centers are also valuable resources regarding requirements of the places you plan to play in.
When can I reserve a permit?
Permit reservation windows vary from park to park. However, they typically begin several months out from your intended start day.
For instance, permits for most trailheads in Inyo National Forest (home to Ansel Adams and John Muir Wildernesses) can be booked 6 months out, while King Range Wilderness (home to the Lost Coast trail) allows permits to be reserved up to one year in advance.
Typically, only a portion of permits are made available ahead of time, while the remaining can be claimed as walk-up.
Also, permits for some regions are managed by a lottery, like the Mount Whitney zone or The Enchantment area, where visitors can apply for their top choice dates during an entry period, and are later notified as to whether their reservation was selected and approved.
How do I reserve a permit?
While many permits can be reserved online via recreation.gov, others must be made over the phone, or mailed, and some are still even accepted by fax.
Many areas also designate a select number of permits available to be issued to walk-ups, which sometimes means you can self-issue one at the trailhead - but more often means you must visit a nearby ranger station to acquire one. In popular parks, this sometimes means standing in line at the crack of dawn, alongside a bunch of other equally eager and dedicated adventurers, waiting for the doors of issuing stations to open.
It's also important to remember that many permits require in-person pickup from select ranger stations and visitor centers, either the day before, or by the morning of, your trip. This must be taken into account when making travel plans, as many stations do not have night box options and use in-person-issuing as an opportunity to remind visitors about Leave No Trace principles, as well as rules and requirements relating to the area they're exploring within.
Important tips to remember when planning your next backcountry trip
Plan ahead:
The more time you give yourself, the better your chances are of securing a permit. Decide where you want to go and when, do your research on requirements for that region and set calendar reminders for key dates. Below is a little cheat sheet with time frames and instructions listed for popular places after this workshop, so you can use that for reference when planning.
Check websites and ranger stations to learn about pickup methods for permits so you can organize your travel days accordingly – do they have a night pickup box? Does it have to be in-person? Is there a shuttle required to the trailhead? If so, how much does it cost? Can permits be printed? Can they be picked up at more than one ranger station location or visitor center?

Be flexible:
Pick your Plan B, Plan C and even Plan D choices for preferred entry dates and trailheads. And stay curious – sometimes the obvious route to the desired destination isn't the only interesting one! There are usually several different ways to get to where you want to go – spend time staring at maps, scouring trailhead quota lists, and finding alternate solutions to get you where you want to go if your first choice isn't available. Any wiggle room around dates also goes a long way – entry dates on Fridays and Saturdays tend to be in higher demand than Tuesdays or Wednesdays, so if you're able to get some extra time off, you might have a better chance snagging permits for trips starting in the middle of the week.
Since permits are non-transferable, make sure to list alternate leaders on permits when you're able. This helps in the case that you can't make it to the ranger station while it's open, or end up not being able to attend the trip altogether. Alternate leaders listed on permits will be allowed to pick up your reserved permit on your behalf. As of 2019 Recreation.gov also requires alternate leaders to login and confirm their status as an alternate.
Travel outside of peak seasons:
Hiking outside of quota seasons makes popular wilderness areas much more accessible – and usually less crowded! But a word of caution – usually "high season" coincides with temperate weather and typical snowmelt patterns. Early trips can mean traveling in winter conditions, high water and even less-distinguishable trails due to winter tree falls, and lingering snow. Late season hikes can mean more rainstorms, electric storms, high winds, and chances of snow. In the desert, traveling outside of peak seasons can also mean a greater risk of flash floods. Take caution when planning outside of high seasons and keep an eye on weather reports.
Try for Walk-Up Permits:
Don't be dismayed if you weren't able to get an advance permit, most trailheads reserve a significant percentage of daily quotas for walk-up permits. Get up early and grab your sleeping bag so you can snuggle in line outside of the ranger station. Have your top 5 or 6 selections ready to communicate to the person at the wilderness permit desk. If all of your top choices are taken, ask the ranger for suggestions regarding local non-quota or non-permitted regions. Remember – smaller groups always have better chances of snagging permits for regions with quotas, so be selective about your adventure buddies if you're trying to snag some walk-up permits.
Do your research on rules and regulations of regions you're passing through:
You might be starting in a national forest but planning to spend the night in a designated wilderness region or within national park boundaries. Each region has different rules regarding campfires, pets, group size limits, food storage requirements, and restrictions on places you can and cannot camp. As a permit holder, you are agreeing to meet the requirements of all the areas you pass through during your contiguous wilderness travel – keep in mind that sometimes these vary a lot. When in doubt, call the ranger station to double check.
Budget accordingly:
Though permits are relatively affordable (most cost around $5 to $10 dollars with a small reservation fee tacked on) some applications and some lottery fees are nonrefundable (i.e. coyote buttes north) while others only charge you if your reservation gets accepted. So, keep this in mind when planning financially. Though the costs are small, they can add up (i.e. I've been applying every month for coyote buttes north for 6 years now!)

Remember whose land you're on:
You are on Native land. Though most of the regions we recreate are managed by different governmental agencies (be it state parks, BLM land, national forests, etc.) it's important to keep in mind that the rightful owners and caretakers of these places we love, are the Indigenous people of our nation. By the time you pick up your permit, you should be well-prepared for your trip – and this includes engaging in research on who the land belongs to, and discovering ways you can honor and support those Indigenous communities. Visit Native American cultural centers near the places you plan to visit, patronize Native American businesses and makers, support Native communities' efforts to preserve, protect and care for the land we are visitors on and establish allyship by coming alongside their efforts to do so. Listen to Native community members, lift them up, and educate others on what you've learned.
We want to acknowledge and thank the past, present, and future generations of all Native Nations and Indigenous Peoples whose ancestral lands we travel, explore, and play on. Always practice Leave No Trace ethics on your adventures and follow local regulations. Please explore responsibly!
Do you love the outdoors?
Yep, us too. That's why we send you the best local adventures, stories, and expert advice, right to your inbox.