24 Hours or Less: Asheville, North Carolina
Sometimes, the No-Plan Plan unravels itself.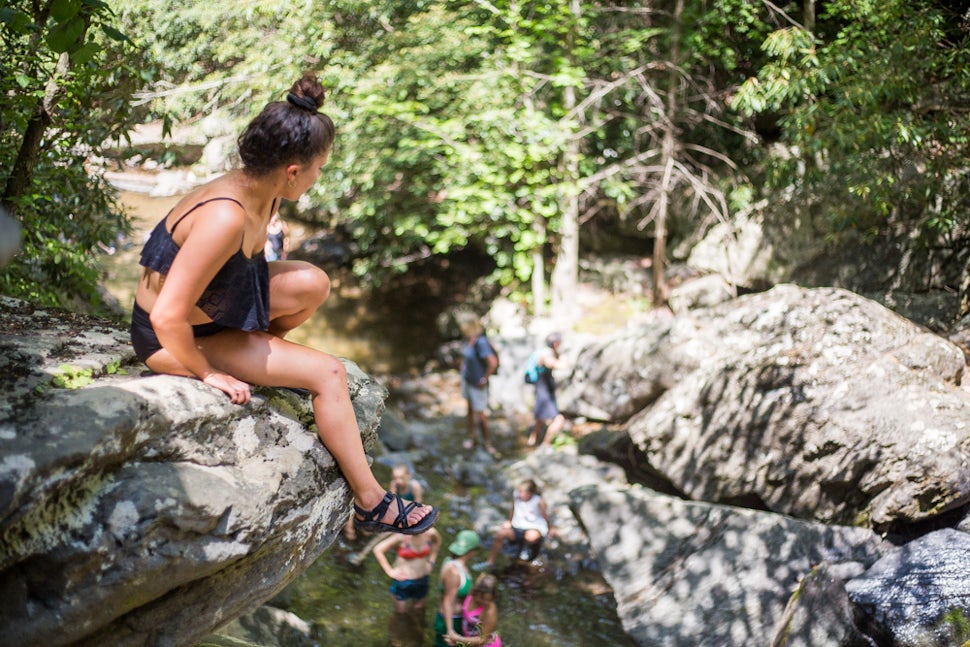 Working full-time this summer, daily possibility for adventure is slim. The height of my activity, once off the clock, consists of hurried attempts to drum up a plan that will exercise my body and my brain, all before the sun sets and bed time rolls back around. Beckoned toward sleep in order to prepare for yet another day on the grind, I curl up and dream longingly for Friday. The glorious highlight of a standard nine to five is the unwavering fact that after the revolving routine Monday through Friday, the weekend awaits us, every time, with wide, welcoming arms, as a reward for successfully completing a round of the work week, once again. You have a choice to contemplate as you drive home in rush hour traffic next Friday afternoon. Is the couch to become base camp over the ensuing few days of leisurely freedom? Will you veg out, binging on Netflix and sleeping until the day is nearly cut in half? By all means, this is an option. Or, perhaps, you could get out of the house. Get out of town, even.
Despite the lingering image of Monday morning lurking down the road and on the forefront of my hesitating worries, this weekend and all precious weekends to come, are to be used to their fullest potential. I am scrapping each exhausted excuse revolving around "not having ample time or energy" to carry out a worthy adventure. As Alastair Humphreys, author of Microadventures: Local Discoveries for Great Escapes, wisely advised, "See the opportunities for adventures, not the constraints that get in the way"; therefore, I refuse to wait until vacation time off to take my well-deserved getaway. Rather, I intend to devote my early morning commute reminiscing fondly of time, though immensely cut short, very well spent.
Less Than 24 Hours: Asheville, NC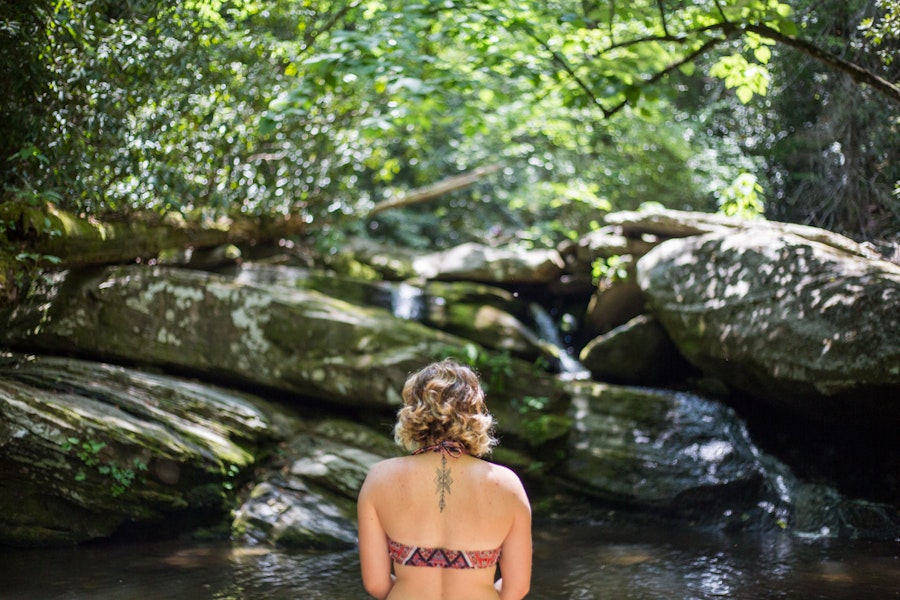 With wide eyes toward the mountains above, we crossed the state line of North Carolina by 9 o'clock in the morning. My trusty companion in most all spontaneous scheming, Anna Haggerty, reclined in the passenger seat to my side, one hand in our hearty bag of homemade trail mix, the other out the window, floating about the breeze. A day or two prior, when proposing to zip up to Asheville for the afternoon and back home to Atlanta by nightfall, she had raised her eyebrows with an expression that asked "Is that even a question?" and aptly accepted. Without a plan in our pockets and less than twenty-four hours, we were off.
Alas, four northward hours later, the first sight to greet us from the highway, affirming our arrival, was a water tower off in the distance with the words "Good Vibes" painted across its front. Hello, Asheville. Coasting through downtown, our guide had become the grumbling of our stomachs. At the top of the imaginary itinerary was caffeine and food, underlined. We spotted Trade and Lore Coffee first, settled in brick on Wall Street, wheeled into a parking spot, and skipped through the entrance. Moments later, quite aware of the impending potential of very soon growing "hangry", we strolled out the door, Nitro Iced Coffee in hand, straight from the tap. Searching up and down the sidewalk, we curiously skimmed posted menus and scanned the excessively populated patios. The hour long waits, my plant-based diet, and our mutual reluctance to spend more than ten dollars on a quick bite to eat kept the pickings few. At last, our necks craned upward to spot the sign for the Jerusalem Garden Café. My appetite for falafel and Anna's taste for any place offering burgers on their menu got us through the door. Though not our first choice, desperation proved kind. This Mediterranean haven is one I would recommend to anyone in pursuit of flavor, culture, and low, friendly prices. Positioned by the window, snacking on warm pita and hummus, we discussed what was to be next in line along our No-Plan Plan. It was undoubtedly decided to involve water and a trail to get us there. "I want to swim. I want to see a waterfall." Anna demanded. A few Google searches later and we were headed to Black Mountain and Catawba Falls.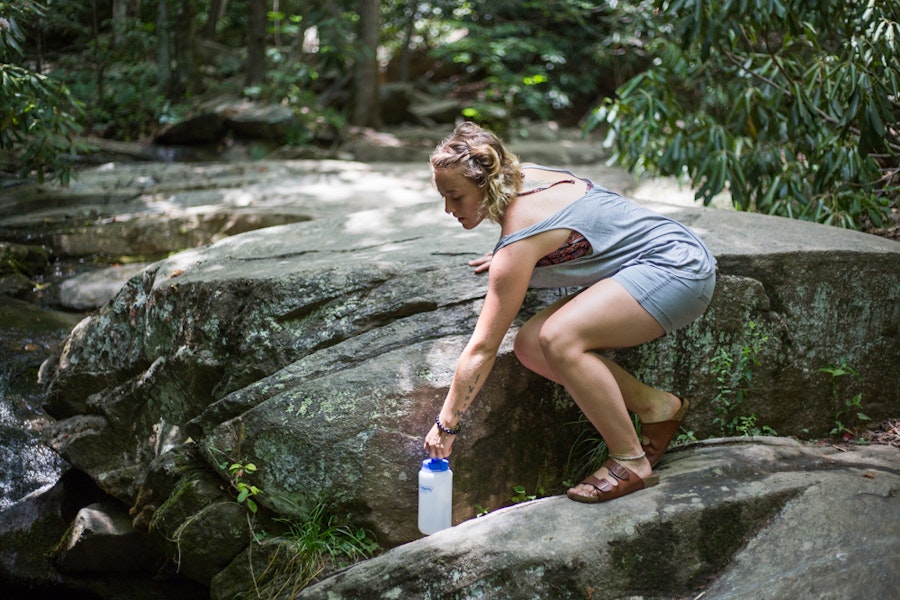 Though most might find it necessary to approach the advising board before entering the trail head, we excitedly changed into our bathing suits and bounded out the car door at too fast a pace to consider its helpful information. The thought of doing so did not cross our minds until nearly ten minutes into our hike. The falls could be five miles away or merely around the next bend. The vibrant families and fellow hikers trekking opposite of us set our budding worries at ease.
"You are almost there!" a smiling stranger informed us as we passed by. Low and behold, we truly were just minutes down the path. As we advanced, our grins beamed brighter and the air grew cooler. Slipping off our shorts and shirt, we quickly retreated to the slippery rocks ahead, dunking our bodies underneath the icy downpour. A relief swam over me as I leaned back against a mossy, nature-made chair. I exhaled and Monday had never seemed so far away.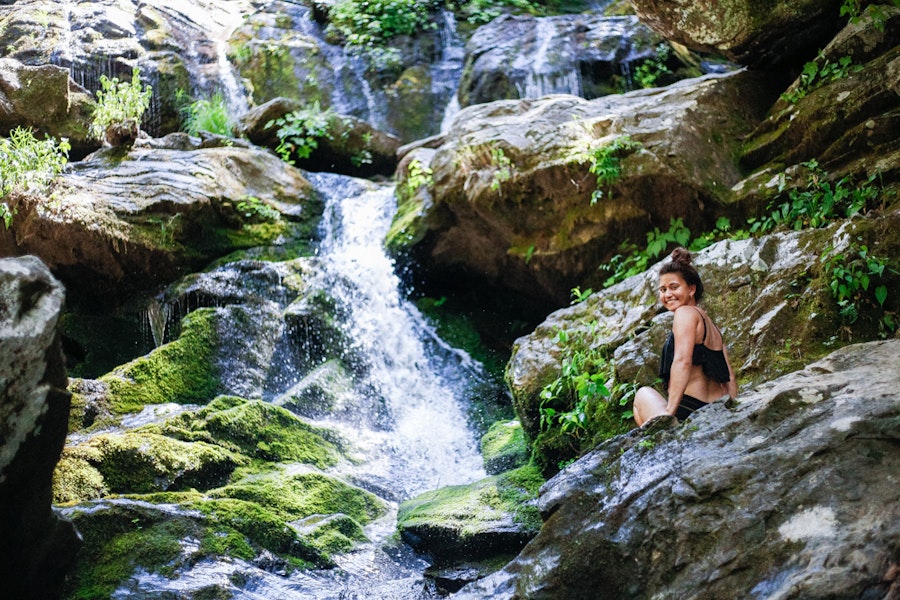 The next hour or so was spent exploring accessible crevasses, conquering my fear of snakes in shallow pools below, and admiring the beauty of God's creation. It went without saying that we could spend the rest of our day here; however, the lowering, late afternoon sun reminded us that our time here was limited.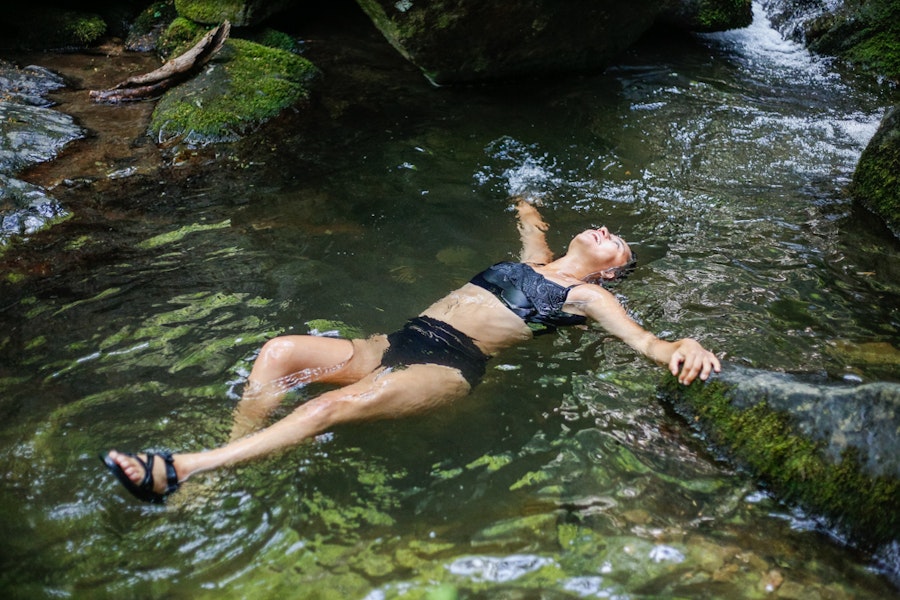 Where to now? On the journey back out, the decision was made to find a mind blowing view. Inspired, we made our way to the winding Blue Ridge Parkway. From the entrance into Pigsah National Forest, our eighteen-mile ascent began toward the promise of Craggy Gardens. Along the road, we could not refrain from derailing our path every so often to soak in the adjacent overlooks, exposing the surrounding mountains below. Still, the true jewel lay ahead.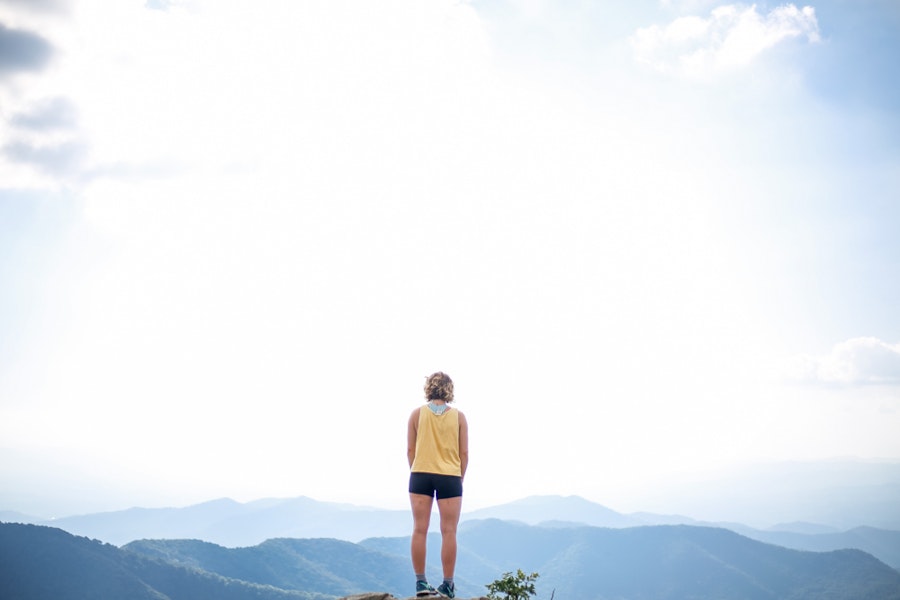 Music blaring and wind rushing through the cabin, wisping our hair about, we carried on. Turning off Tunnel Road, Anna jammed the car into park. We jumped out yet again, and raced up the whopping half-mile to the top. The summit graced us with the ultimate, 360-degree panorama, putting all preceding pit stops to shame. Rolling deep into the distance and fading at the horizon, the landscape, from our lofty post, seemed to extend into an endless abyss. Forest-laden mountains carpeted the landscape below, a sight which lead your imagination to wander, entertaining the image of a towering giant gently grazing over the land, sinking his toes into the soft brush of the valley. Exchanging a glance, we telepathically agreed: So worth it.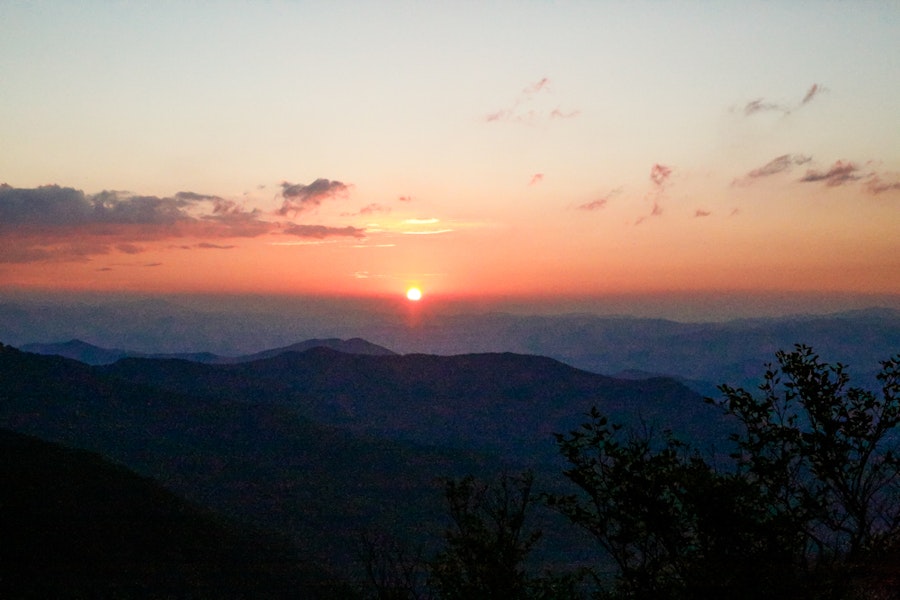 Photos by Anna Haggerty

We want to acknowledge and thank the past, present, and future generations of all Native Nations and Indigenous Peoples whose ancestral lands we travel, explore, and play on. Always practice Leave No Trace ethics on your adventures and follow local regulations. Please explore responsibly!
Do you love the outdoors?
Yep, us too. That's why we send you the best local adventures, stories, and expert advice, right to your inbox.