17 Tips for Bringing Your Dog into the Wilderness
17 tips, techniques, and things to pack to keep your mountain pup happy, healthy, and fully adventure-ready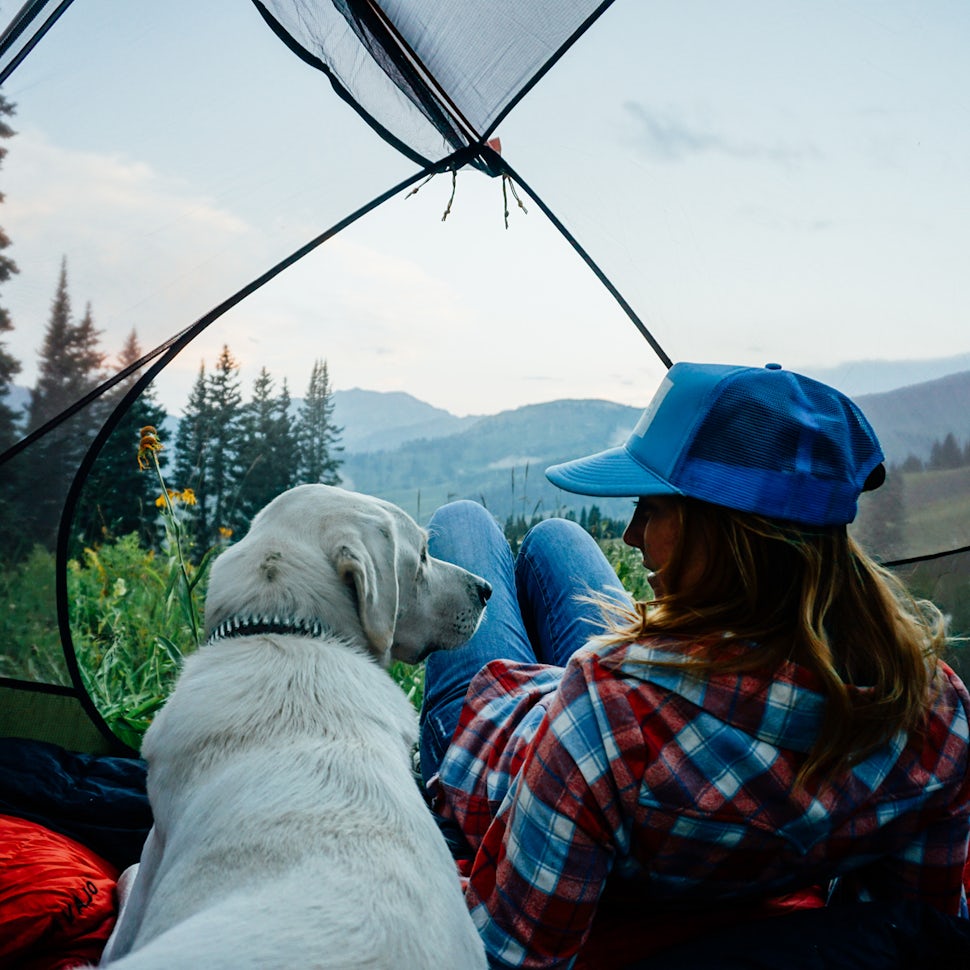 Dogs are awesome. Dogs that can hang in the mountains are somehow even more awesome. Behind each of our favorite mountain pups is a loving and supportive owner making sure their quadrapedal compadre is happy and healthy. Unfortunately, so many outdoorsy dog owners don't take the time to properly prepare and train their animal, resulting in campsite chaos, unnecessary impact on the natural lands, or worse. This behavior gives our beloved mountain pups a bad rap in the outdoor community, and can actually be harmful to the animal and the environment. But, with a little education and preparation, your dog can thrive in the wilderness and become a shining example of mountain puppy stewardship.
Preparation:
Laws of the land. Always be familiar with land/campground/property guidelines. Just because you're out in the open and think you're alone, does not mean rules don't exist. There are pet regulations in almost all parks and open spaces. ALL US National Forest campgrounds allow pets, but they MUST be leashed and under control in campgrounds or on trails. Not all US National Recreational Areas allow pets. This typically includes beaches, or buildings. Some of these areas will also request rabies vaccine proof.
Training days. It is important to "train" your dog in much the same way you train for whatever outdoor activity you're trying to do. This means starting out with easier day hikes to get your dog in hiking shape. Work up to your goals to make sure your animal can handle it. Dogs are unbelievably dedicated, and will follow you to the point of complete exhaustion on the trail. Watch your animal, and be aware that even if your dog seems happy and energized, they may be seriously tired and needing rest.
Save their soles. You know how your feet get sore on the first few hikes of the season? While your puppy's paws are a little different than human feet, they also require a break in period. Consider starting out on softer trails before scrambling up a talus field with your pup. Many companies offer dog booties to either keep their paws warm, or protect them on abrasive terrain. If you choose this route, remember two things: 1) your dog will need some time to get used to the sensation of wearing something on their paws, they will probably look hilariously confused the first time you strap them on, and 2) dogs manage much of their heat by perspiring through their paws. Take "shoes-off" breaks periodically to make sure your animal is staying cool, and to prevent fungal infections.
Weekend warrior. As a successful 9-5er micro-adventurer, you already know the importance of staying active during the week to properly prepare for your weekend output. In order to maintain balance and not overdo it, your dog must stay active throughout the week as well. If you can't make it outside, take them on long walks through hilly neighborhoods to simulate the strains of hiking as closely as possible.
Sweep/Ground check. It is important to do a sweep of the area you are camping in. Look for evidence of animals (big AND small, as even the smaller ones seem to cause more trouble/damage - ie: porcupines, skunks, snakes), plants, and other things/situations that could be harmful to a curious nose.
Tethering. Maybe your pup is a little too curious to let wander freely. Anchoring your dog in this case is definitely preferable to dealing with whatever wonderful smell they roll around in, or unfriendly wildlife they may encounter. Only tether your animal if you know you'll be close by. Never leave your dog tethered at the campsite alone, mainly because of predators, but also because this may cause your animal a considerable amount of anxiety.
Dog packs. Sure, using your dog to carry some gear is a good idea and easier on your back, but packs should not be worn until the dog is fully-grown. Keep in mind that even a full-grown dog can only safely carry 25% of their body weight. The "training days" section certainly applies here.
Scoop it. Proper Leave-No-Trace etiquette calls for packing out animal waste. Improper management of your puppy poo is not just unpleasant for fellow hikers, it can be seriously harmful to wildlife ecosystems by contaminating local water sources. A common misconception is that pet waste is the same as wildlife waste, but in reality domestic pet waste can be a health hazard for people and native animals, and is in no way natural to any environment. Pack some plastic grocery bags (or smell-proof portable toilet containers if you want to be fancy) and pick up after your pup. Many trailheads actually provide doggy bags (for your pup, and YOU), making it even easier for you to not be that guy (or girl). If you are in the backcountry or backpacking with your dog and packing out isn't an option, use the same routine as you would human waste - at least 200 feet away from camps, trails, and water sources. Burry the waste if possible.
Pack List:
Clean drinking water
Pet ID with updated information
Extra food
Blankets/towels (the MS Utility Fleece Blanket makes a great doggy bed)
Lights (attached to their collar)
Doggy bags (many trails have these available at the TH)
Important Commands:
Leave it
Drop it
Stay
Come
Off the pads
Summer:
Plan hikes around water. Just like humans, dogs can and will overheat. If a dog has a readily accessible water source and a place to splash around in, the chances of heat exhaustion decrease dramatically. On average, dogs need at least a gallon of water per day.
Doggy-Do. Dogs don't need a "summer cut". You may be tempted to shave your dog during the summer months, but this is not suggested. Dog fur in many breeds actually helps dump heat and protects their skin from sunburn.
Bug off! Human bug sprays are not suitable for dogs. Make sure your dog is up to date on shots, and has proper flea and tick prevention. If you're more of the holistic type, coconut oil works wonderfully to repel insects when rubbed into your dog's coat (it also works decently well on humans). Always check your dog after a trip for rashes and bites.

Fall / Spring:
Hunting season. In most locations, Fall means hunting season. If you know that you are in a wild game area, it is extremely important to put an orange vest on your dog, as they can easily be seen as coyotes or other small game.
Keep OFF. Just because the autumn months have cooler temperatures, doesn't mean the critters and bugs are gone. As with Summer, keep your dog up to date on preventatives and vaccines.
Woodland critters. In the Spring, many animals (including the predatory ones) are tending to their young and may be extra protective. Keep an eye on your curious pup, and stay wary of any wildlife in the area to avoid unnecessary (and potentially dangerous) confrontations.
Winter:
Comfort is key. Be sure your dog feels safe, warm, and comfortable. Think about how your pet gets comfortable at home and try to fill those needs. If your dog enjoys sleeping at your feet, that's probably where it will want to sleep, especially in an unknown place. If you are tent camping, definitely let your dog in the tent. Keeping your dog warm and dry is very important, as hypothermia is a real possibility for dogs just as it is with humans. If you're worried about your dog shredding your equipment, consider looking into gear with tough, durable fabric. There are plenty of products out there designed specifically for pets. Some tent companies even sell a "paw print" protective tarp for the inside of your tent. The Utility Fleece Blanket will do just fine for this purpose as well!
Winter-wear. Consider hooking up your pup with a sweet, lightly insulated jacket. This recommendation is especially true for smaller dogs. While your huskie is probably perfectly happy prancing through the snow in just their coat of fur, your miniature dachshund probably isn't. Many companies offer non-constricting garments that can keep your pup warm and happy. Just know it might take them a little while to get used to the sensation.
Jessie Williams is a life loving gal who wears many hats (often MS Truckers). Whether out taking photos, exploring the desert, or taking in the best of her backyard in Colorado, she is sure to bring her awesome mountain pup Boone along with her. Keep up with Jesse and Boone on her insta!
We want to acknowledge and thank the past, present, and future generations of all Native Nations and Indigenous Peoples whose ancestral lands we travel, explore, and play on. Always practice Leave No Trace ethics on your adventures and follow local regulations. Please explore responsibly!
Do you love the outdoors?
Yep, us too. That's why we send you the best local adventures, stories, and expert advice, right to your inbox.