The Meaning of Moments with Bill Lackie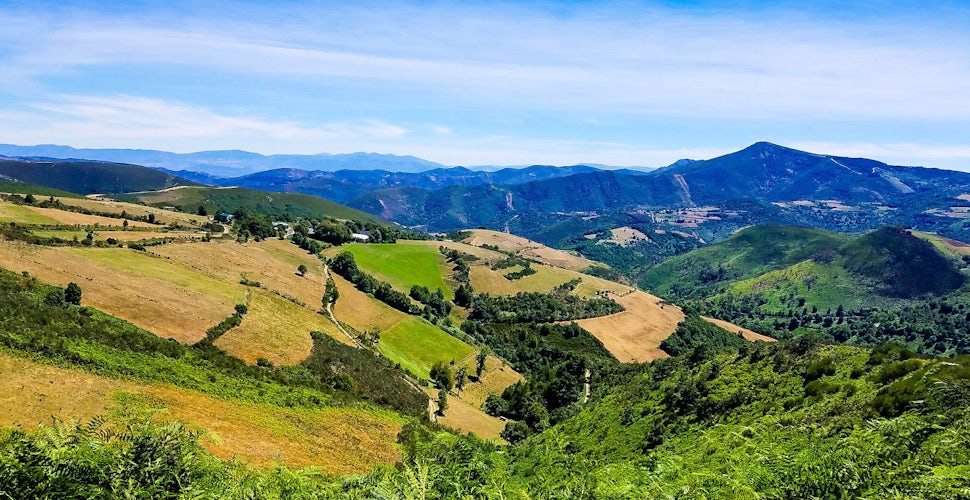 The story of a man who wanted to do more than just exist.
The El Camino de Santiago, or the Way of St. James, is a long distance trail in Europe, and by long distance I mean a whopping 500 miles! Those 500 hundred miles span four Spanish regions, traverse the Pyrenees mountains, hike past vineyards, and navigate through lush, Eucalyptus forest. The trail begins at Saint Jean Pied de Port, France, and ends at the Cathedral of Santiago de Compostela. (Otherwise known as the burial place of the Apostle James, Jesus' brother.) In this episode of, "Wander," we read the story of Bill Lackie, a resident of Florence, S.C. who decided he wanted more from life than just existing. His story tells of the 500 mile journey that transformed his mindset from simply being, to being alive and fulfilled.
Bill Lackie grew up in Java Village, NY, and his childhood was like most young boys. Bill played sports, cavorted with the neighborhood kids, and relished in hiking in the great outdoors. Because of his love for sports, he began teaching tennis, and has been for 23 years. In 2003, Bill's job moved him to South Carolina. After ten years of teaching the sport in Aiken, Bill accepted the position of head tennis pro for the city of Florence. Unfortunately, his chosen field wasn't forgiving, and Bill started noticing consistent aches and pains in his body along with slower healing time. Bill's mindset began to change, and he realized that he could occupy his time with so many other things besides working. Although he loved his job and was happy in his life, he knew that if he wanted to achieve more, things needed to change, and drastically in order to achieve a completely new way of living. So, Bill gave a three months notice at work, started teaching on a part time basis, and began his plan to live life to the fullest. He began minimizing in certain areas so he could take more adventures by exploring the world. Bill took a substantial pay cut when he quit his job, but he said that it taught him how to plan and live differently. He stated in his interview, "I figured out how to live with less." Most people think we have to make more money to live better, when in fact, we have to need less money."
There wasn't a huge, "AHA" moment for Bill, but a gradual change in his thought process led him to the El Camino. He knew that he wanted to begin his new journey in a memorable way, and remembered watching a movie about hiking the El Camino Trail. He started to research hiking and backpacking, studying the trail, and learned how to choose the right gear by visiting Naturally Outdoors. Three months later he was ready to embark on his new journey. Excitement, pride, a little bit of apprehension, but overall positivity flooded his emotions as he began the 500 mile hike. Many hikers attempt long distance hikes hoping to gain a spiritual or life changing experience, but Bill mostly wanted to experience the people, adapt a healthier lifestyle, and enjoy the physical challenge of the hike. Two days in, and he immediately knew that this was going to be a difficult challenge. Not only was he walking long distances with a cumbersome pack attached to his back, but he constantly pushed through the pain that his body endured each day. Pounding ankles and knees along the trail and dealing with old injuries that could appear at any time on, he pressed on. Unfortunately for Bill, on just day two of his journey, he had to stop his hike and recover in a hostel for seventeen days due to tendinitis in his knee. After ten days of continuous icing and a lot of rest, the tendinitis was not healing. Soon, a therapist was called and after rehabilitation he was well enough to continue his hike. Thirty four days on the El Camino trail, choosing to push through his daily pain, and making a conscious effort to not stop; Bill Lackie completed his first long distance hike.
Long distance hikers experience many things on the trail. Ever changing weather, bugs, different types of food, but most importantly, incredible people. The hiking community is a tight knit group that eventually become like family. Bill met two such groups that impacted him in an unforgettable way. The first were the actual hikers of the El Camino. He told of Trail Blazers that would help each other out with no benefit to themselves. Bill told a story about one fellow he met that gave his own walking sticks to a complete stranger, because he knew that person needed them more. Being able to see firsthand the friendliness and generosity throughout the hiking community overwhelmed Bill. The locals that were in charge of the inns and hostels were the second group that showed kindness to Bill. One evening he walked into his hostel completely exhausted, and the man in charge said, "You can sit and relax now because you are home." The compassion and kindness in those words immediately made Bill feel the truth in that welcome.
Hiking and backpacking have a way of getting you back in check with what is most important. When you strip yourself down to the basics, allow yourself to become raw and vulnerable; it tends to make your mindset shift. You begin to put what matters most into perspective. Bill's major takeaway from his journey is to appreciate every moment. Not looking at glory days with a mindset of wanting to go back, or looking to the future so much that you miss the present. Let your favorite time be now. Focus on the positive things in your life, appreciate others that you meet because you never know when you will again, and material things aren't as important as we think they are. Lastly, every moment is something. If you have a bad moment, it's not bad, it's a teachable moment, a lesson you can learn. If you are lucky enough to have good moments, store them away for wonderful memories, and appreciate them when you need them most.
Written by Heather Willingham
Edited by Chase Bradley
Head over to Naturally Outdoors to check out images from Bill's trip!

We want to acknowledge and thank the past, present, and future generations of all Native Nations and Indigenous Peoples whose ancestral lands we travel, explore, and play on. Always practice Leave No Trace ethics on your adventures and follow local regulations. Please explore responsibly!
Do you love the outdoors?
Yep, us too. That's why we send you the best local adventures, stories, and expert advice, right to your inbox.