Why I Took an Internship at Arches National Park with a Master's Degree
Choosing adventure over familiarity. Choosing my dreams over workism. Here is why I took an internship at Arches National Park with a Master's Degree.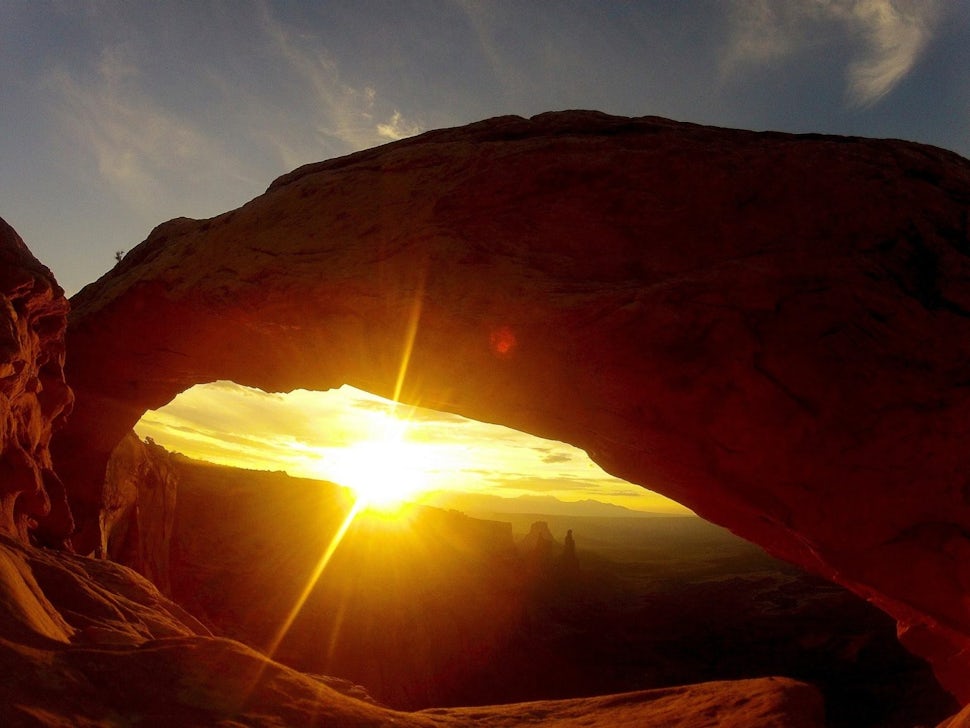 In just over a month, I will be packing my bags and moving to Moab to work at Arches National Park as a Park Guide Interpretation Intern. The thing is, I have a Master's Degree, so you may be wondering why I decided to "settle" for a job that I am overqualified for. It is a complicated answer but to simplify it, experience and adventure. Today, I am going to tell you why I took an internship at Arches National Park when I have a master's degree.
American Work Habits: A Recipe for Burnout
It is no secret that the American work culture has a "live to work" attitude which is rooted in the "American Dream" ideology. There is a term that has emerged called "workism." Workism, according to the Association for Talent Development, is the belief that not only is work necessary for economic production but is the foundation of one's identity and purpose. Workism is making Americans miserable. This is because success has been defined by financial wealth or job titles which can be obtained by putting in long hours and taking little time to yourself. Instead, success should be defined by how success feels. Our culture prioritizes productivity over anything else with almost 50% of Americans not taking the two weeks of vacation offered at their jobs. This in turn has led to a reduction in happiness and an increase in mental health struggles which is a recipe for burnout.
I have been working since I was 16, and from the time I was 16 until I was 23, I did not know what it was like to not work and be in school. For most of college, I worked two to three jobs while working as a fulltime student. It was when I moved to Colorado, and got laid off from the job I moved here for, that I realized I was falling victim to "workism." I spent a whole month hiking, revitalizing my mental health and fervor for life, and figuring out what I want to do with my life. The latter is still in process but I am one step closer.
Job Loss and Gain During A Pandemic
I graduated in December 2019 with my M.S. in Recreation Management. Shortly after graduation, I packed my car and moved cross country to work for Gilpin County Parks and Recreation as the Fair and Special Events Coordinator. I took this job because event planning was easy to me, and it was the opportunity I needed to start gaining valuable real world experience. I spent three months getting to know the community and planning for the 2020 Gilpin County Fair.
"We are shutting down the Community Center until at least March 27th, and then reevaluating after that." My supervisor's words rang in my ears three months into my new job as I gathered my things to work from home like millions of others would do as the pandemic raged across the world and brought dreams to a halt. I knew I needed to keep my options open as I worked from home so I started applying for other jobs. Decisions kept changing and our jobs became more uncertain as the county I worked for kept losing money. I quickly lost my motivation as work–and pay–decreased. When the beginning of July rolled around, the Community Center was shut down and we were sent packing.
Like many others, I rode out the extra $600 per week and spent the month of July exploring as many nooks and crannies of the Colorado Rockies as possible. During this month, I realized that I was unhappy with the direction I was heading. I love parks and recreation. I spent most of my high school and college days working for parks and recreation departments. Exploring Colorado's backcountry made me realize that I wanted nature to be my office, and I wanted to do something more than just "easy." There were certain circumstances that forced me to apply for jobs quicker than I had planned but I quickly found a job as a Sales Agent for Arkansas Valley Adventures. I quickly fell back into the American work culture, and picked up extra hours to earn more pay and success. While mostly content with the new job, I anxiously waited to hear back from the jobs I applied for as I got sucked into 10-12 hours workdays.
Applying for the Arches National Park Internship
During the Spring of 2019, I applied for summer internships so I could complete my degree. One of those internships was through the Student Conservation Association. The placement would have been Yellowstone National Park. The Student Conservation Association (SCA) is a non-profit organization whose mission is to build the next generation of conservation leaders and inspire lifelong stewardship of the environment and communities by engaging young people in hands-on service to the land. The SCA works with organizations like the National Park Service to place people in conservation crews and corps, internships, and community programs. After changing my graduate internship to a project, I chose familiarity over a new adventure and chose to do a second season at the YMCA of the Rockies.
As I was applying for jobs while working from home, I felt a pang of regret for my decision and visited the SCA website again. I had talked to a park ranger who had gotten a full-time position with the National Park Service AND graduate school paid for all because she started in the SCA. My eyes glazed over when I saw "Park Guide Interpretation Intern" for Arches National Park pop up as a 100% match during my search. Interpretation has become a passion of mine because my graduate project was focused on developing an interpretive plan for a local state park. There are two reasons I went to graduate school: 1. Because I was unhappy with my undergraduate major and 2. I wanted to do communications for the National Park Service which required a master's degree. This was my second chance to not pass up on an opportunity of a lifetime or a career I would be passionate about. I applied.
I was contacted immediately for an interview, and after a month long waiting game, I was offered the position. I didn't hesitate when they asked if I needed time to think about it. The job was mostly customer service-focused but also the opportunity to hit the trails. I was moving to Moab, Utah.
So, Why Did I Choose An Arches National Park Internship Over A Master's Level Job?
There are many reasons why I took this job over applying for master's level careers. I want to have control over my life as well as pick the jobs that will boost my career goals. I also consider myself to be in a "quarter-life" crisis and am looking for adventure.
Not Falling Victim to Workism
Opting to take a job that I am passionate about in a location that will allow me to recreate and connect with nature will be a catalyst to not falling victim to workism, something I suffer from greatly. Even as I am writing this, I feel the weight of prioritizing work or my me-time which has become consuming. I am ready for a change and a breath of fresh air.
A Foot in the Door
When I interviewed for the Arches National Park Internship, I was told that 75% of interpretive park rangers in the National Park Service get their start with the Student Conservation Association. Working for the National Park Service is one of my career goals, so taking this job will be my foot in the door. If I don't get offered a position afterwards, it will be a valuable experience that will increase my chances of landing a Master's level job and a future position with the National Park Service.
Opting for New Adventures Over Familiarity
I have time and time again chosen familiarity over a new adventure or exciting opportunity. Instead of choosing Yellowstone, I chose the YMCA of the Rockies because I was comfortable with it after already spending a season there. I spent four life draining summers at my local swimming pool before deciding I should look for better opportunities. Moving to Colorado was the most exciting adventure I have pursued but taking another leap of faith to further pursue my dreams in Utah will help me continuously become comfortable with the uncomfortable.
Conclusion
There is so much pressure to land that "big kid" job or to push yourself to your limits to be successful at work that it is easy to forget that there is so much life to live and world to see. Taking a step back to focus on the little things and new experiences instead of falling victim to workism and familiarity can greatly increase your happiness and open up new opportunities you might not even have imagined. Taking a step back from my own workism affliction and taking an internship at Arches National Park might just be the opportunity I need to not only land the job I want but a chance to experience life in new, profound ways.
Originally published at out-spiration.com.
We want to acknowledge and thank the past, present, and future generations of all Native Nations and Indigenous Peoples whose ancestral lands we travel, explore, and play on. Always practice Leave No Trace ethics on your adventures and follow local regulations. Please explore responsibly!
Do you love the outdoors?
Yep, us too. That's why we send you the best local adventures, stories, and expert advice, right to your inbox.