The Ultimate Guide to Visiting Moab in the Winter
Looking to "ice" up your adventures this winter? Then add Moab to your list of winter destinations. A popular destination in the sweltering heat of summer, and even more popular in the spring and fall when the temperatures become reasonable, many don't know that one of the best times to visit this hub to outdoor recreation is in the winter.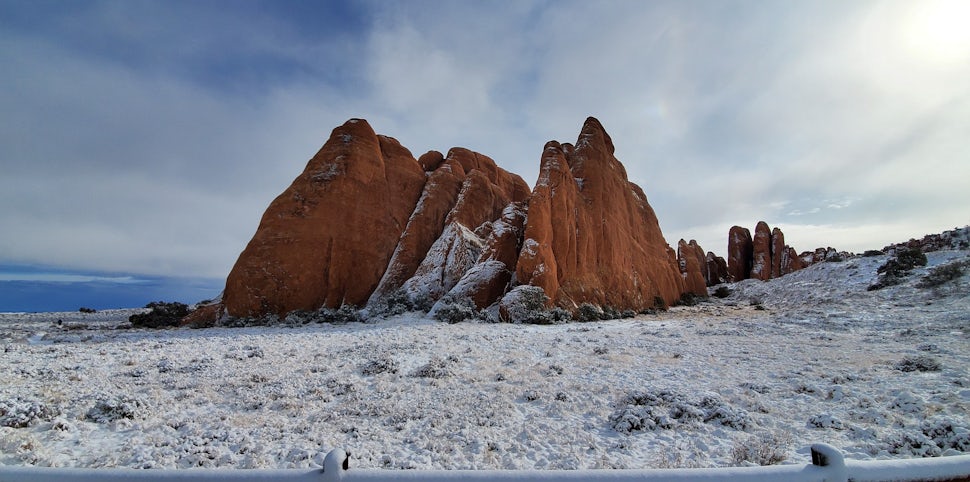 Originally posted on out-spiration.com
Situated on the southern edge of Grand County in Southeastern Utah lies a dramatic landscape of red rocks, spires, and mesas. Mountains stand as a backdrop to this wondrous landscape. This is Moab, UT. A popular destination in the sweltering heat of summer, and even more popular in the spring and fall when the temperatures become reasonable, many don't know that one of the best times to visit this hub to outdoor recreation is in the winter. Winter is truly the goldmine to visiting Moab because you will be greeted with less tourists and will get to experience the high desert in a different way. Here is the ultimate guide to Moab in the winter.
1. Visit the National Parks
Moab is the gateway to two national parks: Arches National Park and Canyonland National Park. Arches National Park sits five miles north of Moab and is famous for containing the highest density of natural arches in the world. Canyonlands is the younger, neighboring national park. While there are four districts to Canyonlands that are separated by the Colorado River, the Island in the Sky District is the closest district being a 45 minute drive from Moab. The beauty of these parks is only intensified by the blanket of glittering snow that lies on the red rocks in the winter. Here are some must do hikes for your winter trip:
Arches National Park
Delicate Arch. Most people visit this park to see the esteemed Delicate Arch, a 52-foot tall, free-standing arch that is featured on the Utah license plate. This 3-mile out-and-back trail can be treacherous in the winter as you ascend up slickrock. With good traction devices such as microspikes and poles, the trek will be worth it when you arrive at the arch.
The Windows. The Windows sections in Arches National Park features four arches that are visible from the parking lot: North and South Window Arch, Turret Arch, and Double Arch. While there are short trails that lead up to each of the arches, the 1-mile primitive loop that winds behind North and South Window arches will provide you with solitude and views of the vast landscape behind these spectacular arches.
Canyonlands National Park
Mesa Arch. Mesa Arch provides one of the most scenic vistas in Canyonlands National Park as this pothole arch is situated right on the mesa's rim. This short .75 mile hike is perfect for families, children, beginners, and anyone looking for a good picture shot. This arch can get crowded at sunrise as photographers gather to capture the sunrise glow.
Grand View Point. If you drive all the way to the end of the mesa in the Island in the Sky District, you will end at a parking lot that is the trailhead for the Grand View Point trail. This two-mile out-and-back hike takes you along the rim of the canyon offering panoramic views of the landscape below.
2. Visit Dead Horse Point State Park
Dead Horse Point State Park is a hidden gem just a few short miles outside of the Island in the Sky District of Canyonlands National Park. Dead Horse Point features dramatic views of the Colorado River and Canyonlands National Park. The overlook soars 2000 feet over the Colorado River. This is a great stop for photographers. There is an 8-mile hiking trail that connects the East and West Rim trails.
3. Drive the La Sal Mountain Loop Road
The mountains that frame Moab are known as the La Sal Mountains, and there is a 60-mile paved road that loops through these mountains that can be your gateway to alpine winter adventure or just a scenic drive. It begins 8 miles south of Moab and winds up to 10,140 feet before dropping down to Castle Valley and ending at Highway 128 bringing you back to Moab. If you don't make any stops, plan on 2-3 hours of driving. Keep in mind, there are no amenities along the way so make sure you have all the gas, food, and water you will need for your trip.
For more information on the La Sal Mountain Loop visit the USDA Forest Service website.
4. Stay in a Yurt and Backcountry Ski
When you think of Moab, you probably don't think of skiing as an activity you can do. But with the 12,000 foot high peaks that sit southeast of the town comes backcountry skiing. In fact, backcountry skiing in the La Sals even rivals the Wasatch Range. Backcountry skiing is not for the faint of heart or those new to skiing. The La Sals are infamous for their unstable avalanche conditions. Knowledge of avalanche safety and having the proper avalanche safety gear such as a beacon are necessary. If this doesn't scare you off, then keep reading. Talking Mountain Yurts offer the ultimate backcountry winter experience. You can ski/snowshoe up to their yurts and spend a few days shredding the slopes of the La Sals.
5. Try Mountain Biking in the Winter
Mountain biking in Moab is legendary. The world famous, 12 mile Slickrock Bike Trail is said to be the ultimate mountain biking experience. With winter comes the storage or bikes but it doesn't have to be that way, especially during your trip to Moab. Winter mountain biking can help you learn how to navigate snow, ice, and mud as well as provide you with a more intense workout. Mountain biking in the winter just means a little extra preparation and having a positive mindset. Here are some tips for trying out winter mountain biking in Moab:
Strong mental game. The hardest part of any winter activity is the mental game. You're going to start off cold but with patience and twenty minutes, you will warm up.
Wear appropriate clothing. Think like an onion and layer up. You might be tempted to throw on heavy, warm clothes but thanks to a biological process called thermogenesis, or heat production, you will warm up. Dress like it is 20 degrees warmer than the temperature is outside. Also, choose clothes that are breathable and moisture-wicking.
Stay hydrated. It is hard to remember to drink water when you are cold but your body is working hard to keep you warm so make sure to drink up.
Try out studs. While you can mountain bike in the winter without studs, studded tires will make icy climbs easier to navigate.
6. Bouldering at Big Bend or Rock Climbing at Wall Street
Moab does not feature any rock climbing gyms because the surrounding red rock landscape is the gym. Just like winter mountain biking, climbing in the winter can be fun especially in this rock climbing hub. Some popular locations in Moab include the bouldering field across from Big Bend campground on State Highway 128 or Wall Street five miles down Potash Road. Here are some tips to help you enjoy winter rock climbing:
Do your homework. Making sure the weather is good and that the conditions are not wet is vital to safe rock climbing. Wet rock can be dangerous to almost impossible to climb on. Additionally, it can increase rock erosion.
Warm up. Doing various exercises to warm your body up can make rock climbing in the winter more comfortable and help you avoid injury.
Bring gloves or mitts. Mitts are gloves that don't have fingers on them and they can keep your hands warm between climbs.
7. Eat and Shop Like a Local
Another way to spend your time in Moab in the winter is to support the local businesses. Make sure to keep an eye out for businesses with Green and Gold signs. These signs are a city-sponsored initiative to encourage businesses to establish sustainable practices.
Visit Discover Moab for more information on the local businesses in Moab.
As always, make sure to Recreate Responsibly during your winter visit to Moab.
We want to acknowledge and thank the past, present, and future generations of all Native Nations and Indigenous Peoples whose ancestral lands we travel, explore, and play on. Always practice Leave No Trace ethics on your adventures and follow local regulations. Please explore responsibly!
Do you love the outdoors?
Yep, us too. That's why we send you the best local adventures, stories, and expert advice, right to your inbox.