Backpacking in the Needles District of Canyonlands
The weather called for 20-degree temperatures at night with "blustery" winds. With 0-degree sleeping bags and a good attitude, my roommate and I set out for a bucket list trip that tested our mental and physical perseverance. Check out the "Benson Bucket List Backpacking Loop" in the Needles District of Canyonlands.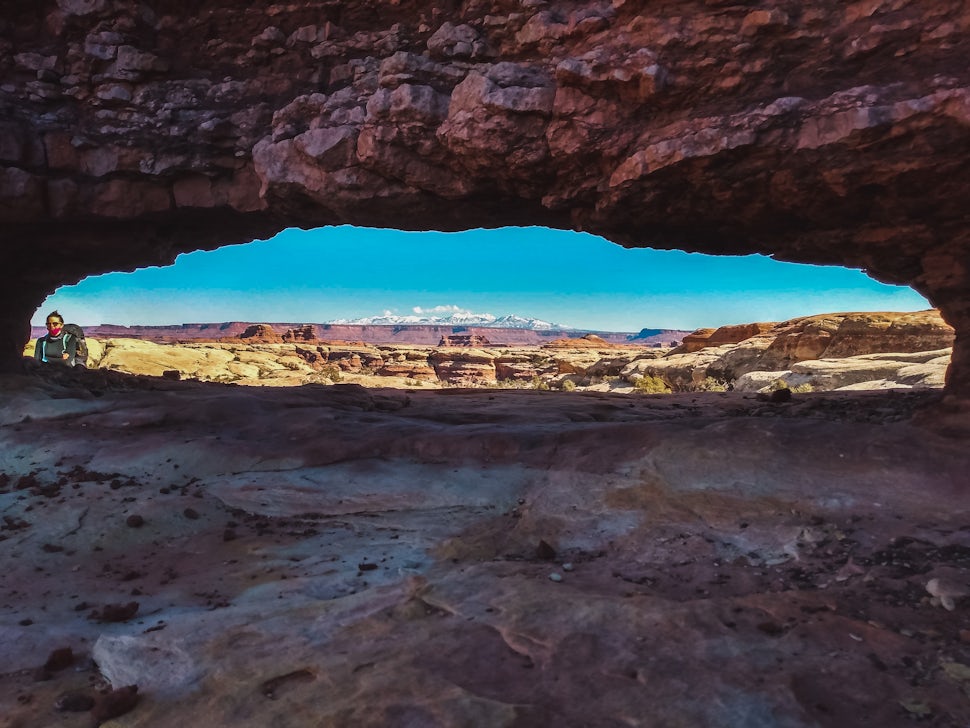 Originally published at out-spiration.com.
During my time working for Arches National Park, I have been lucky enough to be living with an amazing roommate, Lee, who has been my #1 supporter and the big sister I have never had. She is about to start her second season as a seasonal Interpretive Park Ranger in the Needles District of Canyonlands, so we wanted to make the most of our time together in these last few weeks by going backpacking on what she likes to call the "Benson Bucket List Loop." The weather called for 20-degree temperatures at night with "blustery" winds. With 0 degree sleeping bags and a good attitude, we set out for a bucket list trip that tested our mental and physical perseverance.
The Trip
Disaster Before We Even Started Hiking
The trip truly started before we even left our house for the just under two hour drive to the trailhead. We had woken up early to finish packing after a night of cocktails regretting our decision to fill our bodies with alcohol. Packing was going as smoothly as packing could go. I placed my water in my pack and was patiently waiting for Lee to finish getting her gear ready. I noticed a wet spot starting to form on the side of my pack, but I brushed it off as it being from when I laid my pack directly on the bladder hose nozzle. But the wet spot kept getting bigger. In fear of my sleeping bag getting wet, I ripped into my pack to find my topmost bladder was slowly leaking all over my gear. I quickly unpacked my pack to start drying my gear off. I threw my down sleeping bag into the dryer to dry it out so it would still keep me warm on the 20-degree night we were expecting. If you are familiar with down as an insulator, it is useless when it is wet.
In order not to waste any more time, I threw my gear in a plastic tote and flipped my pack upside down in the back of my car to let it dry. We were planning on hiking eight miles that day with a two-hour drive. It was 9AM by the time I took my bag out of the dryer and we hit the road.
Day 1: Big Spring Canyon to Chesler Park
Trail Rating: Tennis Shoe
Lee and I made it to the trailhead just before noon. I quickly repacked my pack and double checked to ensure I had everything. The start of the hike began at the campground. After 50 yards of hiking, we continued right. We hiked for another 1.2 miles through open desert and rocky scrambles before we continued right into Big Spring Canyon. After hiking in the canyon for about another 1.5 miles, we veered left through a side canyon and then began a steep scramble up slickrock. This part sent me back to a traumatic experience from this summer when I fell backwards down the gully to the summit of Pagoda (a 13er in Rocky Mountain National Park). I froze in fear as a stared up at my roommate who seamlessly hiked up this steep section while I was paralyzed. After breathing through my fear, I overcame my momentary pause and pushed myself up the slickrock. After climbing up the rest of the canyon, we reached a high point where we were greeted with panoramic views. When we looked down, we could see the Elephant Canyon junction.
We turned right to continue on the Elephant Canyon trail where we followed a high, slickrock bench with unreal views. We were about two hours into our hike when we reached a dark tunnel that required some fancy, but not too difficult footwork, before we popped out on the other side to a scenic vista.
We followed the cairns until we came across a short ladder that we had to climb up. After quickly crossing the pass, we had to climb down another, longer ladder that shook as we climbed down.
We came across the Druid Arch-Elephant Canyon Trail junction and continued left down the wash until we came across an obscure sign that pointed us up a steep drainage. This part required some scrambling which was tricky with our heavy packs on. After about half a mile, we emerged onto another slickrock bench that made our hearts sing because we were almost to Chesler Park, and our campsite. After one more mile of hiking through a pygmy forest field until we turned a sharp right to start making our way to our campsite.
Lee has claimed that Chesler Park Site 5 (CP5) is the best site in The Needles District because of the expansive views you have of colorful, towering pinnacles of Chesler Park and the Henry Mountains. Managing to bag this site in the summer is unlikely so the fact that we were able to have this site to ourselves with not a soul in sight just a few weeks prior to the season starting was phenomenal. The short hike to the campsite was littered with interesting archaeological sites of cowboy graffiti, old stoves, and shelters.
After we dropped our packs, we set up camp at CP5 and sat down to enjoy a cloudy, sunset. We made dinner and enjoyed a warming hot toddy before the blustery wind conditions and the cold sent us crawling into our tents a little before eight.
Day 2: Joint Trail, Chesler Park (North Connector Trail)
Trail Rating: Tennis Shoe
The plan for day 2 was to hike the Joint Trail, come back to camp and pack up our gear, and then hike back to the campground via the North Connector Trail.
The day began with the rising sun waking me from my fitful slumber. I quickly unzipped my tent to catch a peak at the quickly brightening sky. The morning air was brisk, and I was dismayed at the idea of crawling out of the warm embrace of my sleeping bag.
After begrudgingly emerging from my cocoon, I began boiling some water for my oatmeal and tea as Lee emerged from her tent. While my water boiled, I dragged my sleeping bag out of my tent and snuggled into it as I sat down to enjoy my warming breakfast. If you have never tried the Quaker Oatmeal Medleys, you are missing out. Lee and I both had an apple walnut flavored oatmeal medley, and I am never going back to oatmeal packets. They make for an easy clean up because you just dump your boiling water in the oatmeal cup and mix it all together. This is perfect for when you need to carry in all your water and do not want to waste it on cleaning your dishes.
After breakfast, we left our gear at camp and started to make our way to the Joint Trail. This was a portion of the Needles I wanted to knock out before my season at Arches was done. We traveled across bushy ground for about a mile before we came upon the start of the Joint Trail. A series of steps lead us down into a narrow, deep crevice onto a sandy floor between two dark walls of sandstone that seem impenetrable to light. As we hiked through the narrow canyon, several tributaries beckoned to be explored but continued on until we reached a cave-like tunnel. We climbed up the pass to views of Chesler Canyon. Instead of continuing on to the Jeep Road and doing the loop, we headed back out of the canyon and back to our campsite to pack up our gear for the hike out.
After packing up our gear, we waved goodbye to our campsite and started making our way towards the Chesler Park viewpoint up a short, sandy grassland before we dropped down into a wash that served as the junction for Elephant Canyon and Druid Arch. We continued straight up the trail. The trail climbed steeply up slickrock and through a narrow, shaded passage. Shortly after emerging from this cave-like passage, we reached the junction to Elephant Hill and the Campground.
We continued left towards the campground. This trail was 3.5 miles of ups-and-downs. We climbed up another pass only to drop into another canyon before emerging again on top of a slickrock bench. The trail eventually connects with Big Spring Canyon near Big Spring Canyon Site 1 where we continued the 0.8-mile trek out.
After we got back to our cars, we took our packs off and enjoyed a well-deserved beer.
Know Before You Go
The benefits of going backpacking with someone who is an expert on the trails in Canyonlands is planning for this trip was minimal. My roommate already had the route planned so we just needed to obtain permits for the campsite we wanted and pack our packs.
Leave No Trace
It is important to follow all Leave No Trace principles while out on the trail. Additionally, Canyonlands requires that you pack out all human waste (not bury it). Bring a portable toilet, or Wag Bag, to carry out your human waste.
Permits
All overnight backcountry camping in Canyonlands National Park requires a permit. The Needles Visitor Center closes for the winter and during this time you must self-permit to reserve a spot which is how we managed to secure our campsite. During the peak season, you can reserve your sites on Recreation.gov.
For more information on backcountry regulations and backcountry permits, visit https://www.nps.gov/cany/planyourvisit/backcountryregulations.htm.
My Packing List
Here is everything I packed for a night under the stars in Canyonlands:
Sleep System
Cooking System
Lighter
Biodegradable dish soap and rag
Headlamp so I could see around camp at night!
Water and lots of it. I brought 5.5 gallons of water because there is no place to filter water. My suggestion for packing in water for the backcountry is fill up bladders, or hydration reservoirs. Water bottles tend to be heavy so you can save weight.
Black Diamond Trail Ergo Cork Trekking Poles. I never go hiking without my poles. I highly recommend these Black Diamond poles because they are durable (they have survived sliding down a glacier) and have an ergonomic grip.
Osprey Atmos AG 65. I have had this pack for three years now and it hasn't failed me yet. The Anti-Gravity Suspension system on this pack helps evenly distribute the weight evenly across my shoulders, back, and hips to make for a more comfortable hike.
Hiking Shoes. I opted for hiking shoes instead of my trail runners or boots because they were more lightweight than boots but the waterproofing made them a better insulator for my cold feet.
Clothing
2 pairs of leggings. I brought one pair for hiking and one pair for sleeping.
2 long sleeve moisture-wicking shirts.
1 tank-top.
1 sports bra
1 pair of underwear.
2 pairs of socks.
1 insulating puffy
1 fleece midlayer
1 rain jacket
Hat and gloves
Wag Bag. It is required to pack out human waste in the desert so be prepared with a wag bag when nature calls.
Toiletries. I like to maintain my personal hygiene when camping. I always bring a toothbrush, toothpaste, body/face wipes, hand sanitizer, and lip balm. I usually leave my deodorant at home because backpacking isn't and shouldn't be glamorous.
OTC Medication. I never leave my house without antihistamines (Benadryl and Zyrtec) or Tylenol and Ibuprofen.
Sun Protection. As a ginger, I never go hiking or camping without sunscreen and sunglasses. Protect your skin in the desert sun and lather up!
Camp Shoes. I hate wearing my hiking shoes after a long day of hiking so I always bring camp shoes for camping or my "after-hiking" shoes for after hiking for optimal comfort.
We want to acknowledge and thank the past, present, and future generations of all Native Nations and Indigenous Peoples whose ancestral lands we travel, explore, and play on. Always practice Leave No Trace ethics on your adventures and follow local regulations. Please explore responsibly!
Do you love the outdoors?
Yep, us too. That's why we send you the best local adventures, stories, and expert advice, right to your inbox.