A Swell Trip: A Solo Winter Camping and Hiking Trip at the San Rafael Swell
Overshadowed by the Utah Mighty 5 and the nearby Goblin Valley State Park, the San Rafael Swell offers scenery that rivals the national parks of Utah. Here is how I spent two nights and two days camping and hiking in the San Rafael Swell.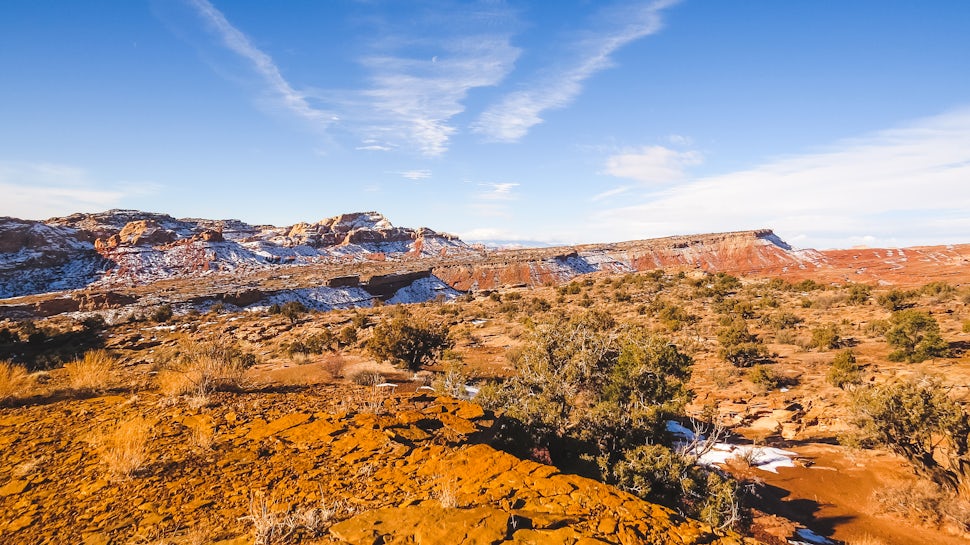 Originally published at out-spiration.com.
After being stuck in a 14 day mandatory quarantine, as soon as I was set free, I packed up my car and hit the road for two unforgettable nights in Utah's best kept secret: the San Rafael Swell. Overshadowed by the Utah Mighty 5 and the nearby Goblin Valley State Park, the San Rafael Swell offers scenery that rivals the national parks of Utah. Here is how I spent two nights and two days camping and hiking in the San Rafael Swell.
About the San Rafael Swell
The San Rafael Swell is a rugged landscape of majestic buttes, canyons, hoodoos, and mesas carved by wind and water. Located 16 miles west of Green River, Utah, I-70 splits the Swell into southern and northern sections. Geologically considered an anticline, the Swell is a 75 by 40 mile oval-shaped uplifted area of rock.
Most of the Swell is managed by the Bureau of Land Management (BLM) which means the land is open and unrestricted. This area attracts a variety of outdoor recreation fanatics including hikers, mountain bikers, climbers, horseback rides, off-roading enthusiasts, and canyoneers.
Planning My Trip
To be honest, this is the most short notice trip I have ever taken. For weeks, I had been dreaming of driving over to Bryce Canyon National Park to camp and snowshoe but a dwindling bank account forced me to look for a destination closer to Moab, UT. Because of my change in plans, I wanted to explore a place within a two hour drive of Moab that was free and that I had not visited before. That is when I remebered my coworkers at Arches National Park that took a weeklong trip to the San Rafael Swell. In short, she described it as spectacular, unforgettable, and a must-see part of Utah. In under 12 hours, I found a new destination, possible campsites, and few hiking options ot covers two days and two nights of unforgettable adventure….solo.
Camping at the San Rafael Swell
The wonderful thing about BLM managed lands is that you can camp almost anywhere (see the BLM's camping regulations for more information.) I used an app called The Dyrt to find dispersed camping sites. The Dyrt is a user-generated camping search platform that offers access to one million+ campsites, reviews, and tips submitted by local campers. Thanks to this app, I found dispersed camping sites about a mile from the Goblin Valley State Park entrance.
My Packing List
If anyone knows me, they know that I make a list for everything. I have my daily to-do list and my goals list. For this trip I made three lists: a meal planning list, a packing list, and a things to buy list. Creating lists helps me keep my head on my shoulders when my anxiety gets the best of me and causes me to overthink about what I want and/or need to bring. I will save you the time and share only my packing list for my winter camping and hiking trip at the San Rafael Swell:
Sleep System
For sleeping, I brought my:
Big Agnes Copper Spur UL 2. This is a great tent for backpacking because it is ultralight (3 pounds with its packed weight) but can be easily used for car camping.
Kelty Cosmic Down 0 Degree sleeping bag. While this sleeping bag is heavy for backpacking, this sleeping bag has kept me toasty in below freezing temperatures.
Therm-a-Rest Neoair XTherm. With an R-Value of 6.9, this sleeping pad combined with my sleeping bag makes for a warm and comfortable night of sleeping.
A pillow
And an extra blanket for extra warmth.


Cooking System
For cooking, I brought my:
Lighter
Plate, bowl, and Toaks Titanium Spork
Coffee cup
Wine cup
Biodegradable dish soap and rag
Enough food for two nights and two days plus some


….and extra batteries.
Water
….and lots of it. I brought 4.5 gallons of water because there is no place to filter water at the dispersed campsites or on the hikes in general.
I never go hiking without my poles. I highly recommend these Black Diamond poles because they are durable (they have survived sliding down a glacier) and have an ergonomic grip.
I have been hiking with Kahtoola's for years and will never go back. Even the high desert sees snow, so I always go prepared for winter hiking with my microspikes.
This is the perfect winter pack. I can fit extra layers, my snowshoes if I need them, my camera, lots of water, and tons of food. You can check out my review on the pack here.
Hiking Boots
My current pair of boots are the LL Bean Cresta Hikers. For a while, I had sworn off hiking boots because I hadn't had good experiences with any that I had tried but these were a game changer. While they are heavier than I typically prefer, they are super roomy and comfortable.
Clothing
For clothing, I brought:
Three pairs of wool hiking socks
Three pairs of underwear
Two sports bras
Two pairs of leggings
Two long sleeve tops
Two short sleeve tops
A fleece sweater to keep me warm at camp
My 850 down puffy jacket
A buff
My favorite Sherpa wool hat
North Face E-Tip hiking gloves
You have to pack out human waste in the desert so go prepared with a wag bag when nature calls.
Toiletries
I like to maintain my personal hygiene when camping. I always bring a toothbrush, toothpaste, deodorant, body/face wipes, hand sanitizer, lip balm, and hair ties. I usually keep my hair braided for the entirety of my trips since it's curly and a brush would turn it into a lion's mane.
OTC Medication
I never leave my house without antihistamines (Benadryl and Zyrtec) or Tylenol and Ibuprofen.
Sun Protection
As a ginger, I never go hiking or camping without sunscreen and sunglasses. Protect your skin in the desert sun and lather up!
Camp Shoes
I hate wearing my hiking shoes after a long day of hiking so I always bring camp shoes for camping or my "after-hiking" shoes for after hiking for optimal comfort.
Extra Amenities
For entertainment, I brought a book to read, my camera and tripod, and my phone charger.
During My Trip
As soon as my shift ended at work on Tuesday, February 2nd, I quickly went home, made some pizza and hit the road for a two hour drive. I had printed off a map of the area so I could find the campsites even without my GPS since service would be spotty to nonexistent. To reach the campsites, I followed the signs to Little Wild Horse Canyon and followed the road that forked to the right (right before the Goblin Valley State Park entrance). I drove about a mile and once I passed the state park fence, the dirt road to the dispersed sites was on the left. Since it was almost eight o'clock at night, navigating the dirt road trying to find these primitive campsites was difficult but the rock fire pits were a clear sign that I was in the right place. There was not another soul in sight. I kept driving until I felt like my car wouldn't be able to handle the terrain any longer which as it turns out was as far as you could really drive anyway. By the light of my headlamp, I quickly set up my tent and sleep system. I cozied into my sleeping bag and read a little bit of my book before sleep overcame me.
Hiking the Little Wild Horse and Bell Canyon Loop
I let the rising sun wake me from a fitful night of sleep and rose out of the tent to perform my morning camping ritual of brushing my teeth, getting dressed, and eating breakfast. I stood in awe at the rising mesa and rock fins that surrounded my campsite. All to myself.
On my first day in the Swell, I had planned on hiking the Little Wild Horse and Bell Canyon Loop. It was recommended as a family-friendly slot canyon and for all shapes and sizes of individuals who are in even the slightest of physical shape. At eight miles, I decided it would be a good workout and a great introduction to slot canyons. I hopped in my car and drove to the trailhead which was about ten minutes from my campsite. I used the pit toilet at the trailhead as I was convinced I was NOT going to use the wag bag I had brought for emergencies only. After I packed up my hiking pack with the necessities, I started hiking what would be the most magical experience I would have during my time in Utah so far. Unbeknownst to me until I hiked out of the canyon, I began with Bell Canyon. It was a short 1.8 miles of winding through fluvial red rock before I emerged from the inner depths and climbed up a multi-use road to stunning views of the surrounding landscape. After 1.6 miles on this road, the hike into Little Wild Horse Canyon began. At 3.6 miles, there was a variety of scrambling without being too difficult. I only used my microspikes once since snow covered a section that I needed to scramble down. To make things even better, I was constantly surrounded by beautifully eroded walls that glowed with a radiance when the winter sunlight shined down.
An Evening in the Swell
After I climbed out of Little Wild Horse Canyon, I drove back to my campsite. It was around 1PM by the time I got back. I ate a healthy lunch of salt and vinegar chips and applesauce. I had healthier options but this is what I craved. The campsite was surrounded by crevices that were begging to be explored. After wandering around the dispersed campground and finding hidden campsites in the dwellings of the rocks, I crawled into my tent to rest my eyes after a long, strenuous but marvelous morning of hiking.
It was 4PM when I crawled out of my tent covered in sand from the strong winds that had taken up during my nap. And they were relentless. After determining that the winds were not going to let up and that my rainfly and mesh on my tent were not going to keep the sand out overnight, I made the decision to set up camp in my car. I crawled into my makeshift bed in the back of my car and enjoyed the sunset and dinner while cozied up in my sleeping bag. For the remainder of the night, I enjoyed a few glasses of wine and read my book by headlamp.
Day 2 of Swell Exploration
I didn't set an alarm for my second day of exploring because it was vacation time, and I had plenty of sunlight to chase. I rose from my restful slumber and quickly ate a poptart before I hopped in my car in search of the nearest pit toilet (hint: there are two at Mud Creek a little past where you would turn to get onto Goblin Valley Road).
My next destination was a little over an hour away on my way back towards Moab. My plan for Day 2 was to attempt my first beginner canyoneering route in Moonshine Wash 20 miles outside of Green River, UT. I had a little difficulty finding the trailhead because the trailhead does not start at the sign for Moonshine Wash but in fact, four miles further down the road right across from the sign for Three Canyons. If you have a 4WD vehicle, you can make it all the way to the trailhead but with my Hyundai Tucson, I drove a little ways down the road before I parked by the dispersed campsite and walked the 0.8 miles to the trailhead.
First, let me say, make sure you have a map to find your way or else you will be "busting the crust." The trail was hard to distinguish, and I eventually just followed the sandy wash until my trail met up with the AllTrails trail. Also, when it says "beginner" canyoneering route, there is going to be scrambling and it might not be of the "beginner" especially in terms I was familiar with. The first scrambling section I was greeted with was when my self-made trail merged with the AllTrail trail and this was equivalent to my understanding of a Class 4 trail on mountainous terrain except it was shorter so I thought it was manageable. I ended up dropping my backpack since I was too bulky and I felt unsteady with it on as I climbed down. Continuing on my way into the slot canyon, I was greeted by more eroded canyon walls. I scrambled down a few shorter sections before passing an extremely deteriorated animal carcass. That was not a promising sight.
I came to the first section I was not entirely comfortable with and probably should have turned around here but my stubbornness forced me to continue. It was after another scramble and reaching a steep drop that I decided that I was in way over my head and decided I needed to turn around. The only problem was that I dropped down two steep sections I was unsure I could get back up. I immediately started panicking but I was determined to NOT be a search and rescue statistic so I persisted. I reached the section I should have turned around at and realized I could not climb back up. After a brief moment of paralyzing fear that I was going to be stuck in this godforsaken canyon, I decided to place my butt on one wall and my feet on the other and crab walk up. Miraculously, it worked. After a few short scrambles, I was back on steady, even ground.
I hiked back to my car where I enjoyed lunch and reflected on my experience. A creeping feeling of failure followed me on my way back to my car that I couldn't seem to shake. I am motivated by reaching a destination or completing a whole loop, none of which I had done today. I had given up and turned around. As I sat munching on my Nutella roll, I reframed my mindset around my experience. I had listened to my fear and anxiety instead of being another search and rescue statistic by getting myself into a situation that I was not prepared for.
Why I Went Solo
I did not go solo camping by choice. In fact, during my time in Moab, UT none of the people I have become close to have the same days off as me so if I wanted to get outside and enjoy nature, I had to get comfortable with doing it by myself. Doing things alone is a thing I have been learning to get comfortable with because it is not something I easily do. I even wrote an article on how to use nature to become comfortable with being alone so I could learn how to enjoy my own company. It was easy to get into the swing of hiking by myself but camping was a whole new ball game for me since I was going to be spending hours alone with no service to even scroll through my social media apps to keep me entertained. Additionally, I have largely viewed camping as a social activity. So, you can imagine the anxiety felt as I drove off after work for my first ever solo camping experience. And you want to know what? It was a rejuvenating, relaxing, and eye opening experience. I had a chance to bask in my own company, and NOT be uncomfortable with it.
My solo winter camping and hiking trip in the San Rafael Swell has changed my perspective on the high desert of Utah. I fell in love with the rugged and barren landscape as I breathed in the beauty of spending time alone. I think it takes a special person to fall in love with a place that seemingly has no life but in reality, is blooming with it in its inner depths. You just have to look hard enough.
We want to acknowledge and thank the past, present, and future generations of all Native Nations and Indigenous Peoples whose ancestral lands we travel, explore, and play on. Always practice Leave No Trace ethics on your adventures and follow local regulations. Please explore responsibly!
Do you love the outdoors?
Yep, us too. That's why we send you the best local adventures, stories, and expert advice, right to your inbox.