WildSpring Guest Habitat
Port Orford, Oregon
Book through our partner Wildspring Guest Habitat

WildSpring is a small, eco-friendly bed and breakfast resort in Port Orford, 60 miles north of California. Private and secluded, on five acres of a lovely residential forest, with a zero carbon footprint, it offers comfortable luxury in a naturally beautiful environment. You'll feel like you're visiting a private estate rather than a hotel.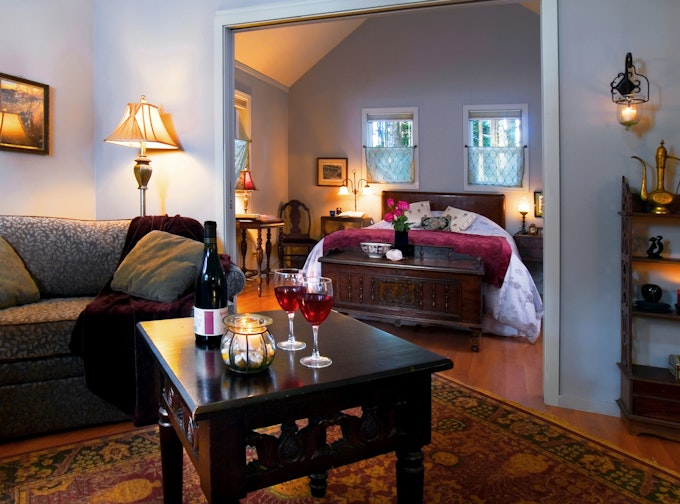 Stay in one of only five cozy, elegant cabin suites filled with art and antiques, in a quiet forest of 100-ft trees. Relax in the Guest Hall with a floor-to-ceiling ocean panorama. Help yourself to refreshments at any time (including popcorn and chocolates!) and play a game or work on an old-fashioned jigsaw puzzle.
Sleep in a peaceful forest where the loudest sound you hear all night is an owl. Enjoy a breakfast buffet overlooking the ocean and look for whales and fishing boats. At night, float in our open-air slate spa, listen to the surf and watch the Milky Way.
Walk the labyrinth in the forest or just find a hammock and read (nap...) all day long. And you think...maybe I'll just hang around here with the deer...the real world can take care of itself for awhile.
A perfect getaway. Think of it as nature with four stars.
---
Adventures Nearby
The Wild Rivers Scenic Bikeway starts and ends in Port Orford, and includes stops at Port Orford Heads, the Wild and Scenic Elk River, and Cape Blanco. It's a perfect ride for anyone looking to see the highlights of the section of coast around Por...
60 miles
3000 ft gain
The Port Orford Heads State Park comprises a drastically pronounced peninsula jutting out into the Pacific Ocean from the southern Oregon coast, providing breathtaking views both north to the Cape Blanco Lighthouse and south to Humbug Mountain and...
1.3 miles
300 ft gain
Starting out at the pullout on the highway across from the Humbug Mountain State Campground, follow the winding trail up through the forrest to the top of the mountain. There is a nice bench at the top for a snack (or a beer). The hike is fairly l...
8.8 miles
1500 ft gain