The Yonder Loft
Wilmington, Vermont
Historic Farmhouse located minutes from Mount Snow Ski Area, VAST trails & the quaint village of Wilmington. The Yonder Loft Apartment is located on the 2nd & 3rd floor of our home.
Close to Stowe but far from crowds, this forested Vermont farm is worthy of a Robert Frost poem. Family-owned for seven generations, this historic farmhouse offers an experience of nature for all your senses throughout the seasons. Hike through a forest blossoming with new green leaves while on the lookout for Dutchman britches and spring beauties. Or, simply sit by a lake and see if a fish will take the bait. Swim in cool ponds, wade in streams and enjoy a refreshing plunge in a lake. Experience autumn's palette of changing leaves and warm up beside a bonfire.

If snow brings you to Vermont, skiing is only the first of many outdoor activities you can enjoy. Snowshoe silently through a wintery forest, past scurrying critters and branches covered in frost. Or, take a wild snowmobile ride along the trails. Go back in time in a horse-drawn sleigh and experience a true winter wonderland as it is meant to be enjoyed: at a slow clip-clop with harness bells ringing.

The nearby quaint village of Wilmington offers a gentle re-entry to civilization with its one-of-a-kind shops and cafes. Vermont specialties, particularly maple syrup and cheeses are featured on shelves and cafe tables. The friendly ambiance of Vermont's small-town life will make you feel at home. As in the forest, you can take your time, set your own pace.

Cozy lodging is important for any nature retreat, and the Yonder Loft combines modern amenities with classic farmhouse decor. The fireplace offers warmth and ambiance in a homey room for evening relaxation. Views from the kitchen's wide windows are enchanting with nature's wild array of all the seasonal flora and fauna that flourish around a farmhouse. You can walk to a market stocked with local foods so your table complements your view.

Frost writes that "a poem begins in delight and ends in wisdom." The same is true of an escape to the countryside in Vermont. Come to the Yonder Loft for a quiet and secluded retreat into the wilderness.
Nearby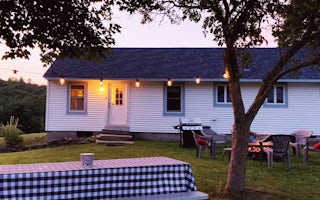 Wilmington, Vermont
The Little Farmhouse rests on a 100-acre Historic Vermont Farm. This means you'll have no disruptions from noisy neighbors, and you can e...
From $212.50/night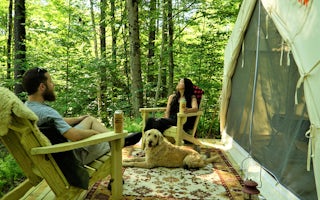 Newfane, Vermont
•••••Currently VT has travel restrictions for anyone coming from a region that has a COVID count of 400 cases per million or more. This m...
From $100/night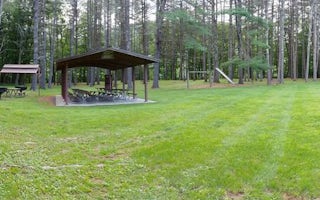 Townshend, Vermont
Overview Townshend Lake is nestled in the Green Mountains of Vermont. Families from near and far come to enjoy the outdoor recreational ...
See more