The Look Out At Chill Hill
Ticonderoga, New York
Hilltop hideaway campsite in the Adirondacks with miles of mountain and lake views!
The land itself provides world-class panoramic views of the Adirondack High Peaks and the Green Mountains of Vermont.

The site is also only a five-minute drive to the Queen of American Lakes, Lake George. There is so much to do and see in the town of Lake Georges. Spend the day shopping, find dining, or just enjoyed the scenic views. In Ticonderoga, less than 10 minutes away you will also find great restaurants and hiking trails. Check out LaChute River Trails and Cook Mountain Preserve for some amazing scenic views.

For an extra cost, campers have the opportunity to enjoy a guided pontoon boat tour on one of the many freshwater lakes the area has to offer. We provide a shuttle to and from the campsite.
Nearby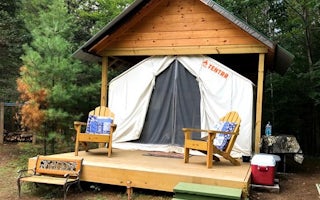 Mineville, New York
Fully equipped campsite is nestled in a small clearing surrounded by 65 acres of woodland in the Adirondack Park. Hike through our woods ...
From $130/night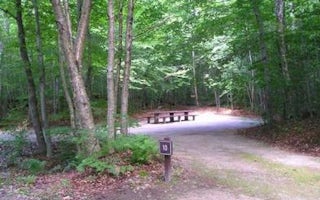 Salisbury, Vermont
Overview Moosalamoo Campground is a small remote campground located at the base of Mt. Moosalamoo, near Voter Brook. A large mowed grass...
See more