Strafford / Lake Winnipesaukee South Koa
Strafford, New Hampshire
The many charms of New England lie within easy reach at this KOA, close to major roads yet tucked away in a relaxing rural setting. Stretch out by the pool or cast a line into the pond. Families will be entertained with the waterslide and spray park and all the activities, including hayrides and weekend entertainment. Explore Lake Winnipesaukee with its 200 miles of shoreline and hundreds of islands. The White Mountains to the north are a hiker's paradise. It's less than an hour's drive to the Atlantic, where you can relax on a sandy Maine beach or enjoy the coastal scenery aboard a harbor cruise. Villages like Wolfeboro, Portsmouth and Laconia greet you with postcard-perfect charm. Pool: Memorial Weekend - Labor Day Weekend. Max pull thru: 40 feet. Your hosts: the Gagnon family.
Nearby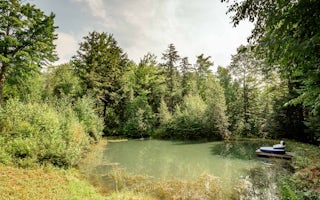 Rochester, New Hampshire
Listen to the local barred owls and many wild bird and frog calls. Revel in an outstanding night sky view without light pollution. We ha...
From $120/night
Strafford, New Hampshire
We have closed for the winter for the 2020 camping season. We plan to open Mid-April 2021 and will stay open until just after Columbus D...
From $97/night
See more
Unfortunately, we don't have up-to date pricing data for this listing, but you can check pricing through KOA Kampgrounds.
Book Now