Riverhouse Farm
Mount Bethel, Pennsylvania
Your own private retreat on the river!
Welcome! This premium site provides a unique opportunity to enjoy the wonders of nature while relaxing by the river on our 40 acre farm. Swim, kayak, canoe, inner tube, fish or just enjoy communing with nature.
We have regular sightings of foxes, owls, wild turkeys and bald eagles. If you wish to explore the area check the guidebook in your tent for directions to hiking trails, wineries, farm markets, music festivals and antique shops. Low traffic flat country roads are ideal for bicycling. And access to shops and restaurants is 10 minutes by car.

Or, if you are canoeing or kayaking on a Delaware River trip, paddle up to the site and spend a night or two.
Nearby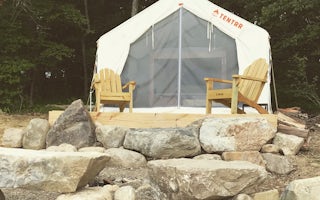 Bangor, Pennsylvania
This Tentrr top camp is situated along the edge of our hay pasture. Your campsite is accessible by vehicle. The front of your campsite op...
From $99/night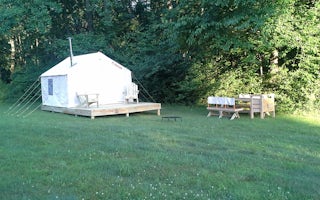 Stroudsburg, Pennsylvania
Enjoy this campsite on our beautiful 280 acre property located near the Appalachian trail. The site is very accessible and secluded with ...
From $100/night
See more