Peace And Plenty Farm
Kelseyville, California
Creekside tranquility on California's only organic saffron farm.
This secluded spot is tucked away beside our lovely wooded seasonal creek (winter thru mid-June), and is at the rear of our 7 acre organic saffron and walnut farm. Located 1 mile from Clear Lake State Park, with many wineries, a small quaint town with eateries, and beautiful Mt. Konocti for hiking nearby, our campsite offers a great mix of activities. Come on a tour of our small farm and learn about saffron, meet the chickens, go bird watching with farmer Simon, take a bike ride, take a dip in California's largest lake, or when the creek is flowing, swim or float around right next to your campsite. Or just hang in your creekside hammocks in the shade of a giant oak downing local wines. Wildlife will pass through your campsite on their way to and from the creek, and (depending on the time of year) many bird species are present.

This campsite is equipped with a queen-sized bed and a pop-up tent that sleeps 4.

SFChronicle about us: "California-grown-saffron-arrives-in-the-Bay-Area"
Nearby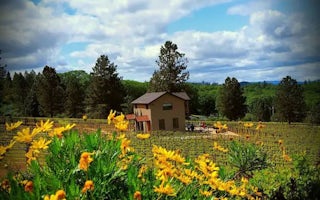 Kelseyville, California
Wake up to fresh coffee, bask in the sunlight on your private veranda, and then head down to the tasting room for lunch where you're comp...
From $195/night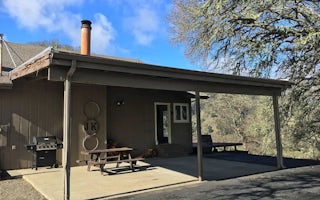 Hopland, California
Mountain views and a calm quiet await guests who arrive at this spacious home overlooking the 1250 acres of Jaxon Keys Winery and Distill...
From $199/night
See more