Mount Baker Cedar Snowline Cabin
Deming, Washington
This new, cozy cedar cabin is the perfect couples retreat. Get yourself comfortable and find your relaxation in the forest.
You'll find all the comforts of home waiting for you inside the cabin. A comfortable living area offers space for you to cozy up by the warm fire and enjoy the peace of the mountain. This cabin retreat is the ideal relaxing getaway after a long day of mountain adventures.

The area has more than enough on offer to make your getaway fun and exciting! Ski, hike, fish, drive, kayak, swim, picnic, and more! Depending on the season, you'll have a range of fun opportunities to explore the mountain in a number of unique different ways.

No matter where you wind up, as long as it's on Mt. Baker, you won't be disappointed by the scenery. Come on up and enjoy, your cabin is waiting.



Nearby
Deming, Washington
Welcome to an escape you'll have a hard time leaving. Tucked away into a corner of pristine Mt. Baker forest, you'll feel the warmth of t...
From $329/night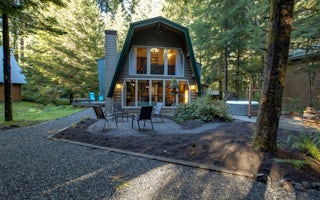 Deming, Washington
Sitting in a scenic area of our snowline community, this is all the escape you could ask for! Come looking for a getaway and leave feelin...
From $256/night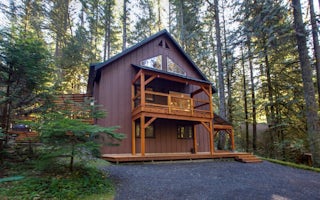 Deming, Washington
Driving into your stay, you'll be struck by the incredible array of mountain scenery outside your window. But don't worry, you'll have pl...
From $349/night
See more