Jacks Creek Group Area
Tererro, New Mexico
Overview
Jack's Creek Group Area is a forested, high-elevation campground about 50 miles from Santa Fe. Perfect for family reunions, recreation events and other large group gatherings, the campground has two group units available that can each hold 40 people. The campground sits at approximately 8,000 feet in the Santa Fe National Forest. Visitors enjoy the moderate temperatures and cool mountain breezes while the campground is open from mid-April to mid-November. The surrounding wilderness provides astounding views.
Recreation
Hikers find this campground convenient to the popular Jack's Creek Trail nearby. Fishermen also enjoy fishing for rainbow and brown trout in Jack's Creek.
Facilities
A campground host patrols the campground on a routine basis and is available to answer questions. Campers can lock the gate after their group is settled into the site, if desired. One of the sites (Group B) is accessible. All of the roads are the paved, so low clearance vehicles can also reach it.
Natural Features
Located in the Sangre de Cristo Mountains, Jack's Creek is on the border of the Pecos Wilderness, which features 160,000 acres of majestic mountain scenery, high mountain lakes and the Pecos River. The campground is heavily forested with fir trees intermixed with aspens, which shimmer with golden foliage in the fall. The trees provide plenty of shade if desired, yet enough space to enjoy the sun as well. The creek is adjacent to the campground. A variety of wildlife, such as elk, mule deer, migratory birds, bald eagles (in winter) and other raptors inhabit the forest.
Nearby Attractions
The City of Santa Fe is just over a one-hour drive away.
Nearby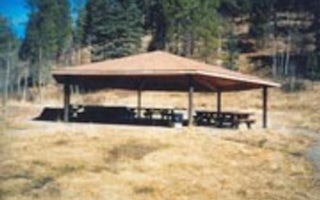 Tererro, New Mexico
Overview Holy Ghost Campground sits in the Santa Fe National Forest on the edge of the Pecos Wilderness. The Holy Ghost Creek runs alongs...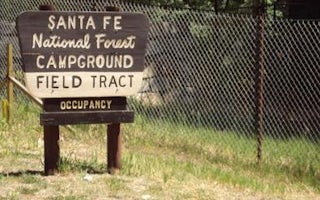 Pecos, New Mexico
Overview Field Tract Campground is located on the banks of the beautiful Pecos River. The campground is 10 miles north of the village of...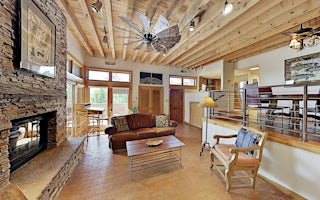 Santa Fe, New Mexico
•• Effective September 4, 2020, visitors arriving in New Mexico from high-risk states may be required to self-quarantine for two weeks or...
From $233/night
See more
Unfortunately, we don't have up-to date pricing data for this listing, but you can check pricing through Recreation Gov.
Book Now