A few tips and favorite gear for a summer Grand Canyon trip
16-days of whitewater with your friends is truly hard to describe. And plan for.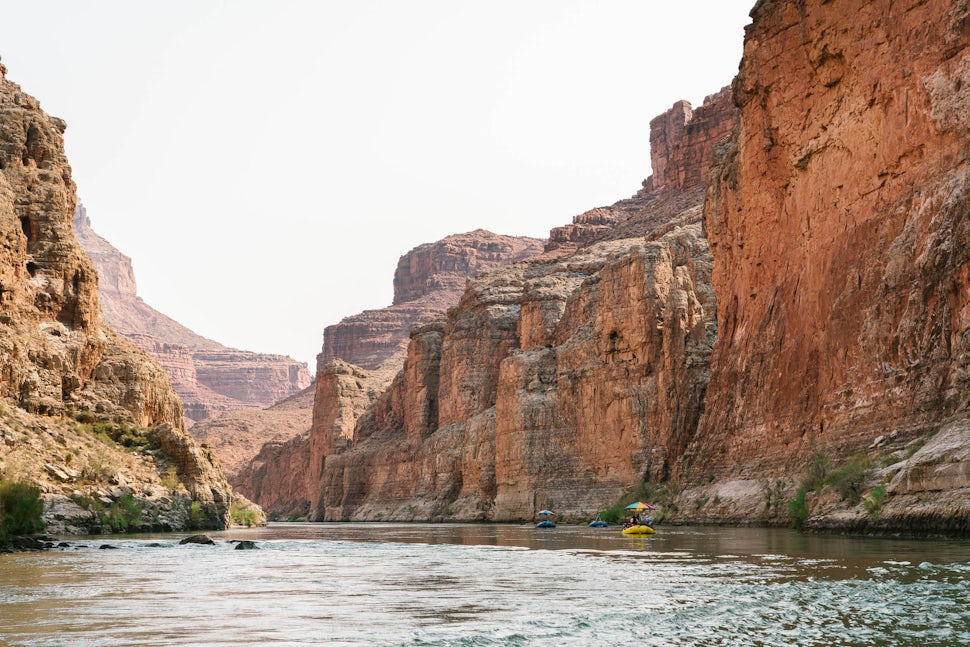 This past August I had the opportunity to take a rafting trip down the Grand Canyon with 15 of my closest friends. I'll start by saying that a private trip down the Grand is almost impossible to describe. The feeling of being so utterly disconnected and yet so tremendously present is one that I've found unique to this trip.
The quick hits
- From Lee's Ferry to Diamond Creek is about 225 river miles, which we covered in 16 days
- Temps were usually around 105-115.
- We had three 18' boats and 2 16' boats.
- You traverse nearly 2 BILLION years of geologic history (the oldest exposed rocks in the canyon are ~ 1.8B years old), although the canyon itself is only around 6 million years old
Grand Canyon trips are not "pack light" affairs. These boats can hold a lot of gear, and the camping experience is much closer to car camping than backpacking. On five boats we had gear for 16 people for 16 days. That's everyone's personal gear, camp games, 3 meals a day, snacks, a full kitchen, and beer. Lots of beer.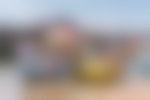 Planning a trip
There are a couple of ways to do the Grand Canyon. You can pay a commercial outfitter to join a trip, or spend years putting in for the lottery system to win a private permit. We won the latter 🙌, which means that you do (most) of the planning ourselves. You can plan the Grand completely on your own, with 100% of your own food, boats, and gear...or use an outfitter out of Flagstaff to expedite a few things. For a reasonable fee, they'll rent you some of the larger gear, plan all your meals (labeled and packed in coolers and dry boxes), and handle transportation + shuttling vehicles. It makes planning a LOT simpler.
We used an outfitter for food and a few other things, but as a fairly experienced crew, we brought a lot of our own gear. For me, this meant a trip to my storage unit (S/O to StorQuest Self Storage in Boulder) to wrangle my river-specific things like dry bags, PFD's, paco pads, and more. I love the river, but I'm not on trips often enough to let that stuff clutter up my living space.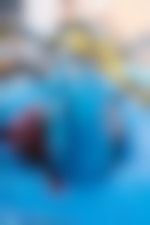 Bring more, and less
You'll want to bring all the stuff you want to be comfortable, but you *also* don't need much. I probably wore the same two pairs of shorts and 3 shirts for most of the trip. This will change if you're on a fall/winter/spring trip, but for the summer months you need very little.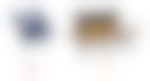 Bring a real camp chair, not a tiny ultralight one
Like I said above, this is a car-camping experience. Every day you'll unload the camp gear, set up the kitchen, and get your 'living room' situated. After a long day on the boats, you'll want a nice place to put your bum. A little, ultralight, tippy, camp chair is going to be seriously underwhelming. The winner for our trip was the couple who brought chairs with fold out leg rests and an umbrella built-in. A little extra? Maybe. But they sure weren't complaining.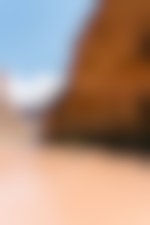 Costumes
Get weird, get wild. Plan themed costume days/nights. On those pack light summer trips, use the extra packing room for costumes.This is important.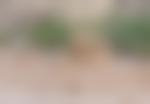 Don't focus too much on photos
I usually take a ton of photos on a trip like this. But here, in this place, there was just too much that I felt like I couldn't capture. Sure, I still got some great shots. But most of the time my camera was safely in a dry bag and I didn't really feel the need to be getting it out all the time. You can't *truly* capture the feeling of being down in the canyon with 16 close friends. Your camera won't *really* capture how it feels to look up at thousands of feet of rock walls. And it *definitely* won't communicate how freaking big some of the rapids are. So, I took some photos of the landscape, a lot of photos of my friends, and a multitude of mental snapshots that'll be with me forever.
A few pieces of gear I was most grateful for:
I'm not going to go into an exhaustive list of everything you need, or everything I brought. There are plenty of guides out there that'll walk you through the *complete* packing list. But here are a few things that I was definitely glad I had.
Sea to Summit Hydraulic Dry Pack 90L - Excellent dry bag with plenty of room for a trip of this length. Had no issues with water, which is really the key feature of a dry bag.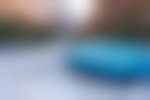 Sea to Summit Aeros Pillow - I slept outside on a paco pad with this pillow and a lightweight sheet every night of the trip and loved it. This one is pretty small and lightweight, so you could definitely splurge on a larger and more luxurious one.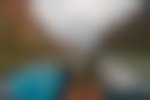 Astral Brewer 2 Water Shoes - My first pair of true river shoes, and I loved them. Excellent grip and foot protection in all conditions. I brought a pair of Chacos as well, but didn't wear them except around camp. The Astrals were great while on the water and also on side hikes and canyoneering. My "hiking" shoes didn't come out of my bag once.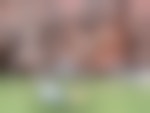 Black Diamond Alpenglow Hoody - The Grand Canyon is hot and sunny in August. You're going to want a sun shirt that you really like because you'll be wearing it a LOT. I originally bought this hoody for summer adventures in the alpine, but it was a fantastic layer for the river as well.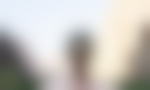 Goodr Sunglasses - A staple of my wardrobe for a while now. Inexpensive, great, polarized sunglasses. At only $25, these are hard to beat when you're prone to losing (or not taking good care of) your sunglasses. Bring an extra pair.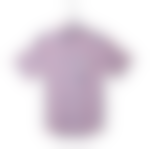 Party Shirt International "Pigeons Gone Wild" shirt - I loved this shirt even more than I thought I was going to. It's actually made of a slightly technical material. A+ purchase. The pinnacle of style.
We want to acknowledge and thank the past, present, and future generations of all Native Nations and Indigenous Peoples whose ancestral lands we travel, explore, and play on. Always practice Leave No Trace ethics on your adventures and follow local regulations. Please explore responsibly!
Do you love the outdoors?
Yep, us too. That's why we send you the best local adventures, stories, and expert advice, right to your inbox.