Overnight Adventuring - A Checklist for the Beginner Backpacker
Not sure what to bring for your first overnight backpacking trip? Here are some tips for what to bring on your next trip.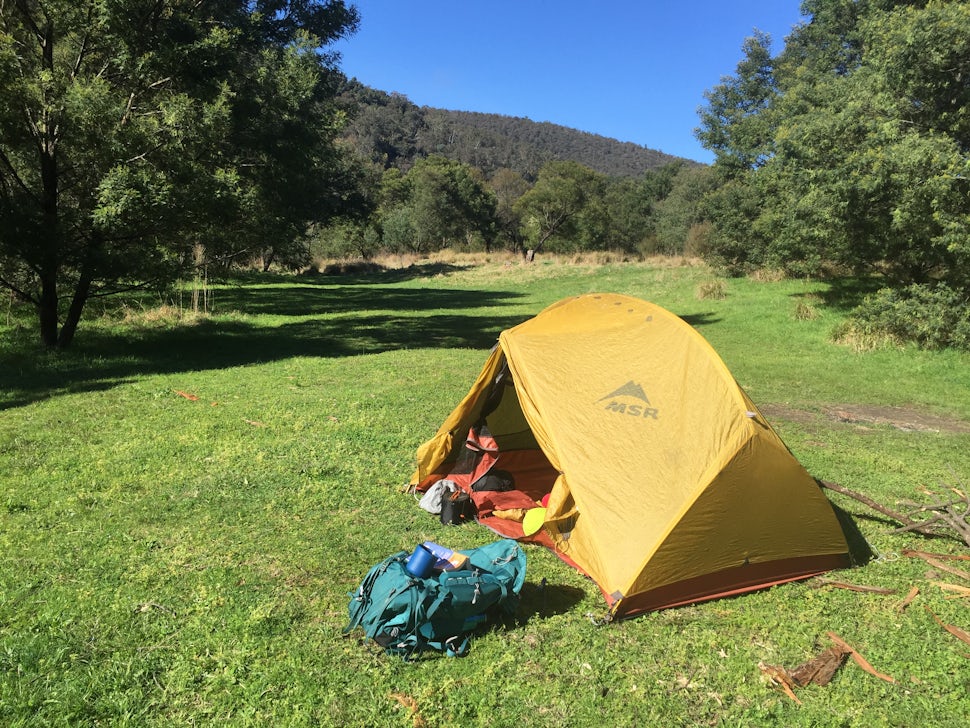 Before you start purchasing equipment, if you're about to try out backpacking for the first time, see if you have any friends or family that can lend you equipment. This way, you can see what you like about the equipment, or what you may not like, and test it out.
If you are going to purchase equipment for the purpose of backpacking, try to take into consideration that you will be hiking with the equipment on your back and you will have limited space. Therefore, try to either do without if possible (ie using your sweater as a pillow), purchase lightweight equipment, or purchase compressable whenever possible.
The last general tip I can give you about backpacking purchases is to buy good quality products. Half of the equipment I have purchased I have had to almost immediately replace, either due to poor quality, discomfort, or inadequacy.
Here's a list of things you'll need:
Tent
Backpack - I use an Osprey 46L kyte, which I can rave about for eons. If you need to purchase a bag, look for something relatively large (45L +) made for backpacking, as it'll have lots of straps and compartments to make your life easier on the trail
Pack cover - If your pack doesn't come with a cover, I advise purchasing one so your things will not get wet if it rains.
Sleeping mat - There are some great inflatable sleeping mats you can get that compress to a very small size when rolled up. Otherwise, there are other options of larger mats that you can strap onto your bag.
Sleeping bag - When purchasing a sleeping bag, try to take into consideration where you will be doing most of your hiking and how warm you like to be at night. If the bag doesn't come with a compression sack, also purchase one so you can make it a smaller size in your pack.
Hiking Shoes and Socks - Try to go for boots with some ankle support and wool socks. If anything, shoes with a little extra room are better than shoes that are too small.
Gaiters (optional) - For muddy trails or places with snakes if you want a little extra comfort from the critters
Headlamp or flashlight - I use a headlamp since it makes hiking at night easier if you're coming into camp a bit late. If we have extra room, we also sometimes bring a small pop-up lamp for the tent.
Extra layers - I have a shell from Patagonia that is lightweight but waterproof. I'll also bring a toque and a shirt and pants to change into for nighttime (as my clothes are usually soaked!). Depending on weather, you may need more. Waterproof pants are are useful if you know you'll be hiking in the rain for several days.
Toiletries
Stove, gas canister, pot, bowls, cups, and cutlery - We have a great set that folds in on itself with four bowls and has room inside for the gas canister. Be careful if you're purchasing this that the thread on the gas canister corresponds with the stove, as there are a few different kinds (and we have made this mistake before!). Hot tip - I usually hang my cup from a strap to save room in my pack.
Knife (optional) - For anything from cooking, to cutting rope, to any other tasks.
Rope and duct tape - For any repair you may need and tying down your tent if the weather turns
Water canisters - We bring at least one 1L canister as well as our 2L bladders. You want to bring as much water as possible, as you need water for drinking as well as cooking. As well, if you have difficulty finding water sources, you want as much room as possible to store water when you do find water.
Water treatment - We use iodine tablets, though you can also use a filtration system. Look into this before you head out and decide on your preference. I can't stress enough that it's super important to look up water sources along your hike before you head out.
Food and stuff sack - You'll be hungry at the end of a long day. On the first day, we will usually bring out a pasta of some sort and pasta sauce, which will keep until dinner that night. Any subsequent dinners, we'll bring dehydrated meals and rolls. Breakfasts we usually bring oatmeal and coffee, which are both lightweight. If you're a caffeine addict like me, you can make cowboy coffee. Lunch is usually a mix of snickers bars, apples, dried fruits, dried meats, and trail mix. Pack everything in a stuff sack, which usually decreases some smell.
A garbage bag - So you can pack in, pack out!
Sunscreen (optional) - Depending on the time of year
Bug repellant (optional)
Hat (optional) - To keep sweat out of your face and protect you from the sun
Hand sanitizer (optional)
First aid supplies
Camera and phone (optional) - Though there may not be reception, phones are useful in case of an emergency
Hand shovel and TP (optional) - If you don't have bathrooms on the trail
Other tips
- Get to know where you're going and bring maps so you (1) don't get lost and (2) can plan on when you're staying
- Obtain the proper permits, as many campsites require you to pay a fee
- Learn about the place you are backpacking and the dangers, including wildlife, water sources, and bushfires that may be active in the area.
- Learn the best way to keep your food. For instance, in BC you need to hang your food from trees, but here in Australia we keep our food in our tent. Look up specifications on where to keep your food to keep you and your food from critters.
We want to acknowledge and thank the past, present, and future generations of all Native Nations and Indigenous Peoples whose ancestral lands we travel, explore, and play on. Always practice Leave No Trace ethics on your adventures and follow local regulations. Please explore responsibly!
Do you love the outdoors?
Yep, us too. That's why we send you the best local adventures, stories, and expert advice, right to your inbox.