Climbing Glacier Peak
Climbing 10,541 feet up the highly glaciated slopes of Glacier Peak. The most remote of Washingtons five volcanos.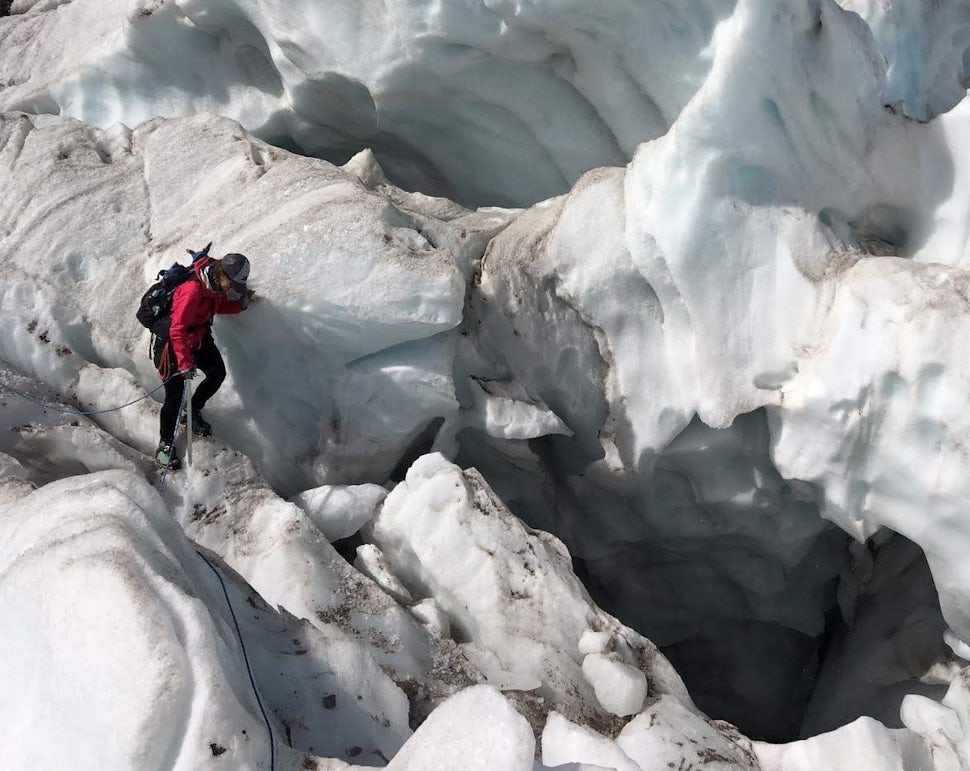 "The summit is what drives us, but the climb is what matters."
- Conrad Anker
Glacier Peak Wilderness is a beautiful area of Washington. In the center stands one of Washington's five volcanoes; Glacier Peak. At 10,514ft the mountain reaches above the clouds.
I have been dreaming of climbing Glacier since I heard it was a thing. From hiking around the mountain in the past I thought it looked untouchable, it looked too rugged and isolated.

I requested the days off for the climb in early July. Unfortunately, that didn't work because Ram hurt his back at work. I moved the days to late July but Ram wasn't healed. Every time I had a couple of days off I thought, maybe this is the time, but it never was. I was disappointed and discouraged thinking maybe I wouldn't get the chance this summer. I wanted to climb it so badly but I didn't want to force it. I had to practice patience and trust that the right time would come.

As September approached I realized it would be my last chance. Then it struck me that Labor Day weekend would be perfect because Ram and Adam (Ram's coworker who also wanted to climb the mountain) would have a three day weekend. I mentioned it to them and they agreed! We needed three days because it's a four-hour drive and a 33-mile hike with 11,000 ft of elevation gain. I paused all my excitement until the day came because I was nervous it might fall through.

Before I do a climb I read as many trip reports as I can. Many people said they roped up and many people said they didn't. Rope up means you and your climbing partners are connected together by a rope for safety. The trip reports didn't stress roping up so I planned not to. But, I changed my mind once Adam talked with a Ranger and a friend (who had just attempted the climb) who both insisted we rope up.

For glacier travel, the basics are a helmet, harness, rope, crampons, ice axe, and ascenders. None of us had any experience with glaciers like the ones we'd encounter on Glacier Peak. But, after all the reading, discussing, research, and Ram's thirteen years of rope rescue experience (from cleaning windows on skyscrapers using alpine techniques) we felt pretty good.

We took off Friday afternoon. I have the only reliable car and I'm the only one who drives a stick so I got to do most of the driving, especially through Seattle. Ram drove some during the in-between places which was much appreciated. Going through Seattle was uneventful; thankfully. I think all the traffic was leaving the city as we went in.

By 10:30 PM we reached the trailhead. The parking lot was much larger and busier than I expected. I think everyone also wanted to take advantage of the long weekend. Even so, we found a good campsite; it even had a picnic table. We were ready for bed so we just set up camp, ate snacks, and called it a night.

In the light of the morning it was apparent we hadn't overprepared. Everyone else had big packs full of glacier gear as well. We also saw that it is the "in" thing to have a hooded sun shirt. No joke, ninety percent of the people were wearing them. I've always wanted one but at that moment I was glad I didn't have one.

We started hiking around 7:30. The first five miles are fairly flat in a beautiful lush, green forest. The next three and a half miles are a climb of switch-backs up to White Pass. That climb really sucked! My bag was only 25 pounds but it felt SO HEAVY! I honestly don't understand how it could have only been 25 pounds. I had a 30-meter rope, crampons, mountaineering boots, a harness, tent poles, clothes, and three days worth of food. I don't trust Adam's luggage scale, though it did say his bag was 50lbs... Sorry for him. The only saving grace during the climb was the mass amount of ripe blueberries and huckleberries! I thought with all the people around the berries would be picked off. You could grab handfuls and handfuls without even trying! They were so good.
After the grueling climb, we reached the Pass and took a long break. As we sat we saw a few PCT hikers pass. We joined the PCT for about a half-mile. After breaking from the PCT the trail traverses along-side a beautiful green hill with flowers, marmots, and an incredible view of mountains and valleys. We climbed over a couple passes before dropping down into the final basin for the night. I'm not sure how far we went but it felt like five miles. On the green trails map the basin is covered in the White Chuck Glacier but it's receded so much it's now a barren rock land. The glacier had receded to the slopes north of us. As we walked across the Mars-like landscape it began to sprinkle so we threw on our rain jackets. The rain lasted only a few minutes and ended with a rainbow.

The basin was a city of tents. It looked like everyone had the same idea as us; to camp there and do the ascent in the morning. We actually wanted to get further, to Glacier Gap, but we were exhausted. We passed all the tents until we found a flat dirt spot big enough for our tents. It was amazing we found any ground without rocks. As we approached our camp spot the rain came back strong so we frantically pitched our tents. Sadly Ram and I can't both fit in our tent if it's not organized, so he had to stand in the rain while I hurriedly did so. Damp but warm we huddled in our tents listening to the rain, wondering how long it'd last. At the same time we heard the rain slow to a stop Adam yelled "double rainbow!" Out of our tent we could see a double rainbow right above the glacier! It was a spectacular sight to see something so colorful above the white snow. We saw it as a sign that we were in the right place at the right time.
It was still early so we ventured from our tents to explore the unique area and enjoy the crisp evening air. Adam went to get water from the glacier and as he approached the glacier he suddenly sunk up to his calves! The soil near the glacier is so saturated with water it's like quick sand but you can't tell because it looks no different than everywhere else. It was pretty entertaining but really sucked for him because the soil is clay so he had to wash off his shoes and legs in the freezing glacier run off.

My alarm went off at 5am. I opened the tent and saw the stars. I thought it would be getting light but it wasn't. I could also see the light from peoples headlamps as they started the climb. Knowing people were already hiking made me anxious to get going. I was discouraged though because I brought a tiny headlamp that's only good for around camp. I didn't think we'd hike in the dark. I don't know what I was thinking because you always start a mountain climb in the dark. I rubbed Ram's back and whispered "hey, it's time to get up". Ram hates getting up early, especially if it's cold, and it really irritates me. "It's already past five" I said and he groaned "I'm sick" while slidding deeper into his sleeping bag. I was in shock and started to panic a bit. So many thoughts began to fly through my head. "Is he ditching me? Is he really not getting up? He better not go back to sleep! What if he doesn't get up? Is he not going to do the climb? Will I go without him? Is he really sick or just lazy?"

He said he had a sore throat and that he was getting up. So I got ready and climbed out of the tent. I saw Adam was already out of his tent. Adam said he felt like shit but he made the decision to shake it off and be positive. Adam was sick. He had a cough that progressively sounded worse and worse as the day went on. Eventually we all managed to get ready and start the ascent by way of headlamps. None of us knew if we would make it to the summit but we wanted to try.

My headlamp helped a tiny bit only while it was pitch black. As soon as it got a tiny bit light it was useless so I turned it off and let my eyes adjust. We were walking on a very rocky slope. I felt clumsy and awkward in my new mountaineering boots. I'm not used to wearing something so stiff.

Time passes differently early in the morning but I think it took about an hour to reach Glacier Gap; where we originally thought to camp. We were glad we hadn't because it's exposed on all sides.

The morning light was so beautiful as it touched the surrounding hills and snow with soft pinks and oranges.
While taking a break in the Gap we met a group who was doing the whole trip in one day! They had started at nine the night before; they'd already been going for ten hours! That's just craziness. It would mean their bags were lighter but only a bit... I don't think it's worth it.
Ram and Adam drank E-mergency and felt a little better so we continued on. We hiked up and over a small pass before dropping down to a glacier where we needed to use crampons. It was Ram's first time wearing crampons and he discovered that he likes them. I'd been trying to get him into crampons for years! He always thought they were too bulky and unnecessary and used micro-spikes instead but now he has seen the light! Crampons are awesome! We cautiously crossed the steep icy glacier and got back onto dirt for a while before hitting one of the main glaciers of the mountain: Cool Glacier.
As we climbed the side of Cool Glacier we heard people yelling "Rock, rock, rock!" and we saw huge rocks careening down the side of Disappointment Peak towards a group crossing the glacier. Luckily the group had enough time to swiftly walk out of the way. I was really worried. The rocks were spinning so fast and a couple were big; one was boulder-sized! If someone got hit it would have seriously injured them, maybe even killed them. The side of Disappointment Peak facing us was very steep and covered in loose rock. I thought I wanted to go up and over it until I saw it. It looked terrifying. More terrifying is the possibility of knocking rocks loose and endangering people below.

The rock slide made me nervous about crossing the glacier. It's not as easy to dive out of the way when you're tied to others. While climbing the side of Cool Glacier there was no danger of falling into a crevasse but for the rest of the way, the danger was real. We got all the height we could before it was time to begin crossing. We stopped to take a break and eat snacks before roping up. To rope up we put on our harnesses, attached a carabiner to the belay loop (a sturdy loop on the front of the harness), figured out the distances between us all, and tied ourselves in. Adam was in front, I was in the middle and Ram on the end. Almost all of the other groups were also teams of three with two guys and one girl. I got a little annoyed being pulled in two directions but we got the hang of it. The rope is supposed to be suspended between the climbers so you have to walk at the same pace.

We crossed under Disappointment Peak and circled around the east side where the snow turned to solid, transparent ice. The area was unlike anything I've ever seen. There was water running under it, above it and between it. It was ice as deep down as we could see into the cracks. There were crevasses; some filled with water and some that went deep into the glacier. Rocks from the slopes above us were scattered over the ice. The glacier felt alive, the whole mountain felt alive with its shifting rocks, flowing water, shifting ice, and rugged crevasses. Every few minutes we heard more rock slides.
Once we passed the ice field we reached an area I don't know how to describe other than to say it looked like the glacier had cracked and twisted. The only way forward was through. We needed to walk down into the glacier on a narrow edge of ice that had nothing on either side to stick an ice axe into or balance on. Adam went first and had no problem. Then it was my turn; with my short legs. I walked down and onto the icy edge. My stomach sunk, and I froze. I didn't want to take another step. I wanted to back up. I had to push through my fear. I nervously inched my way forward and my crampons gripped the ice like the claws that they are.
After that, the rest of the climb seemed less scary. We switch-backed up the rest of the glacier over a few snow bridges and around massive crevasses. The most memorable snow bridge was about eight feet long over a fifty-foot deep crevasse! I had never seen a big crevasse before. I was awestruck by the size and beauty of them. I couldn't believe how deep they were. They were more like canyons in the glacier than cracks. They were as intimidating as they were impressive.
The glacier ended at a ridge of dirt. Here everyone dropped their heavy gear before making the last push to the summit. The trail switch-backed over steep, loose rocks and powdery dirt. Right before the summit we waited until we were together before making the last few steps to the top. The summit was above the clouds. Every direction was a horizon of white fluffy clouds. It was beautiful and special. I felt very content and grateful. The mountain was extremely kind to us. Our climb was smooth and without incident. Even though we didn't get a clear view of the surrounding landscape we were happy with the sea of clouds. We took pictures and enjoyed the moment.
The descent went by fast until we got to Glacier Gap. From then on it drug on and on! We were tired and none of us could agree on whether to sleep at the same spot or pack up and continue further. I was on the fence, Adam wanted to continue on and Ram wanted to stay. In the end, we slept in the same spot. Adam was pretty miserable. I felt bad for him. His cough sounded bad. He wanted the next day to be as short as possible because we still had to hike out and drive home. None of us would have much rest because the workweek was starting the following day.

I was surprised and happy we made it to the top but we still had to make it home. I don't know if I would have done the climb if I was sick. Ram seemed completely fine; definitely didn't sound like Adam.
The morning sent us on our way with a crystal clear view of Glacier. It was sad to say goodbye. I didn't want our adventure to come to an end. I didn't want to go back to civilization. In the short time I spent there I became very fond of and attached to the mountain. It was a climb that I would do again in a heartbeat.
The ascent usually isn't my favorite part of a climb but this time it was. It stayed interesting and challenging but not miserably so. I couldn't have imagined a more perfect mountain to experience glacier travel for the first time.

Every climb teaches us something new and pushes our limits just a little further. This climb made mountaineering feel possible, it made it feel real. It rose excitement in me to know that my abilities are growing. Each climb gives me a little more confidence to reach for a higher summit.
We want to acknowledge and thank the past, present, and future generations of all Native Nations and Indigenous Peoples whose ancestral lands we travel, explore, and play on. Always practice Leave No Trace ethics on your adventures and follow local regulations. Please explore responsibly!
Do you love the outdoors?
Yep, us too. That's why we send you the best local adventures, stories, and expert advice, right to your inbox.