Finding Humor In Road Trip Mishaps
It wasn't until Day 2 of our 4-day road trip that we started to experience some humorous misfortunes.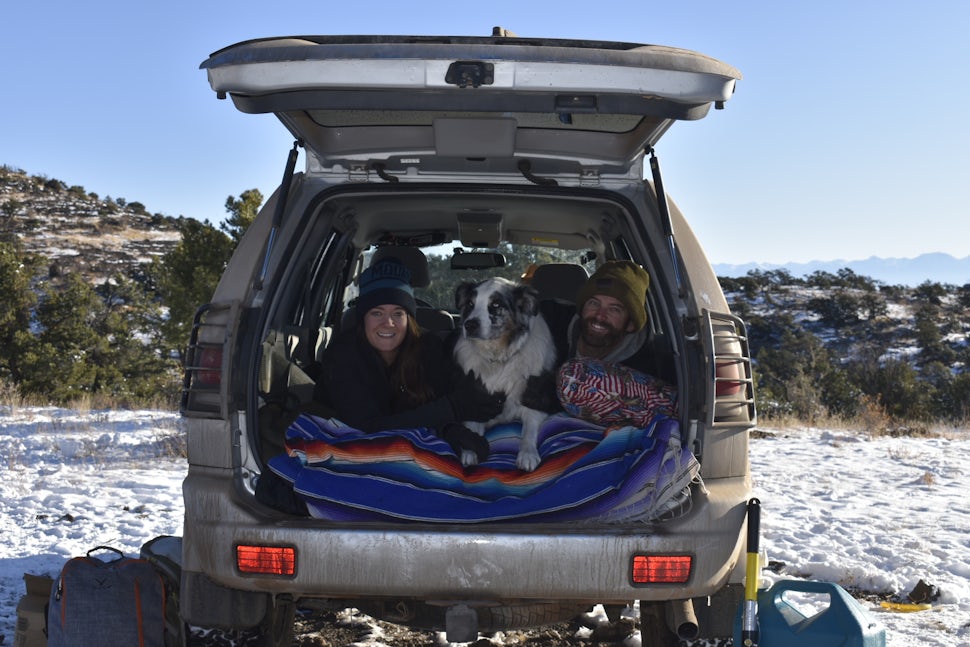 When embarking on a camping road trip, it is almost guaranteed that you will run across some mishaps along the way. Whether it be encountering rough or impassable roads, poor weather, important gear forgotten at home, or general funny accidents that happen along the way. The only control you have left when these situations do occur is how you respond. Rather than getting angry or upset which can negatively amplify the situation, I tend to handle it by nervously laughing. I find humor in the ridiculousness of the situation that is occurring.

Last week, Jared and I set off on a four-day camping road trip with a general idea of where we wanted to go but agreed that we would just wing it as we went and spend time enjoying the places that we ended up at. We took off on an early Monday afternoon with Moab, Utah as our destination. The first of our comical misfortunes started on day 2.

Day 2 ~
We spent the night along a ridge in Southwest Utah and were in the process of making coffee and breakfast that following morning when a group of young campers about a half a mile down passed our campsite on their way out. After breakfast, I hopped on my google maps and started researching if the road we were on connected with Highway 95 – the main road we needed to get back to. Jared had taken a quick peek on his phone and said the road did not continue. However, I told him that I had looked, and the road did connect, and we could just continue straight. We left it at that, packed up the vehicle and took off down the road.

A half a mile down the road we passed the campsite where the young campers had stayed and slammed on the brakes as Jared noticed that their fire was smoking. We swung into their campsite angrily saying, "Are you kidding me?". Jared grabbed the shovel out of the back and began putting out the smoldering fire.

Satisfied, we hopped back in the vehicle and continued on our way. The road was primarily all sand and we cruised along swiftly with our windows down. After a mile or so I thought "Boy, there sure is a lot of sand getting in the vehicle for just having the windows down". About another mile down the road I heard a loud noise in the back as we cruised around a sharp corner. I turned to check it out and noticed that the back hatch was wide open and that loud noise was our gear spilling out one at a time.
I yelled out to Jared "The back hatch is open!". We came to a stop and both hopped out and ran to the back to see how much stuff we had lost. Our 5-gallon water container and Jared's backpack were missing. I had a big shit grin on my face as we hopped back in the car and turned around to collect our belongings.
After collecting the backpack and water container we turned around again back to our original direction and took off. Many miles farther down the road, it began to narrow and slightly disappear to just rock until we came to a final corner where the road came to an ultimate end. As I realized that I was wrong and the road I had convinced Jared to continue down was indeed a dead end, all I could do was turn to him with a sheepish smile. The error I made was not flipping on the satellite layer in google maps and zooming in just a touch more. If I had, I would have seen that the road we were on was on the ridge and the road that made it out to Highway 95 was directly parallel to us in the valley below. I find the situation humorous and start embarrassingly laughing, Jared just gives me a comically stern smile. A couple of slight mistakes of map checking and not securely closing the back hatch has set us back over an hour in our day. As we near our original campsite again we discover a bottle of windshield wiper fluid laying in the middle of the sandy road. Our first belonging to have exited the back of the vehicle.

Day 3 ~
We crossed back across the border into Colorado and found a beautiful campsite off the beaten path. The wind picked up later in the evening and remained constant throughout the night. The sounds of the thrashing tent kept us tossing and turning all night. We decided it was too windy and uncomfortably cold to attempt to make coffee and breakfast that morning, so we quickly packed up the car and decided to stop at the first gas station on our way to Mesa Verde National Park to grab a warm cup of coffee.
I'm a sucker for pumpkin-flavored anything and was pleasantly surprised that the little local gas station had pumpkin spiced cappuccinos available. We both grabbed our coffees and as we passed the register, they had a display case with Halloween themed donuts. We each picked a white ghost-shaped donut and headed back out on the road.
Just 10 minutes later we pulled into the Visitor Center of Mesa Verde National Park. We left Riley in the car while we ran inside to check out the gift shop and tour the center. When we arrived back at the car, Riley had made his way into the front passenger seat and was waiting for us with a guilty look on his face. I opened the door to find the donut bag empty on the floor and Riley looking up at me with an "I'm sorry" look on his face.
After a laugh and a small scold, I tell him to get in the back seat and as he awkwardly spins around and jumps, he punches my half-full coffee cup with his back paw and sprays pumpkin spice cappuccino all over the front of the car. It leaks out of the massive hole and starts to disappear underneath the cup holder, remnants are all over the front seats and on the dash. I look up at Jared and he has a look of complete horror on his face. I bust out laughing because the scene is just too priceless.
We both are incredibly tired after spending the whole night in a tent that felt like it was inside a tornado. Still cold and waking up…Riley just ate my donut that I was looking forward to and now I've lost my coffee too. To make it even worse – it is now sprayed all over the inside of the vehicle. We pull out of the Visitor Center parking lot in silence with the smallest trace of a smirk on both of our faces.

We want to acknowledge and thank the past, present, and future generations of all Native Nations and Indigenous Peoples whose ancestral lands we travel, explore, and play on. Always practice Leave No Trace ethics on your adventures and follow local regulations. Please explore responsibly!
Do you love the outdoors?
Yep, us too. That's why we send you the best local adventures, stories, and expert advice, right to your inbox.