Sleeping Outside on the First Night of 2017
Start the new year by getting outside.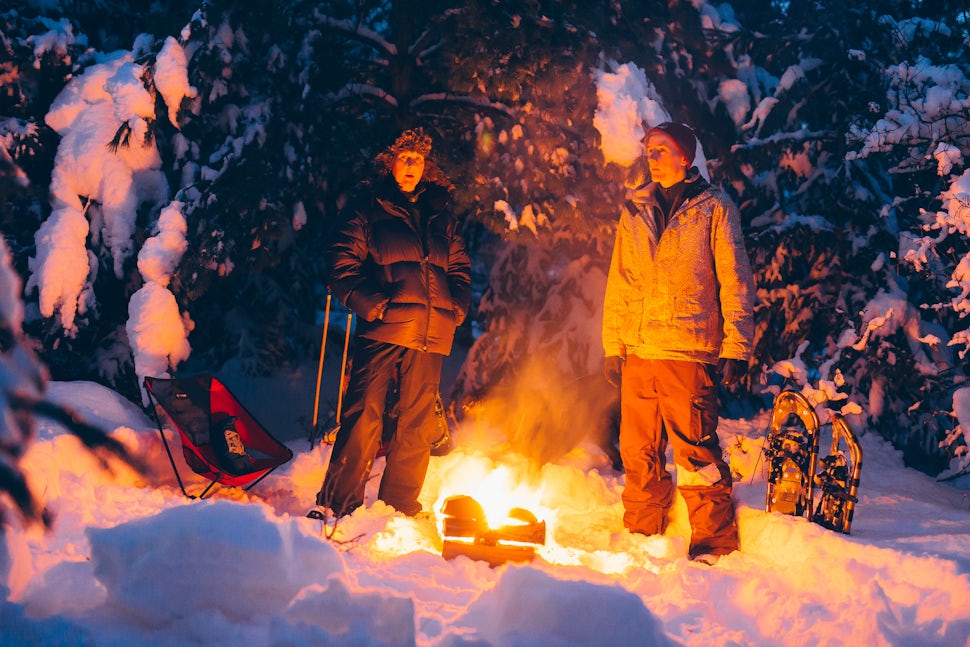 I've always liked the idea of a microadventure—an adventure that is "short, simple, local, cheap—yet still fun, exciting, challenging, refreshing and rewarding." Some of my fondest memories are from relatively simple overnight experiences in the outdoors.
So as soon as it started snowing in December and I started making plans for the holidays, I made a goal of sleeping outside, just for a night. This was a personal goal, a way to progress towards the winter-based backcountry Arctic travel on my bucket list. The last two times I had slept outside in snowy conditions, for example, I was so cold I hallucinated. I wanted to do better than that.
I'm going to list my equipment and then tell you the story, and I'm hoping that the combination of the two make you feel empowered to get outside this winter. Start 2017 by going beyond what you normally do.
The North Face Rock 32 tent (3-season tent, but okay in clear weather)
Firefly winter outerwear (nine years old and stitched together, hell yeah)
MEC/The North Face mittens and gloves (I use gloves when I'm taking photos but they really don't compare to thick mittens)
Therm-a-Rest Antares HD down sleeping bag and NeoAir Xtherm MAX sleeping pad (linking these because they were the game changer—when I'd previously slept miserably outside in the winter it was with a cheap sleeping bag and no air mattress, so I was thrilled to use a down bag and high-R-Value pad and not shiver once all night)
Roots/Patagonia base layers for sleeping in
Snowshoes (borrowed from my mom)
Firewood/kindling/newspaper, lighter
Black Diamond Spot headlamp
Kettle, water bottles, mugs (slept with a hot water bottle as recommended by Alex Anderson's article 13 Lucky Tips for Your Winter Camping Itinerary and it was great)
It's a pretty simple list of gear. I strapped it all to a sled and towed it with a rope tied around my waist. I was no more than a kilometre from home, so if things went badly I knew I could bail. Now here's the story.
New Year's Eve
The wind blew at me before I'd finished adjusting my mittens, which I'd taken off in order to put on my snowshoes. I jogged to catch up with the dancing light of my mom's flashlight at the far end of the yard. The wind whirled around my snowshoes.
It was the definition of a winter storm. The air was fresh and cold. The sky was dark. Snow fell in large flakes that piled up on tree branches or were blown into drifts depending on where they landed. In front of me, powder was either compressed underneath snowshoes or thrown against my insulated snow pants. We turned the flashlight off and followed the tracks left behind by my dad.
I could go on about that night, but the point is we got lost. We missed the trail east and ended up wandering among the pines, crossing underneath snow-laden branches bent all the way to the ground and switching on the flashlight occasionally to guess at a route—only to be reminded of the thick snow that was still falling all around.
I loved it. I had grown up with this young forest but never seen it like this. As we held our warm mugs at the end of the trek and expressed our hopes and dreams for the new year, I made a mental note to check the weather forecast. I wanted to come back.
New Year's Day Eve
"It has to be tonight," I called excitedly. The weather forecast was perfect for sleeping outside—clear and a nighttime low of -10 ºC—and my mom was planning on coming along. I gathered gear while the shadows outside lengthened, piling firewood and bags onto an old plastic sled with a cord attached to its front. By the time we made it out to the plantation, the sun was low on the horizon and orange light cast across the fields. The snow was deep and light and the still pines seemed to beckon.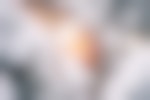 We set up camp in a small clearing among the trees, tramping down the snow to clear space for the tent and a fire. Our dog disappeared into the forest, following various tracks and barking uproariously. I knelt on the ground outside the tent, blowing hopeful air into my sleeping pad and strapping my sleeping bag to it.

The firewood was wet from the sled but we managed to get a fire going reasonably well. It was surprising how dark it suddenly seemed. I passed the twilight stomping through the woods taking photos of the firelight. My mom waited patiently by the fire. Our dog came back with a nose full of porcupine quills.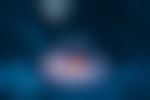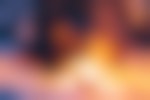 If you're paying close attention and know what time the sun sets in Ontario in January, you might be wondering what we had for dinner. That's a secret that involved hiking back home for warm dinner with my dad. My mom elected to stay back, so after warming up by the wood stove I zipped back up, buckled on my snowshoes and headed back out into the forest.
The path was a little quieter and a little lonelier, but mostly just as winter-night magic as before. I sang to myself and the wild animals, and pressed the bottle of hot water inside my jacket against my ribs. The tent was just where I'd left it. The fire had burned down into glowing embers, the snow around it gradually melting lower and lower.
I carefully took off my outerwear and climbed into my sleeping bag. I pushed my hands under my sides to ensure they didn't slide off the sleeping pad and onto the cold tent floor. Outside the woods were silent, but I took quiet joy in knowing that the snow-laden trees were all around, glittering under the night sky.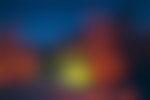 I woke to the sound of my alarm warning me I had twenty minutes until sunrise. I spent at least ten of those minutes convincing myself to unzip the sleeping bag, the other ten quickly throwing on my layers and crawling out onto the hard snow of the lightening morning.
As it turned out, I had lots of time to spare as the snow and trees remained steadfastly blue until the light of the sun turned their tops a lowering orange. I set up the tripod and waited, trying mostly in vain to keep my fingers warm and operate the camera at the same time. And then the sun rose, as it always does. I took some photos but didn't forget to stop and enjoy its distant heat on my skin. The woods were still quiet as I packed up, and I started thinking of the sound of the kettle back at home.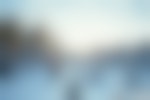 My dad greeted me outside and my mom lit the stove for hot chocolate. I suddenly found myself at a loss for words to describe the night. I hadn't shivered. I hadn't seen a coyote. I had loved the sunrise like I always do.
I was already looking forward to the next wild night surrounded by snow and stars.
"I believe that adventure is about stretching yourself: mentally, physically or culturally. It is about doing what you do not normally do, pushing yourself hard and doing it to the best of your ability. If that is true then adventure is all around us, at all times. Adventure is only a state of mind." — Alastair Humphreys
The entire adventure only took about an hour to pack, and I was out there for maybe 18 hours. I'm pointing that out because often the typical instinct is that you don't have time for camping or outdoor travel, so you put it off. But before you know it, winter will be over and you'll have missed immersing yourself in this wild and beautifully inhospitable season. So do it. Adventure is waiting.
We want to acknowledge and thank the past, present, and future generations of all Native Nations and Indigenous Peoples whose ancestral lands we travel, explore, and play on. Always practice Leave No Trace ethics on your adventures and follow local regulations. Please explore responsibly!
Do you love the outdoors?
Yep, us too. That's why we send you the best local adventures, stories, and expert advice, right to your inbox.