10 Books to Pack on Your Next Backpacking Trip
Not all at once, obvi.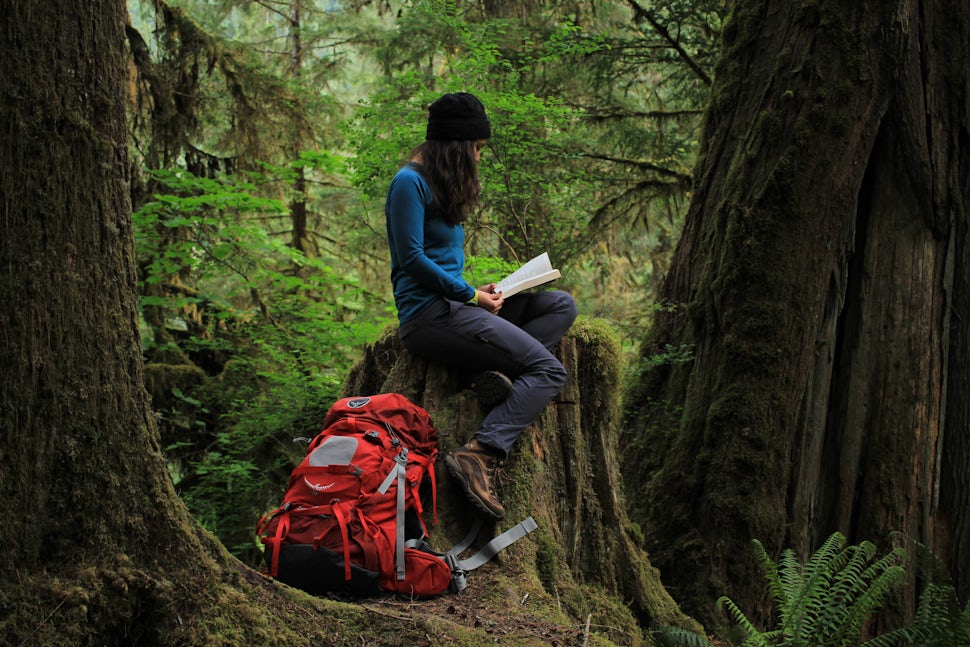 For me, backpacking trips are when I can unwind and take life more slowly; my one task for the day is to get from point A to point B, and once at point B, I like to relax and absorb the feeling of literally having nothing to do. It lasts for about fifteen minutes before I feel like I need to be doing something. That's why I always take a book with me, and if you've never tried reading in the wilderness before, let me tell you, it's a lot more fun than it sounds. You find a little spot next a stream somewhere, take off your clunky hiking boots, crack open your book and think, "man, life is good."

Dostoevsky once said there are only two types of stories: We're going on a journey and a stranger comes to town. Below I've included some of my favorite books that fit into the former category. But in case that's not your thing (why wouldn't it be though, you yourself are on a journey if you're backpacking), I've added a few from the latter as well, ones that have a strong sense of place and natural surroundings to really enrich your wilderness reading sesh. Oh, and most of them are pretty short, so they won't take up too much of that precious room in your pack.
Charlie Fox's father, Allie, is fed up with American consumerism and braindead culture and decides to move the family from Massachusetts to the Mosquito Coast in Honduras. Promising a simpler life in the jungle, the charismatic Allie transforms their settlement into a cult-like community, attracting curious locals and building contraptions that will make them less dependent on outside civilization. But as Allie descends into madness, it's up to Charlie to save his mother and siblings before it's too late. Paul Theroux, an accomplished travel writer, enriches the novel with descriptive passages of the Honduras landscape, complete with muddy riverbanks, relentless monsoon rains, and one man's delusions that humans can always conquer nature.

What would you do if you had to spend seven winter months alone in a tent somewhere in Idaho? Snowshoe under the stars, hunt for your food, chop enough firewood to warm a small town… That's what a young Pete Fromm did, tasked with guarding salmon eggs in the nearby Indian Creek. Oh, and surviving the cold temperatures and mind-numbing loneliness. But this book is not just a man-vs.-nature story. It's relatable to anyone who's figuring out their path in life. Fromm's breakdown of the "mountain man" mystique is hilarious, too, as he comes to grips with his own inadequacy and wonders if he has what it takes to live in the wilderness. Bonus: at only 208 pages, this book takes up hardly any room in your pack.

In this delightful read, Durrell has the most envious childhood running free on the Greek isle of Corfu, where the sun-soaked terrain is home to creatures like glowworms, scorpions, geckos, butterflies, toads and more. And although this memoir is escapist in nature, his eccentric English family still undergoes the typical drama—his widowed mother's struggles to wrangle her wild children, his sister's embarrassments with acne, and a procession of private tutors who have the difficult mission of convincing these children to sit in a stuffy room and study rather than play outside. Durrell went on to become a noted naturalist, but he should be seriously considered as an author and humorist as well. His writing is rich with charming details, hilarious comparisons, and a sheer joy for life.

Set in the Brazilian rainforest, this novel follows Marina Singh, who is sent to track down her former boss, Dr. Swenson, at her medical research site after one of her other employees died there under unknown circumstances. Another evil-genius-in-the-jungle story, the plot is filled with intrigue and the extreme lengths people will go to survive in the wild.

This collection of stories, essays and poetry about life in Northern India captures the love one has for home. Ruskin Bond grew up in Mussoorie, a hilltop town that most of his countrymen know only as a vacation getaway. But his rendering of everyday life and the beauty of the natural landscape is therapeutic to read, *almost* as effective as taking a walk in the woods. Like a breath of fresh mountain air, his writing will encourage you to soak in your own surroundings a little more deeply, and to appreciate the small joys of simply being outside.
This is the sort of wild goose chase that makes for an epic adventure. Set during the Siege of Leningrad, the story follows Lev and Kolya, two soldiers tasked with finding a dozen eggs for a general's daughter's wedding. Except hardly any food can be found in the city, in the dead of winter, and the only hope is to leave the city and sneak behind enemy lines. Beyond the humorous antics and ridiculousness of their quest is a poignant portrait of friendship during war.

A British bacteriologist takes his new bride to mainland China, where he is to help develop a vaccine for the recent cholera outbreak. The frivolous, self-obsessed Kitty Garstin is hardly a match for the odd, quiet Walter Fane, and struggles to settle in to life in a backwater village. She starts an affair with Charlie Townsend, one of Walter's associates, in hopes he'll sweep her away. But the plan backfires when Charlie admits he doesn't care for her, and Kitty embarks on a journey of self-redemption. She helps care for children orphaned by the cholera epidemic, and grows to respect and even love her husband for his own self-sacrifice. This story of love, betrayal, and redemption is full of twists and intrigue, and arguably the most convincing and heartbreaking character reversals I've ever read. Plus, the backdrop of China's rural regions are beautifully depicted.

The misty foothills of the Himalayas and the silent, enduring Mount Kanchenjunga are the backdrop of this Booker Prize winner. An Anglicized girl named Sai returns to India to live with her grandfather, a curmudgeonly retired judge. The judge, although Indian himself, despises all Indian traditions in favor of colonial English customs and refinement. Sai relates more to the cook, who has a son in the US attempting to build a life as an undocumented immigrant. The sense of place in this novel is strong and unavoidable; the ever-present Kanchenjunga is a constant reminder of what's at stake—the history and identity of India before it was colonized, and the climb it will take to regain that pride and sense of belonging again.

Set in the Alaskan frontier, this Pulitzer finalist is the story of an aging, childless couple and the mysterious girl who appears on their doorstep one snowy night. Battling the elements in an attempt to make a life out of their humble homestead, Jack and Mabel are drifting apart as the weight of their fruitless marriage highlights the pointlessness of their existence. In a rare moment of joy—and perhaps a last attempt to save their romance—they play in the first snowfall and build a child out of snow. The next day the snow child is gone, but a blonde girl is spotted in the trees around their house. Eventually they begin to know the girl as Faina, and Mabel latches on to the hope that she has been sent to them through some sort of magic. But Jack is doubtful and suspects there must be some darker reason as to why a girl is alone in the woods.
No list of we're-going-on-a-journey books is complete without the odyssey that is Life of Pi. Adrift on a raft in the Pacific Ocean with a group of wild animals, not least of all a Bengal tiger named Richard Parker, Pi must learn to survive and navigate to any of the nearby islands. As the days go by, Pi has a lot of time to think about spirituality, the meaning of life, etc. (kinda like you do on a backpacking trip). There are ingenious twists, heartbreaking emotions, and a deep exploration into humanity and what it means to live in the world. But more than just a mastermind plot, this Booker Prize winner will leave you with a new framework in which to view life itself. As Martel himself writes, "The world isn't just the way it is. It is how we understand it." Just read it. Trust me.

We want to acknowledge and thank the past, present, and future generations of all Native Nations and Indigenous Peoples whose ancestral lands we travel, explore, and play on. Always practice Leave No Trace ethics on your adventures and follow local regulations. Please explore responsibly!
Do you love the outdoors?
Yep, us too. That's why we send you the best local adventures, stories, and expert advice, right to your inbox.