A New Take on #vanlife: What is Pyon Vans?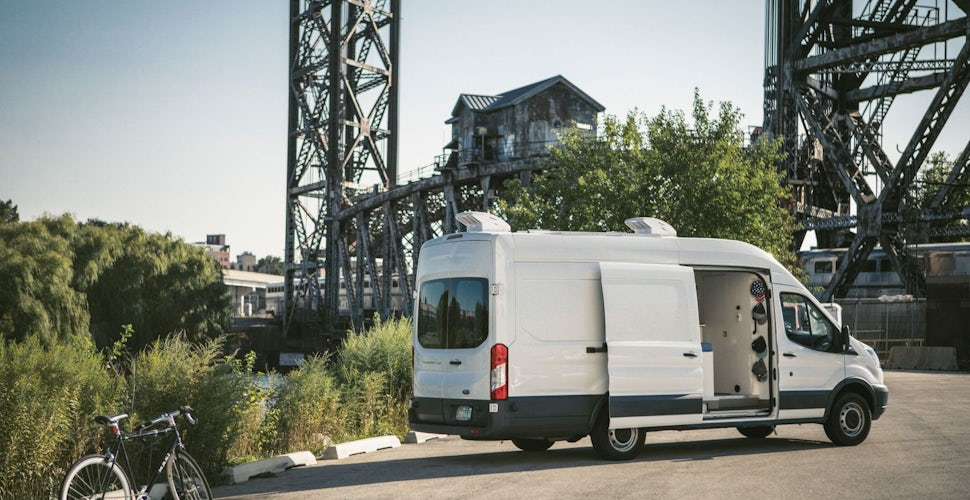 Our world is changing fast; the way we live is changing as well. Stay ahead of the curve and live untethered with Pyon Vans.
Originally posted on out-spiration.com
Find Your Purpose, Simplify Your Life, Live Free
Suit and tie? Check. Busy metropolitan roads? Check. Longboard? CHECK. It was just another Chicago summer; hot, humid, and busy. Gene Hew, an analyst at a tech-enabled law firm named Axiom [also known as Axiom and Knowable currently], cruised into the office for his usual 9-5. The firm was bustling with partners working to manage new accounts. But something seemed off. This concrete and glass container sitting among other highrises in the city was filled with executives who had made it- but all of whom seemed deeply miserable. Everyone looked dead inside. Working there was like watching cattle being herded to their death. The monotony and culture of the firm was slowly killing these people. That's when Gene realized; how can these people last ten years here, looking at the same, single tree outside the window? Something had changed that day. This free spirit trapped in corporate America was yearning to break free.
A trip to San Diego, California made the decision for him. This longing for freedom was met by a calling to #vanlife. An unexplainable attraction to the van, and the culture surrounding it, set Gene's soul on fire. One day while making the trek from San Diego to Los Angeles, a strange string of events led him down the road less traveled. Ultimately, these synchronicities led him to a pop-up Van Life convention on the bay where he met and talked with at least 30 other #vanlifers. It was then that he realized the need to follow his dream and figure out how to reconnect others with their own purpose and/or passions. Que Pyon Vans.
Pyon Vans is a sustainable commercial van company based out of Chicago, Illinois. Their mission is to create a shift in the way people are living their lives; teaching others to find what moves them and how to really be alive in the 21st Century. By designing tech and aesthetic focused tiny houses on wheels, this company enables users to go anywhere and experience life on a fundamental level. Their builds bring the future into the present and most importantly, set people free.
In their first two years, Pyon Vans has designed and built two different van models; the Mobile Nexus and the Advanture. Both of these models are completely customizable. From trim color to wood work, you are the designer of your ride. These models range from $45,000- $65,000 depending on model type and interior work but can be flexible with pricing based on what buyers are looking for. From sourcing the van to brainstorming ideas to bring these ideas to fruition, this company is there for the journey with white glove service. Interested parties can expect all builds to take roughly 2-3 months due to their unique designs and sustainable features.
Pyon Vans really upped the ante of the van life aesthetic by creating modern and sustainable models. Living in a van, itself, is the definition of sustainable. In doing so, you are off the grid; you are not burning coal, the solar panels extract enough energy to charge and power all electronics, and a propane heated 25 gallon shower enables you to get clean without wasting excess water.
Mobile Nexus Model
Advanture Model
In these models you can expect modern technology elements accompanied by comforts of home, as well. Now more than ever people are looking to stay connected while being apart, physically. Solar panels produce 360 Watts of power, a 4K TV connects to HDMI ports throughout the van for seamless streaming, a 4G signal booster keeps you in range, and a WiFi Jetpack enables you to stay connected with a private hotspot. While connection to the modern world is a perk, these accommodations are also outfitted to feel like home on the road. A freezer/refrigerator system running off of only 12V of electricity keeps food cold, a three-burner stove and oven enables you to cook with ease, a vented and compostable toilet offers comfortable relief, a custom memory foam mattress offers maximum comfort, and a full garage with a pull out bike rack stores your gear for easy adventure. These are only some of the many unique features of the Mobile Nexus and Advanture. For a more detailed list, click the model type above.
But why should you choose Pyon Vans over their numerous competitors? To feel ALIVE. This Midwest based van company knows what it feels like to break free. Their intensive background of woodworking and technology outfits these rides with top quality design and the ability to stay connected while living and working remotely. Interior designs also focus on aesthetics. Beauty really is in the eye of the beholder in these vans. When you live and work in a beautiful space, you notice a difference in how it feels to be alive.
Our world is changing fast; the way we live is changing as well. Stay ahead of the curve and live untethered with Pyon Vans. Their focus on space conservation and multi-purpose functionality along with comforts of home and the 21st Century has created a literal home on wheels. For more information on these models and how to secure one for yourself, check out https://www.pyonvans.com/ or follow them on Instagram at @pyonvans.
We want to acknowledge and thank the past, present, and future generations of all Native Nations and Indigenous Peoples whose ancestral lands we travel, explore, and play on. Always practice Leave No Trace ethics on your adventures and follow local regulations. Please explore responsibly!
Do you love the outdoors?
Yep, us too. That's why we send you the best local adventures, stories, and expert advice, right to your inbox.