Floating Down the Cheyenne River
50+ miles of Grassland, bordering parts of the Badlands National Park, cottonwood trees lining the banks, ranches spread across the landscape, and feeling like we were in the middle of nowhere.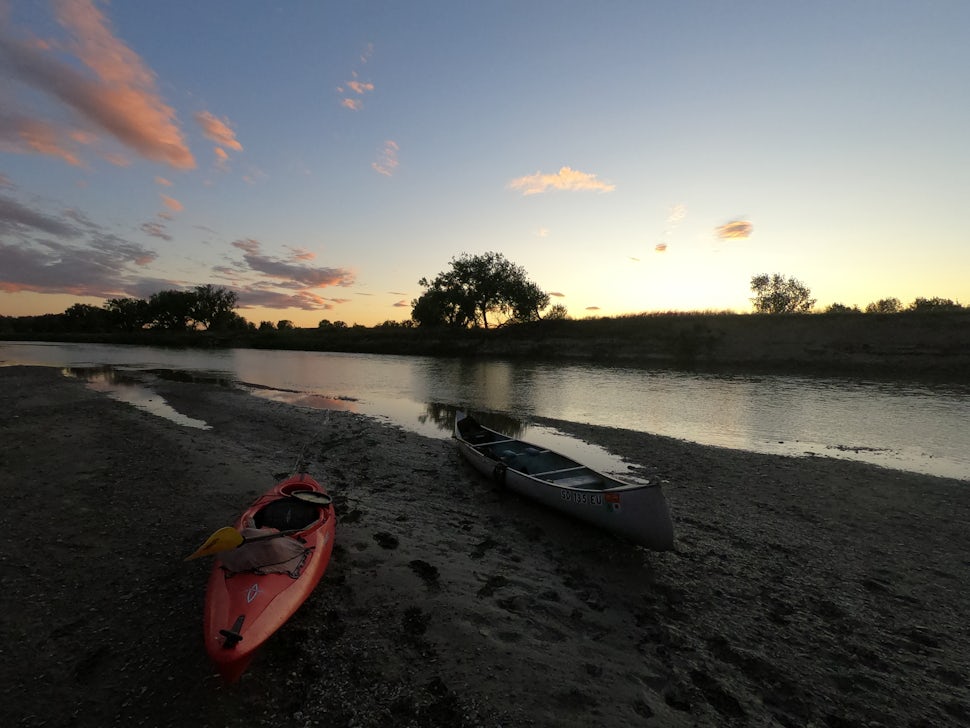 We arrived at the banks of the Cheyenne River a little after 9 Saturday morning near the town of Redshirt. We unloaded the truck, made sure we had what we needed, loaded the canoe and kayak with our gear, lathered up with sunscreen and set out for a weekend adventure into the unknown. None of us had paddled more than an hour at a time, and we could probably count all those times on one hand, so this was something totally different and would challenge us over the next two days. I had some idea of what to expect but even then not that much, I didn't know the exact mileage we would be going or how long it would take, I just had to guess, after completing the whole thing, I feel like my guesses were way off.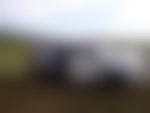 After we had put in the water, we soon found out that the current was not significant and if we wanted to drift along, we would be doing this for weeks before we finished. The morning was very pleasant, somewhere around 80 degrees. We took our time working our way down the river taking in the scenery and chatting along the way. We soon realized that the river itself was not too deep usually only half of a paddle deep (2 feet) some places were more and lots of places were less. Every once in a while, we would come across a sandbar in the river, often that sandbar would stretch the width of the creek and have varying depths and cause rougher water and even some rapids. Throughout the day we were challenged on picking the right line through these areas, if we chose wrong, we would hear the awful sound of aluminum scraping against sand or even worse crunching of rock. My buddy Vaughn and I started together in the canoe, along with his German Shepard puppy Axel. Caleb, Vaughn's brother started out in the kayak. We made a stop around noon for a lunch break on a sandbar with nothing around but grassland and part of the Badlands National Park south unit not too far from the river. We fired up a camp stove and made a dehydrated meal, along with a couple apples, carrots, granola bars and dehydrated mango!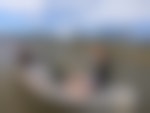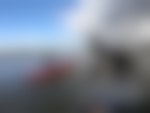 From that point on we realized our pace was a little on the slow side and that we should probably paddle a little bit more than just float along at the river's pace. As we were going, we saw just a few other people along the river. Two groups that we did see were rockhounding looking for agates, I think. Whenever we would stop on a sandbar, we would look for agates or other cool rocks as well. As the day proceeded, the clouds started to enlarge and a few looked ominous. Thankfully the storms were farther south of us, and all we got was a few sprinkles here and there.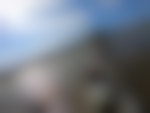 We continued on and got better at reading the river, finding the main channel and avoiding shallow spots. We made a couple stops along the way to stretch our legs and switch up spots on the canoe and kayak, Caleb and Vaughn switched spots, so Caleb and I were in the canoe and we decided to make some aggressive moves when it came to running rapids and avoiding the sandbars. We would call out our line and paddle hard and most of the time it did pay off and we didn't hit as many shallow spots. Eventually as the afternoon was waning we were getting a bit anxious as to our location, because we wanted to get to where South Dakota Highway 44 crossed the river, I had my GPS going on my phone so I could see where we were in relation to it, so we knew we were getting close. I had anticipated camping on the north side of the highway so we would be relatively closer to our end destination, but about 3 miles from the bridge we had an incident. The incident might have occurred from the aggressive "making moves" that Caleb and I had decided to do. We were in the center of the river, we could see a bend to the left, but there was a lot of debris and rocks to the right, and even a few intermitted to the left but fewer and we could tell it was deeper. So Caleb and I hastily came up with our plan to stay middle for a bit then make a hard left to get in the main channel and to avoid two obstacles, and immediately take a hard right once we cleared. We were well on our way making great progress on our hard left when all the sudden Caleb drove his paddle deep and hard into the river to start turning and SNAP, his paddle broke under the force. This caused both of us to pause for a second, stunned at what just happened. That second pause was long enough for us not make our immediate hard right turn and we ended up crashing straight into some boulders that were dead ahead! I did my best to keep us upright and going with the current, thankfully we handled that and go into the flow again. Axel startled by the loud thud of aluminum striking a boulder started letting the rocks hear that he was not impressed and proceeded to bark for a minute until the rocks were just a memory behind the bend.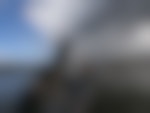 Laughing we continued down the river at a much slower pace, Caleb did his best to paddle with his two pieces. Eventually we decided we wouldn't be able to make it much farther at this rate and the sun was starting to sink down to the horizon for a classic SD sunset! We found a suitable sandbar to park at, set up our tent and get a fire going in the middle of the sandbar to enjoy the golden hour! For supper we had a "hobo steak dinner", we knew ahead of time we wanted to have a nice meal after a long day of paddling, so we had steak diced up and marinated for two days, fresh peppers, onions, and russet potatoes. I got a nice bed of hot coals going to put our ingredients wrapped in foil on and as we waited for the food to cook, we took care of camp necessities and cracked a few ice-cold brews we had in the yeti cooler! The food was perfectly cooked and ready to eat as we watched the last rays of sunshine down on us. As the darkness overtook us so did sleep, I ended up sleeping on my pad under the stars enjoying the comfortable September night.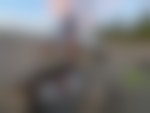 I woke up to voices and then I saw a beam of light from a flashlight across the river. At first I had no clue what to think, other than, "What are people doing up at 5 in the morning along the Cheyenne river?!" The only problem was, I thought it was 5 AM, but in reality it was only 1 AM… I had slept really well for five hours and just figured it had to be almost time to get up. Wrong. I never did figure out what the people were doing, but they were walking in the trees on the opposite bank around 2-300 yards away from us always shining their extremely bright lights around. I hardly slept from 1 AM to 4:30 AM. When I finally woke up around 6:15 I was glad to get out of bed, get breakfast going and pack up to get going on the river. We were a little slow at doing all of that, but when you make bacon and egg burritos you have to take your time! Eventually we were back on the water, but first we had to fix the paddle that had shattered the day before, I put a sapling on either side of the paddle used a bit of duct tape I had and parachute cord to tape it all up, on the water this time wearing jackets and hoodies because it was much cooler, like 15 degrees cooler than the day before. We knew we needed to keep a good pace the whole day and not just go with the current. Our goal was to make it to the town of Wasta by 4 o'clock, which again we didn't know exactly how many miles it would be, but we had an idea that it was around 23 miles from highway 44 to Wasta. From camp we made it to the highway in about 45 minutes, along the river the scenery stayed similar to the day before, rolling hills, cottonwood trees and tall grass covering the banks. A couple times I had to stop and stretch my legs but also have a pee break.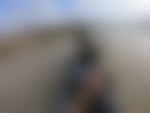 Axel was very thankful whenever we stopped so he could tear around the sandbars chasing his frisbee and cruising around! The paddling definitely started to wear on us, my shoulders and traps were getting pretty sore, thankfully I had brought gloves along so we avoided getting blisters from paddling so much. Around noon we made one last snack stop, had some lunch stretched and ate to our stomachs content. Two of the beautiful things of trips like this where you suffer and work so hard is the reward of accomplishing a big feat and working though the tough stuff, then getting to eat when you have been so hungry and feeling weak. Needless to say, I ate quite a bit at this break, I had part of a Good-To-Go Pad Thai, a chili mac with beef, three granola bars, two apples, carrots, pistachios, mangoes, and raisins. We knew we were getting closer to the end and wanted to make sure we had enough energy to get to the end. The river showed some signs that it could get gnarly at certain times of the year, there were remains of old trees, branches, and grass stuck up on the banks and around trees some places the stuff was nearly 20 feet above the river! We were able to finish the last couple miles and pull off the river at the Eastbound exit along the I-90 exit at Wasta. My wife arrived around 3:30 with my pickup, about thirty minutes after we pulled off the river. My trail app mile tracker (that I actually started that morning…) stated we did 26.3 miles from camp. Overall, we estimated we did 30-some miles the day before and then combined with 26.3 the second day, we were so glad to be done and driving back home, but couldn't help the feeling like we were still in the boats bobbing down the river.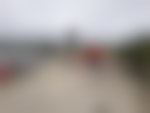 We want to acknowledge and thank the past, present, and future generations of all Native Nations and Indigenous Peoples whose ancestral lands we travel, explore, and play on. Always practice Leave No Trace ethics on your adventures and follow local regulations. Please explore responsibly!
Do you love the outdoors?
Yep, us too. That's why we send you the best local adventures, stories, and expert advice, right to your inbox.