From Retiree to Youth
During his first backpacking trip in 20 years, my dad reflected on his life after retiring from his 30-year-long career in corporate law just a month after I turned 21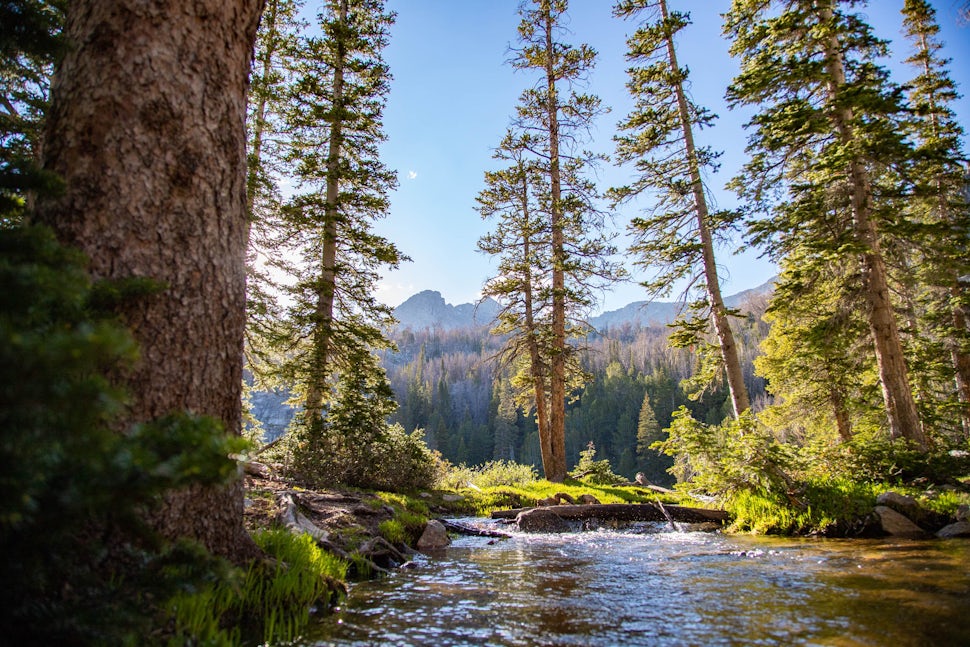 "I got kicked out of this bar when I was 21," my father, Matt, revealed to me as we walked to Whiskey Jacques' in downtown Ketchum, Idaho. He explained that he had to escort one of his fraternity brothers out of the bar after the man had tried to help himself to a beer from across the counter after growing impatient.

I laughed, not only out of humor but because I just turned 21 exactly one month ago on that day. My dad insisted on taking me out for a beer when I arrived in Ketchum. It wasn't just to celebrate my birthday though, he'd retired a few days prior after working as a lawyer for a law firm and then a tech company together for 30 years and eventually leading HR (Human resources). A career longer than my life span.
I'd driven from Missoula, Montana earlier that day. It wasn't my first and surely wouldn't be my last nearly 6 hour road trip along the Salmon river.
Despite loving car rides with all the windows rolled down in my hand-me-down four door red Subaru I named Ruby, that's not what excited me this time.
I was coming to Sun Valley for something special, a backpacking trip in the Copper Basin with the two people who have supported me most in this world.
My parents' first time in Sun Valley together was in the early 1980's during college Winter Break. I found the picture tucked away in an old photo album and immediately recognized the view of Baldy from the upper college chair.
They came back for my cousin's wedding in 2016 where she and her now husband shared their vows on a magical August afternoon along the Big Wood river. Then, I was just weeks away from starting my first year of college at the University of Montana. Being back, they instantly realized what they'd forgotten.
Less than two years later, they purchased a house a 3 minute drive from Baldy in the heart of Ketchum.
The first time I drove to Sun Valley from Missoula, I screamed and pulled off the road when I entered Stanley, Idaho which is at the base of the Sawtooth Mountains. The jagged peaks brought chills down my spine and adrenaline pumping through my veins. I was hooked and found myself distracted by the scenery all the way from Stanley to Ketchum.
Sawtooth Mountains just outside Stanley, Idaho. Photo by Emma Smith.
I was astounded again as I sat in a meadow in the backcountry of the Copper Basin watching the sunset over the Pioneer Mountains. It was on this night of our backpacking trip that I realized why my parents had come back to Sun Valley nearly 30 years later.
Sunset over the Pioneer Mountains in a meadow just below Bellas Lake. Photo by Emma Smith.
The feeling was similar to how I felt after seeing the Milky Way for the first time in Moab, Utah. A sense of feeling like I belonged despite being in the middle of nowhere. A sense of falling in love with your surroundings even though nothing is in your control. It's knowing that there is something so much bigger than you in this universe. You're absolutely alive.
I knew my dad was feeling the same thing earlier that day as I watched him speak a language he knows better than words.
My father, Matt, fly fishing at Baker Lake the previous day. Photo by Emma Smith.
He grew up fly fishing. My grandfather, Mike, my great grandfather, Fabian, and great grandmother, Edith were all fluent in their craft too.
Earlier that day, my father, mother, and I had hiked a grueling 3 miles up to Bellas Lake which sits at 9,500 feet with 50 pound packs on our backs. It's known for fly fishing.
Bellas Lake is a small, calm, impossibly clear alpine lake below majestic Pyramid Peak.
Pyramid Peak seen between some trees, this small stream connects to Bellas Lake. Photo by Emma Smith.
I walked along the lake with my blue La Sportiva climbing shoes tied around my neck. There appeared to be some decent slabs for bouldering across from where our tents were planted. On the way, I got distracted.
The sound a piece of line makes as you cast it through the air and it whips along the surface of the water caught me off guard. Being a photographer, I couldn't help but stop and watch. A symphony of sound and the waving of the conductor. It was as if he was casting a spell for the trout to eat his fly. And they came. One after the other. Little hand-painted cutthroat trout with big spots against purplish blue backs and gold fins and a brilliant slash of orange under their jaws.
I've only watched my dad cast over 1,000 times. And still, even after fly fishing since he could walk, he gets the same giddy, passionate, stoked on life grin when he hooks a fish. The same grin I got after climbing a 5.10 indoors for the first time. The same look I couldn't shake after climbing for the first time outside along Potash Road in Moab, Utah.
The feeling of belonging. It's knowing you're alive and that everything is completely in your control while also not. It's pure passion.
If there is anything that my parents have taught me, it's how to be passionate. To live every day as if it was your last. When people ask them why my dad retired young, they tell them because they know they aren't going to live forever. It's not just that though. They understand how fragile life is.
In their lifetimes, they've lost a child, their son, my brother to cancer. Kevin passed away at a devastating age of 8. They spent my childhood enduring, surviving, navigating day to day through a grief that ebbs and flows but does not go away. In the past 5 years, they've both dealt with and survived their own cancer diagnoses, surgeries and recoveries. In those moments, the curveballs that life throws at you, it shows you what actually matters.
It taught me to appreciate, notice, and fall in love with the simple, wild, beautiful things.
That means backpacking to a desolate lake and casting for the 1,001 times hoping to catch a trout that hides just below the surface.
For my mother, it means watching the sunset along Pyramid Peak and telling me for the 100th time that she hopes I know how proud she is of me. It's sharing what she learned from the podcast she listened to where Oprah discussed the importance of body, mind, and soul equilibrium. It's her assuring me that it's okay that I haven't fallen in love yet even though I'm 21, because I have more important things in my life to focus on. To keep being myself and follow the things I'm passionate about because the boy who I like may just see the beauty in it too.
My mother, Nancy, watching the sun beginning to set over Pyramid Peak. Photo by Emma Smith.
As I walked towards the Pioneer Mountains slightly in front of my parents the next morning, I knew the reason why my parents had come back to Sun Valley. Not just because of the beauty, the beer, skiing, or fishing. It's because they feel they've alive.
And as I drove back to Missoula the next day, my eyes still wandering and my mind dreaming of all the peaks yet to be climbed, I knew I'd felt the same way too. As I walked through that meadow under the Pioneer Mountains, through the woods to my dad's Jeep and we arrived an hour later to base of Baldy and I walked through the front door of my second home.
I knew I'd be back too. Not with the hopes of getting kicked out of Whiskey Jacques' but with the desire to feel alive again by getting lost in the wilderness in Sun Valley, Idaho just like my parents had when they were my age.
My parents, Matt and Nancy, skiing at Baldy during their college Winter Break.
We want to acknowledge and thank the past, present, and future generations of all Native Nations and Indigenous Peoples whose ancestral lands we travel, explore, and play on. Always practice Leave No Trace ethics on your adventures and follow local regulations. Please explore responsibly!
Do you love the outdoors?
Yep, us too. That's why we send you the best local adventures, stories, and expert advice, right to your inbox.