5 Tips and Tricks for Packin' Your Pack
Have you ever gotten to your campsite with aching shoulders and back? Did you ever feel like a pendulum on the trail because your backpack was too heavy? It might be time to rethink your packing strategy.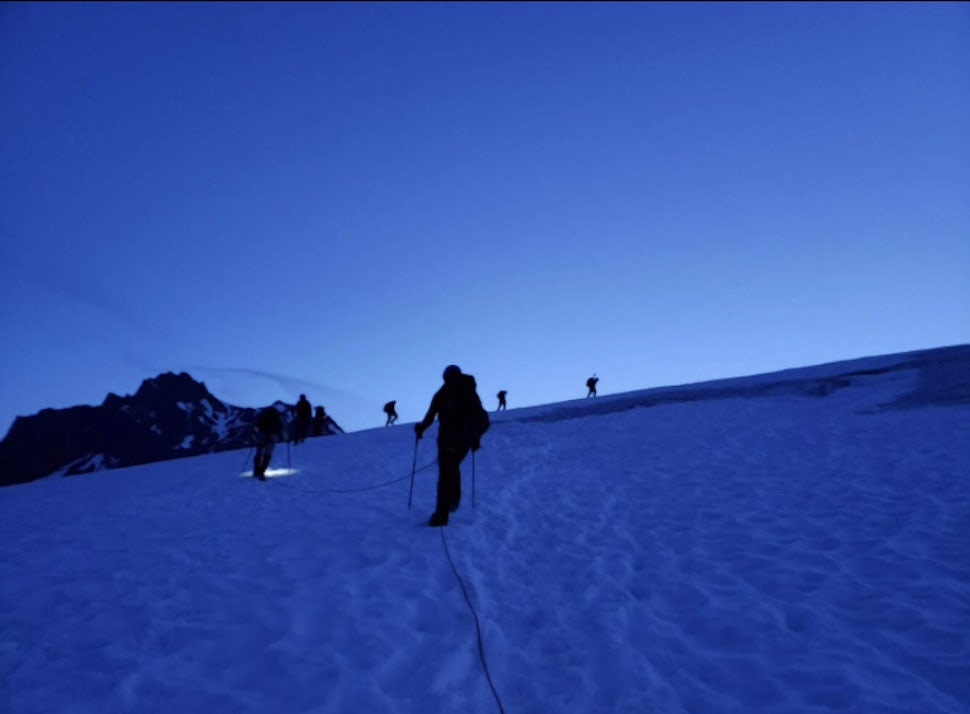 Here are (5) tips and tricks that I've learned over the past 15 years of backpacking around the US.
First things first, let's get some numbers out of the way. I'm 5' 6" woman and weigh 135lbs. I usually carry a 55L pack on overnight trips that weigh around 30lbs; however, I have jumped to 40lbs on rare multi-day trips. Keep in mind that for most trips, backpacks should only be 20% of your body weight.
Great! Now we've gotten the numbers out of the way; let's start dissecting what goes in a pack for an overnight trip. Most of my backpacking trips are geared towards mountaineering, so adjust your packing needs based on the type of adventure you're heading out on.
Let's dissect what is in the pack.
10 Essentials
Tent
Sleeping bag
Crampons
Harness
Sleeping pad
Kitchen Essentials
Food / Water
Jet Boil + Fuel
Rain Coat
Puffy Coat
Extra socks
Extra clothing layers
Ice Axe
Climbing Helmet
First Aid Kit
Camp sandals
Now that we understand what is going in the pack let's break down some tips that will help distribute the weight and hopefully help reduce that shoulder and back pain. Remember to keep a close eye on the weather to adjust your packing needs accordingly. You may not need to bring that puffy or extra-warm sleeping bag, which will help lighten the load.
1. Pockets + Loops
Take advantage of the many pockets that are hidden gems on a pack. Keep handy snacks or even chapstick in the hip belt pocket for easy access. I carry my helmet in the "kangaroos pouch" on the back; it's a perfect fit and nice and snug, so nothing is hanging off of my pack. If you're carrying an ice ax, the loops on the outside are the perfect spot. Just remember when securing the ice ax to the outside of your pack to ensure there are no sharp edges pointed at your body, just in case you fall or trip. Remember, safety is always a top priority. For easy access, I always carry my water bottles on the outside of my pack in the side pockets. This makes them easy to get to while moving and I don't need to get in the pack for any reason, making any breaks on the trail, nice and quick.
2. Bottom Space
The bottom part of your pack is a great place to store the bulky items, like a sleeping bag or sleeping pad. I also tuck in my camp sandals in the bottom section. Think of this area as all the items you won't need until you get to camp. Just remember bulky items only, nothing with significant weight should go on the bottom of your pack. We'll add weight in the next section.
3. Core
Think of the backpack's core section as that center part of the pack that sits just above the hips and below the shoulders. It's the "core" part of your body and your pack. This is where most of the weight will be stored in your pack. For example, I usually stuff my tent in this section along with kitchen essentials like a stove and fuel.
4. What If + brain section
So just above the Core section of the pack is what I call the "what if" section. What if a storm rolls in and I need my raincoat? What if an emergency happens, I need to get to my first aid kit? This is where all the elements that answer the "what if" scenarios are stored. I also keep some food in this area as well for easy accessibility. The next section is what is known as the "brain" section of the pack. It's the very top of the pack, think of it as the lid to the main compartment of the backpack. This portion of the pack is sometimes also known as the "grab n' go" area. If you want to take a quick day hike from camp, this part can usually be removed from the pack and used as a substitute day pack. This is also the most accessible part of the pack and, therefore, the easiest place to store snacks, a compass, and any other grab n' go items that might be needed while on the trail.
5. Wearing the Pack
You might be the perfect packer for any backcountry or hiking trip, but if you don't know how to wear the pack properly, all your hard work and planning will be for nothing. It's very important to make sure the pack sits at your hips. Not above, not below. Think of this area as your center of gravity for stability. If you bend over to pick up that hiking pole you dropped, you want to make sure you can get back up again. If your pack isn't sitting properly on your hips, then the pack could slide to one side and cause you to go further off balance, which is never fun. Once your pack is sitting on your hips properly, adjust the shoulder straps, and load lifter straps to help with weight and comfort. Now put one foot in front of the other and start up the trail for an epic adventure!
Keep in mind that this is an ever-evolving education. Our bodies change each year, and what might have felt like a perfect fit last year might feel differently this year. We also change hiking destinations and what one trip might need another one doesn't and therefore improves the weight of the pack.
Have fun on that trail and be safe!
We want to acknowledge and thank the past, present, and future generations of all Native Nations and Indigenous Peoples whose ancestral lands we travel, explore, and play on. Always practice Leave No Trace ethics on your adventures and follow local regulations. Please explore responsibly!
Do you love the outdoors?
Yep, us too. That's why we send you the best local adventures, stories, and expert advice, right to your inbox.