13 Things I Always Keep in My Adventure Box
Think of it as an emergency kit with a party hat.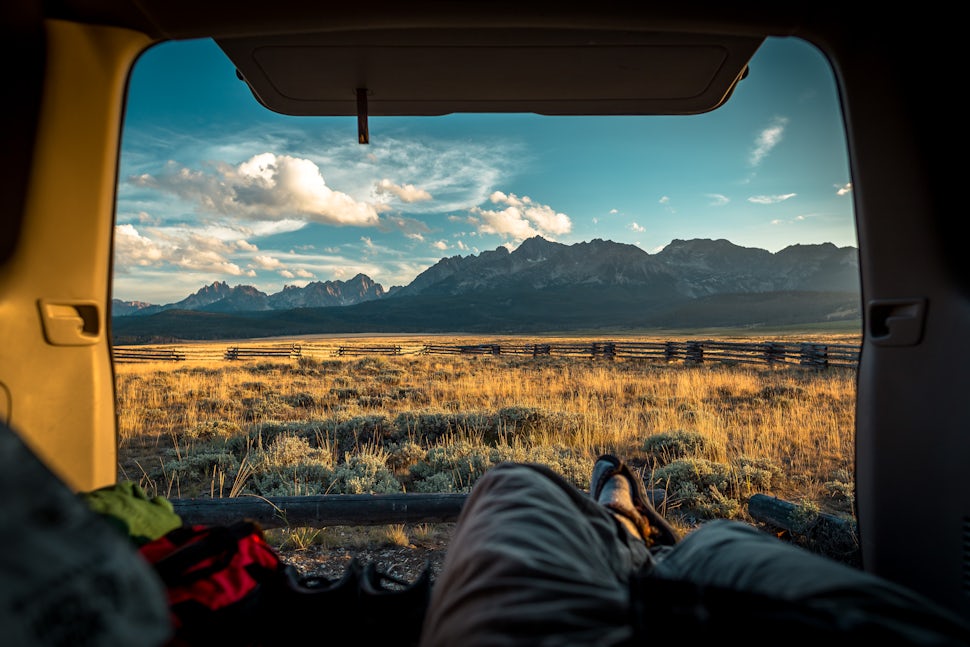 I call my 4Runner "4Play." I keep an adventure kit inside of 4Play for two adventure-related reasons: 1) to keep fun items with me, organized, and available and 2) for emergency situations when sh*t hits the fan in camp. Think of it as an emergency kit with a party hat. Many items serve dual purposes. All of it fits in a black, heavy duty storage tote about the size of a large cooler. It doesn't take up too much room in the back and I can remove it when I need to haul large items. I can't make up my mind whether or not I want to slap on a dozen stickers I've collected over the years of trendy outdoor brands or keep it nice and clean. If someone could offer up some advice it would be greatly appreciated during these stressful times.

Without further ado, here are 13 things I keep in 4Play's adventure kit.
Jumper Cables - I feel like this is a no-brainer and a requirement out there, but you'd be surprised. I've had to jump fellow campers as well as be jumped. PRO TIP: don't forget to turn your headlights off before falling asleep in your car.
Light-up Frisbee - Trust me on this one. I picked one up from the store for $12 and I'm really serious when I say it could be the best $12 I've ever spent. I've lost sleep over thinking about this purchase and how I'd do it again given the opportunity. Ever been to a camp spot or secluded backpacking destination that doesn't allow fires and everyone is in their tents pretending to sleep at 9 because there's nothing else to do besides sit in the dark? Well, fellow night owls, bring out the light-up disc and turn the party up a notch. Pairs well with adventure kit item #5. BONUS: for all you photo nuts out there, light-up discs look badass in long exposures.
Gallon of Water - Pretty important stuff, ya know? Strap a headlamp on it to use as a lantern at dark, then slam some in the morning to get rid of your hangover. Who knew it could be such a double threat.
Bluetooth Speaker - This item comes with a caveat. There's a time and place for everything; don't be that jerk that's blaring Skrillex at sunrise and waking neighbor campers or ruining a peaceful hike in nature. However, when used effectively, a bluetooth can add a nice element to camp. Party mood? Chill mood? There's a playlist for that. I'm rocking a super durable solar-powered bluetooth unit and the thing is nothing less than a champ.
Whiskey - I guess this is added to the adventure kit for both adventure-related reasons. Please camp responsibly but don't forget to share.
Tarp, Bungies, Ratchet Straps - You never know when you need to rig up a shelter. In the rain…if you lose your job and need to move in with the homeless community under the bridge…it's best to be prepared.
Hammock - The thing about having a hammock in your rig at all times is all you need to do is find one tree to hang it from. Hang the other end from your roof rack and you're golden. Scouts honor, I've had my hammock for about a year now and I've used it maybe twice? Do you know how hard it is to find trees here in Idaho that are ideally spaced for a hammock to hang between? Impossible. I'm about to go Johnny Hammock-seed at cool camp spots and start planting trees roughly 10-12 feet apart from each other so that I can have a view to enjoy from my hammock in 20 years. NO, I DON'T REGRET THAT IMPULSE BUY, WHY DO YOU ASK DUDE?
Blanket - Yeah yeah, blankets keep you warm and that's pretty cool. They're also the first ingredient to a picnic. On a date and don't know what to do? Pshhh, you've got a picnic in your adventure kit. Thank me later.
Snacks - Food is important for survival, especially when the Mountain Houses ran out three days ago and your friend is giving you some weird looks. Personally, I use my adventure kit Clif bar stash to cure my hangries. I'm a different person when I'm haven't eaten, but at least I know it. Some of you, though…I need to start packing for you, too.
Snow Chains - I can't think of a reason you would need these in the summer unless you needed a canoe anchor, but snow chains are nice to have in the kit. They're one of those items that you hope to never have to use, but it's better to have them for insurance than anything. Like toilet paper.
Toilet Paper - You never know when you're going to see a toilet again.
Gloves - I hate cold fingers and I'm not afraid to tell you about it. There's really nothing worse than your friends judging you because you've had your hands down where the sun don't shine all night trying to keep them warm. Pack an extra pair. Or two. I'm not the only one, right guys?
Flashlight - Growing up, my dad always had a big 'ol heavy duty flashlight in the back of his car. He said it could double as a club if he needed a weapon. I can't imagine a scenario ever needing to use a flashlight-club, but guess what my first purchase was after obtaining this adventure storage kit? A heavy duty flashlight. Don't mess with me.
What do you keep in your adventure kit and what am I missing?
Stay energized with CLIF:
We want to acknowledge and thank the past, present, and future generations of all Native Nations and Indigenous Peoples whose ancestral lands we travel, explore, and play on. Always practice Leave No Trace ethics on your adventures and follow local regulations. Please explore responsibly!
Do you love the outdoors?
Yep, us too. That's why we send you the best local adventures, stories, and expert advice, right to your inbox.