5 Tips for Fishing While Camping
Learn the best ways to catch and cook fish to give yourself the perfect campsite dinner!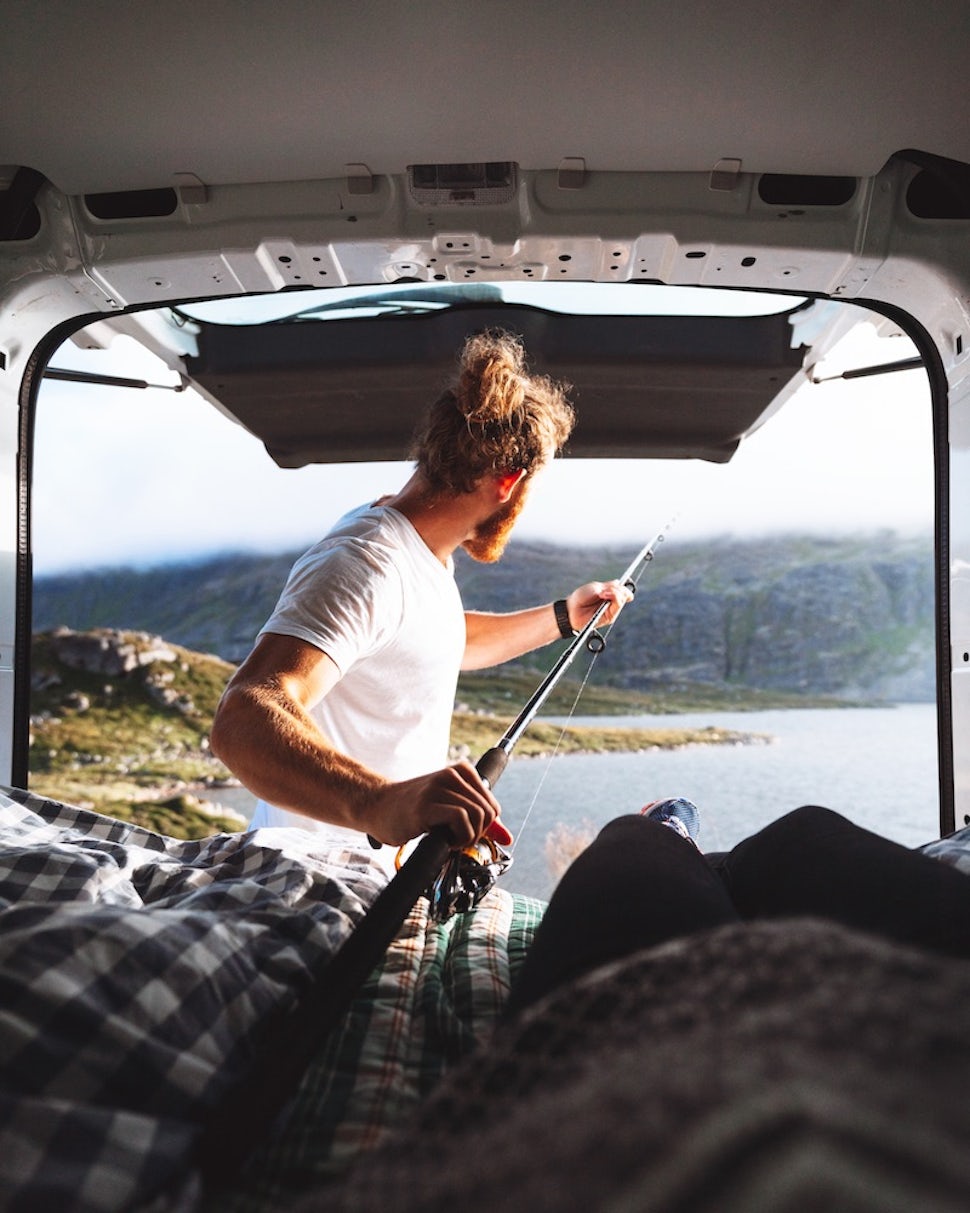 In this article, we'll teach you how to fish while camping, from choosing a fishing spot to cooking and storing your final catch in the safest ways possible.
Fishing is a fun activity, and one of the last connections many people have to their food sources and the great outdoors. Fishing while camping only increases these joys of fishing, while also adding an atmosphere of adventure and a frisson of danger to the whole thing. This is all part of the fun, but fishing while camping also comes with its own risks and challenges that need to be taken into account when planning for this kind of trip. In this article, we'll cover five things every angler should think about before heading into the great outdoors with their rod and reel.
1. Do your research ahead of time
This step is, unfortunately, very little fun, but it's also critically important for everyone having a good and safe time on your camping trip. For one thing, research will tell you whether fishing is even allowed in the wilderness where you intend to camp, whether the lakes and rivers have catch-and-release policies, and what kinds of fish you can expect to catch there.
You'll also want to know whether cooking your fish might present a fire hazard and to ensure you have all the right permits in place to camp, fish, and cook there. Learning about the terrain will also help you decide how much and what kinds of equipment are practical to pack in and out of the site where you intend to camp.
2. Book a campsite and choose a spot based on what you want to catch
For one thing, you'll most likely want to reserve a campsite somewhere near the water, and you should also consider what kinds of fish you might catch in the body of water you're near - is it a large lake or a small pond, a bubbling brook or a raging river? This will affect not only what kinds of fish you'll catch, but how you'll catch them.
If you're going to be standing in a river, you may want to bring waders and waterproof clothes; if you'll need to rent a boat, consider packing a dry bag or your own life jacket. Knowing where you'll be fishing will also let you prepare for the hazards you'll face while doing so. Fishing may seem like a sedate activity, and it often is, but drownings are one of the leading causes of death in national parks, says David Thomas.
Even in seemingly minor situations at the local park, like falling into cold water, can be deadly while camping, far from civilization and cell service. Knowing where you'll be fishing is crucial for avoiding these hazards and staying safe in the wilderness.

3. Bring backup equipment and have a contingency plan
However you decide to catch your fish, you'll want to bring as much backup equipment as you reasonably can, especially if you're planning on fishing for your dinner. You never know when something might break or malfunction when fishing, and on a camping trip, it's much harder to just drive down to the local general store to pick up more hooks or extra line if something goes wrong.
On that note, you should also be sure to bring extra food, especially if you hiked, biked, or paddled into your camping site and are planning to leave the same way. Fish are unpredictable, and you want to guarantee you'll have at least some food in your stomach on the long trek out, even if you don't catch any fish.
4. Prepare your fish before packing them out
If you want to take your fish home with you, or even just carry them on to your next day's campsite, you'll have to prepare them carefully for the journey. The easiest way to do this is by cutting off the fish's head and draining the body of blood. This simple move will prevent the meat from spoiling for at least a day or two; for a longer shelf life, consider filleting your fish.
Filleting is more work, as it involves gutting, deboning, and cutting up the fish, but it will produce smaller fish filets that will last longer than whole bodies. Whichever method you choose, you'll probably want to pack the fish out in an ice cooler, preferably one that seals well enough to lock in any lingering fish smells. If you don't have ice, putting the fish in sealed bags and transporting them in cold water will give you a little more time to get them on the road and eventually into a fridge, freezer, or cooking pot.
5. Take appropriate precautions to stay safe from wild animals
People love fishing, especially while camping, because fish are delicious and nutritious and make a great meal. Unfortunately, a large number of wild animals will agree with this assessment, and may try to raid your campground to get in on that salty, fishy goodness. Depending on where you're camping, this can range from a nuisance, with squirrels and raccoons, to a genuine danger, attracting coyotes and even bears.
Research ahead of time what animals might be in the area, and check with the rangers or other management about what precautions they recommend. Avoid camping in areas where there have recently been encounters with bears, mountain lions, or other predators, and clean up after yourself fastidiously. Don't forget to set up a bear hang or bring a bear-proof box - both of which will also deter other marauding animals.
Fishing adds a lot of joy and excitement into a camping trip, and camping adds a level of adventure and independence to a fish excursion. Mixing these two hobbies can be a wonderful thing, but it also requires a little extra research and planning to make sure everything goes swimmingly out in the wilderness.

We want to acknowledge and thank the past, present, and future generations of all Native Nations and Indigenous Peoples whose ancestral lands we travel, explore, and play on. Always practice Leave No Trace ethics on your adventures and follow local regulations. Please explore responsibly!
Do you love the outdoors?
Yep, us too. That's why we send you the best local adventures, stories, and expert advice, right to your inbox.