Conundrum Creek Trailhead - Search Nearby - Added by Kyle Frost
The reward for this 18 mile (round-trip) hike in Maroon Bells-Snowmass is two beautiful hot spring pools with incredible views.
After picking up your required overnight permit, start your morning with a coffee in Aspen, then drive out 15 min to the trailhead at the end of Conundrum Creek road. The trail is a straight shot 9 miles up the valley, through expansive meadows and an always incredible view of the mountains and aspens that cover the slopes.
There are 16 campsites in the area of the hot springs, varying in protection from the elements and distance from the springs. Choose wisely based on weather conditions and how far you'd like to walk after getting out from a long soak.
The springs themselves are spectacular. The upper pool can hold a LOT of people, if you're all really friendly, as we found out. There is also a slightly smaller, cooler pool just downstream. If bringing kids, be aware that the upper pools is often clothing optional.
If you're looking to hang out for a few days, you can tackle the nearby Triangle pass or Conundrum Peak.
NOTE: Beginning April 2018, Conundrum Hot Springs will be transitioning to an overnight permit/reservation system.
All overnight users to this area will be required to purchase a permit prior to their visit, which can be purchased at recreation.gov.
You can find additional information here, or get in touch with the White River National Forest at (970) 963-2266.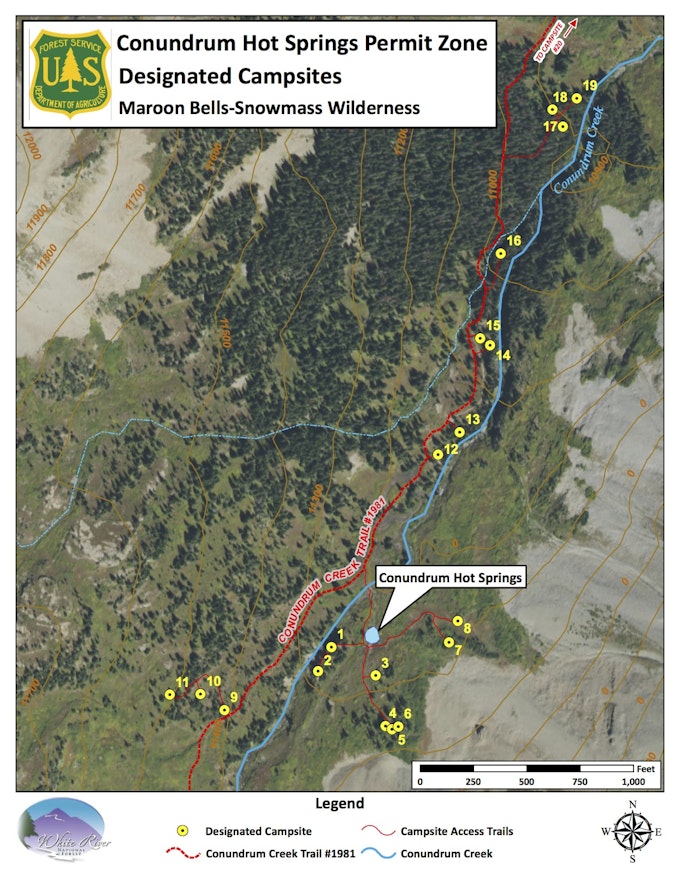 Tags
Chillin
Camping
Backpacking
Hiking
Forest
Groups
Hot Springs
River
Scenic
Details
18 Miles
2500 ft elevation gain
Out-and-Back Trail
Nearby Adventures
12 Miles Round Trip - 1000 ft gain

I generally prefer solitude on my backpacking trips, but I knew this was going to be busy so I just embraced it and made some new friends. The entire hike is absolutely gorgeous and nothing beats starting your morning with the view from those hot springs. There is a ranger presence but as long as you adhere to the rules and leave no trace (which you should be doing anyway) you won't have a problem. Enjoy! :)

It is gorgeous up at the springs, but super busy and somewhat polluted with waste. Also make sure not to bring dogs. I got kicked out and fined. The ranger presence is heavy up by the springs, and they will fine you for not following rules! Make sure to also bring a bear canister or you can get fined. Going on a week day would be best, otherwise I would suggest starting super early to make sure you can get a camp spot near the springs. The hike is pretty easy just long, and the wild flowers are prime. We also saw a moose family, and a bear on the trail and near it. As long as you aren't searching for solitude, you should enjoy this trip.