Overlook Etiquette: An Open Letter to Onlookers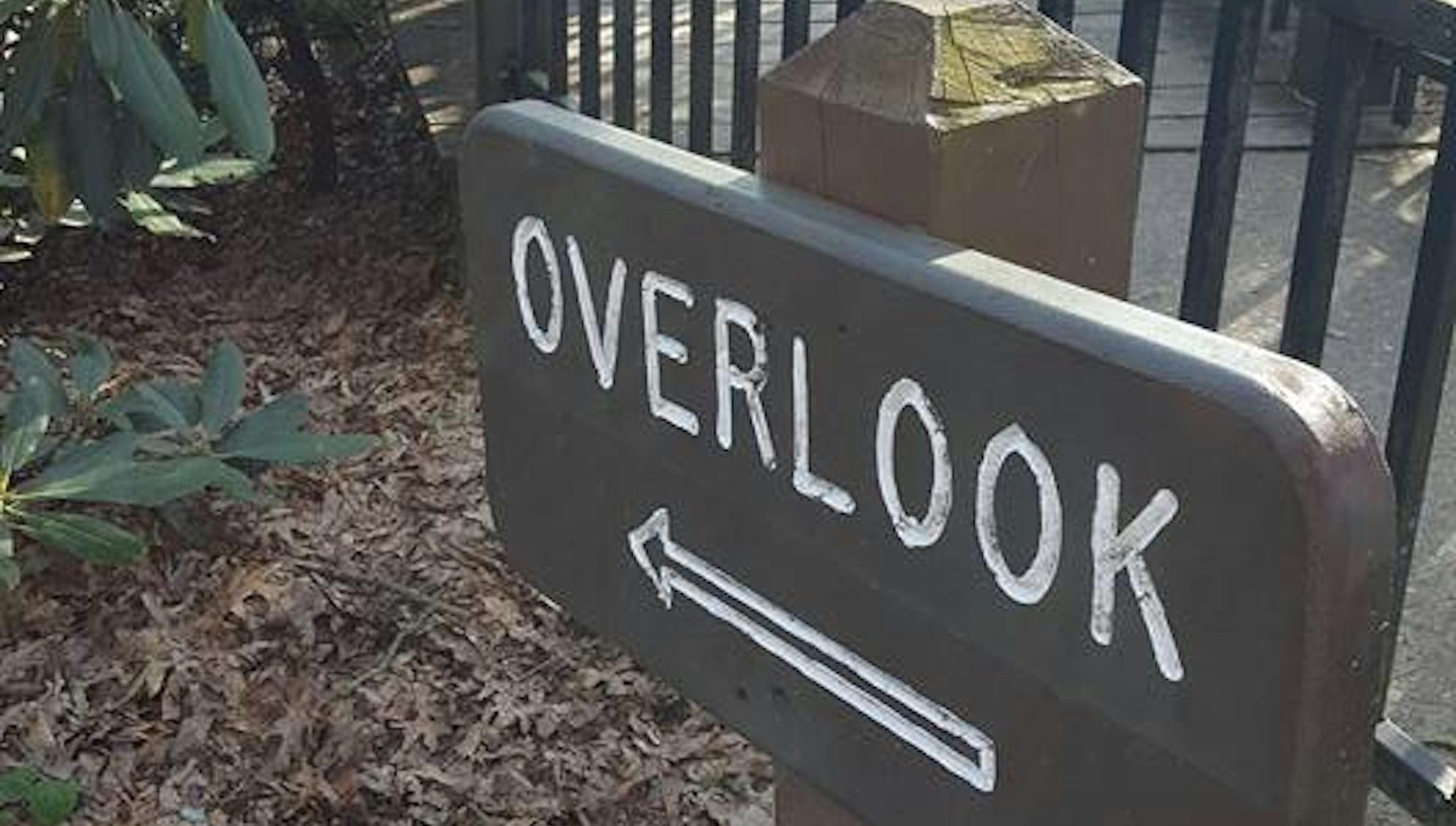 A brief blog post about what to do, and what not to do at an overlook, and how I think they should be managed.
"Views this incredible should be abundant, but more difficult to access." A quote that screamed through my head as I not-so-patiently waited for the wedding crew to take photo after photo, and for the plastic folding chairs to all be taken up and placed back onto a cart. 
My friend and I had traveled from Clemson SC to Caesar's Head State Park to enjoy a great Spring day filled with waterfalls, dirt trails, and scenic mountain views; anything but books, exams, and reports. However, we did something I typically try to avoid: visit an easily accessible overlook, on a Saturday afternoon. We had already covered 15.62 miles that day, hiking from the Raven Cliff Falls Trailhead down through the Dismal Forest, past the Cathedral, over the suspension bridge halfway up the mighty 420 foot falls coined "Raven Cliff" Falls, Creek, and Mountain due to a reoccurring raven population nesting on the mountain, then across to the Middle Saluda Passage via the Jones Gap Trail where we enjoyed 3 more (and much smaller) waterfalls. So by this time, I was getting tired, and my patience was worn thin. All I wanted was to do was feel the power of the canyon wind upon my face, and stare in awe at the beauty of the Appalachian Foothills and Upper Piedmont of South Carolina. What I could not have expected, was the crowd. 
Apparently "renting" or "reserving" a public overlook, on a State Park, in a National Wilderness area, is something that people are allowed to do. Dressed in full wedding attire a crowd of at least 20+ all gathered on the 3200 foot perch to take the "perfect" picture, and have the most romantic day of their lives. What they did not consider, was the fact that every other person who so chose, should have the right to access the view just as much as they did. Now I will admit, it is quite the view, and beyond all else, a great place for a romantic day, but after spending 5 days backpacking 76.2 miles through these very mountains only one month prior, I felt a kinship that would be silly to describe to these mountains, and I also felt that no man or woman should be able to "rent," "reserve," or "claim," this rock theirs, for ANY period of time. 
Now I don't mean to come off cynical or condescending, but I couldn't help but bite my cheek in distaste as I walked back to my vehicle, watching them drink beers in the parking lot (when the park has multiple "No alcoholic beverages" signs) and laugh about what they would do later, instead of fully appreciate the treasure they had at their fingertips now. Nor could I ignore the copious amounts of litter carelessly thrown out car windows as they sped down the mountain, back to the "real world," and back to the "hustle and bustle" lifestyle we perplexingly crave. 
My point is this. Beautiful and natural areas should always be a place that citizens have public access to, in order to develop and grow a sense of respect and love for the environment in which we live, but I argue here that some of the better crown jewels should be more difficult to access. A rough climb, a steep descent, a  few mile hike, shoot, even a short crawl should separate exceptional beauty and people. Because if we take out the journey, the destination becomes tarnished, too easy, too "been there done that," and we lose that respect. The view is no longer a reward but an entitlement. 
Let's be the generation who stops taking pictures of ourselves to show how impressive WE are, and start taking pictures of the LANDSCAPE to display how impressive it can be. Share the view, invite all to stare in wonder at the stunning mountains, rivers, and gorges. Stand up to someone throwing a plastic bottle on the ground, keep beautiful places beautiful, and enjoy what we have, and what generations to come will inherit. 
And remember, Take a Hike!
We want to acknowledge and thank the past, present, and future generations of all Native Nations and Indigenous Peoples whose ancestral lands we travel, explore, and play on. Always practice Leave No Trace ethics on your adventures and follow local regulations. Please explore responsibly!
Do you love the outdoors?
Yep, us too. That's why we send you the best local adventures, stories, and expert advice, right to your inbox.