What you need to know to plan a fall trip to Rocky Mountain National Park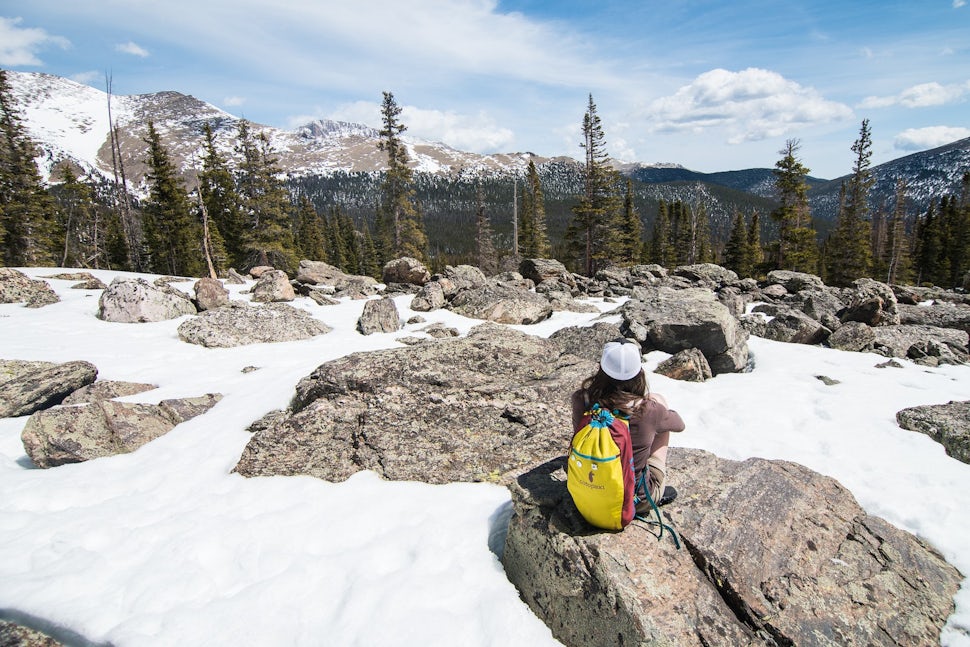 Fall is one of the most popular times to visit Rocky Mountain National Park. You can enjoy the crisp autumn air and changing colors of the leaves. If you are amongst the many wanting to visit this iconic national park in the upcoming months, here is a helpful guide to get you started.
Location: Northern Colorado, near the Estes Park and Grand Lake.
What it's known for: Trail Ridge Road, towering mountain views including the iconic 14'er Longs Peak (a mountain peak over 14,000 feet tall), abundant wildlife, numerous alpine lakes
Reservations/Permits
Timed entry permits are required to enter the park between 9 am and 3 pm for most areas. If you are planning on entering the Bear Lake Corridor, however, reservations are required between 5 am and 6 pm. These entrance fees help reduce congestion within the park during peak hours and seasons. You can find more information about the timed entry permits here and book them online here.
In addition to the timed entry permit, you are also required to have a national park pass or pay an entrance fee. At the moment, a 1-day vehicle pass costs $30, and a 7-day vehicle pass costs $35.
Note: if you are entering on foot, bike, or motorcycle the prices differ. Learn more about the entrance fees here. If you are entering the park in the fall, take advantage of some of the park's fee-free days on September 24, 2022 for National Public Lands Day and November 11th for Veteran's Day.
Note: Trail Ridge Road typically closes due to poor road conditions towards the end of October. There are alternate routes from the Estes Park side to the Grand Lake. Make sure to check for updates on road conditions before arriving.
Where to Enter the Park
There are four entrances into Rocky Mountain National Park. Three are on the east side and one is located on the west side.
Beaver Meadows Entrance: Located to the west of Estes Park, this is the most direct entrance to the park. Get to it via Highway 36.
Fall River Entrance: Located near Estes Park, head out from Estes Park onto US 34 W/Fall River Road to reach this entrance.
Wild Basin Entrance: Located outside of RMNP, this entrance does not connect to the main part of the park and Trail Ridge Road. Heading out from Estes Park turn onto CO-7 East before swinging a right onto County Road 84. From there, turn right onto Co highway 115 to reach your destination.
Grand Lake Entrance: Located near the Kawuneeche Visitor Center, this is the only entrance on the west side of the park near Grand Lake. Get to this entrance by following Highway 34.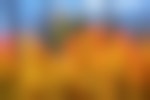 Photo by Kyle Colby
Public Transportation
There is no public transportation between nearby cities to the park. However, if you do not want to drive your own vehicle within the park there are three shuttles to choose from.
The hiker shuttle transports passengers from the Estes Park Visitor Center to the Park and Ride Transit Hub located within the park on Bear Lake Road. You must make reservations for this shuttle. The reservation costs $2.00 and can cover up to four people in a party. The last shuttle departs at 5:15 p.m. from the Park and Ride to get back to the Estes Park Visitor Center.
The Bear Lake Shuttle makes stops at the Park and Ride, Bierstadt Lake Trailhead, Glacier Gorge Trailhead, and Bear Lake. This shuttle is free and arrives every 10-15 minutes. The first shuttle arrives at the Park and Ride at 6:30 a.m. and the last shuttle departs from Bear Lake at 7 p.m.
The Moraine Park shuttle begins at the Park and Ride at 6:30 a.m. and is free. It makes stops at Sprague Lake/Glacier Creek Stables, Hollowell Park, Tuxedo Park, Moraine Park campground, Cub Lake Trailhead, and Fern Lake bus stop. It departs from Fern Lake Trailhead at 7 p.m.
Campsites
Campgrounds:
There are five established campgrounds open for tent camping: Aspenglen, Glacier Basin, Moraine Park, Timber Creek, and Longs Peak Campground.
Four of the five require reservations. Longs Peak campground is tent-only and first-come-first-serve. The campgrounds cost $30 per night. Three of the campsites: Moraine Park, Glacier Basin, and Timber Creek are wheelchair accessible.
Aspenglen, Glacier Basin, Timber Creek, and Longs Peak all close for the season throughout September and will not reopen until Summer 2023.
Moraine Park is the only campground that remains open throughout the entire fall and winter seasons. However, it closes on October 12 in order to transition from the summer season's reserved campsites to first-come-first-serve campsites in the winter. Campsites cost $20 per night in the winter.
There are also several backcountry campsites which all require permits secured ahead of time.
RV Sites:
Four of the five established campgrounds are open to vehicle camping: Aspenglen, Glacier Basin, Moraine Park, and Timber Creek.
Limits on RV and trailer length are in place at each site. They are 30 feet at Aspenglen and Timber Creek, 35 feet at Glacier Basin, and 40 feet at Moraine Park.
Generators may only run between 7:30-10 a.m. and 4-8:30 p.m. Certain sites do not allow generators. There are no electrical, sewage, or water hookups at any of the sites.
Group sites:
Group sites are located at Glacier Basin Campground. There are three different sizes of group sites: small ($40/night), medium ($50/night), and large sites ($60/night).
Note: Each of these sites will increase their fees by $10 on Oct. 12, 2022, in preparation for the 2023 season.
Horse:
Within the park, there are two stables where visitors can host horses: Glacier Creek Stables and Moraine Park Stables.
For overnight camping, many backcountry campsites including Big Horn Mountain, Ute Meadow, Finch Lake, and Thunder Lake have designated horsecamping sites.
Lodging:
There is no overnight lodging within the park, however, there are several options just outside of the park.
On the Grand Lake side, some lodging options include-
Hot Sulphur Springs Resort & Spa
Devil's Thumb Ranch Resort & Spa
On the Estes Park side lodging options include-
YMCA of the Rockies Estes Park Center
The infamous Stanley Hotel (where the movie The Shining was filmed)
Camping near the park:
If the campsites within the park are already booked or you are looking to stay nearby, there are many options for camping just outside of both entrances.
On the Grand Lake side, nearby campsites include Sunset Point Campground, Stillwater RV and campground, and Cuttthroat Bay group campground.
On the Estes Park side, some of the available campsites are Estes Park KOA Holiday, Spruce Lake RV Park, and Hermits Hollow Campground.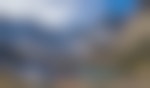 Photo by Ryan Dewane
Climate
In the fall, you can typically expect it to be a bit cooler with blue skies. However, Colorado is infamous for its rapidly changing climate. Come prepared for sun, rain, snow, and everything in between.
Make sure to check the current conditions of all roads and facilities as availability and access to these places may vary seasonally.
Important gear you may want to bring:
Rain jacket/pants
Synthetic t-shirts and shorts or pants (not cotton)
A jacket (preferably fleece or wool)
An insulating layer
Sun hat or baseball cap and sunglasses
Beanie and gloves
Extra pair of socks
Altitude:
Colorado got the nickname "Mile High State" for a reason. The famous Trail Ridge Road's highest point is at 12,000 feet. It is the highest through paved highway in the nation. While this drive is great for scenic overlooks and beautiful views of the alpine tundra, if you have never driven its tight curves and steep drop-offs it can be a shock to the system.
Altitude in the park can range anywhere from 7,630 ft to 14,259 ft. The famous 14'er Longs Peak is the highest peak in the park. Even Native Coloradoans have difficulty with breathing in the high altitudes, so try to acclimate yourself in advance.
Tips to get acclimated:

-Increase your water intake in the week before your arrival. Try drinking at least 3-4 liters every day.
-Eat more carbs for a higher calorie intake in preparation for the extra exertion of exercising and existing at high altitude.
-Talk with a physician about altitude sickness medication options.
-While in the park, take it easy and be kind to yourself. Go on walks and hikes at a slower pace and give your body time to adjust.
Wildlife
Rocky Mountain National Park is home to a diverse array of wildlife including mammals, birds, fish, amphibians, and reptiles. The wildlife is abundant with 67 native species of mammals, 270 species of birds, and even 141 confirmed species of butterflies (more than some states have in total). Bring binoculars and keep your eyes open during your trip as you never know what incredible species you may come across!
The park is famous for megafauna like bighorn sheep, moose, black bears, mountain lions, and elk. Little mammals called pika also make their homes here!
Always remember to keep a safe distance and respect the animals in their natural habitats. No matter how sweet and cuddly they may appear, they are still wild and need their space.
A good rule of thumb is, well, using your thumb to ensure a safe distance. If you can close one eye, hold up your thumb, and cover the animal with it you are far enough away. If you can see some of the animal with your thumb in front of it, take some steps back for the safety of you and the animal.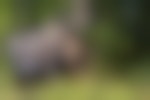 Photo by Tsalani Lassiter
Adventures
Outdoor lovers will have a blast traversing the terrain this park has to offer. Whether you are looking to hike, climb, bike, or backpack we've got you covered with some amazing adventure ideas.
Backpack to Odessa Lake via Fern Lake Trailhead
Photograph the Night Sky Over Trail Ridge Road
Watch the Sunset at Forest Canyon Overlook
Water Sources
There are numerous lakes and rivers along the trails in Rocky Mountain National Park. There are also two remaining water reservoirs: Lily Lake and Sprague Lake.
You should always avoid drinking from untreated water sources. Even the most crystal-clear mountain streams could bring illness.
If you are going into the backcountry, it is important to treat your water. Some options include iodine or chlorine tablets, water filters, and boiling. Since all areas of the park are over 6,500 feet, water must be at a rolling boil for at least a minute before consumption. Always try to find moving water to gather water from as this is usually safer to drink than still water.
Check in with a park ranger the area you are headed to in advance to make sure there are readily available water sources along your journey. It is also a good idea to check the park website for any updates on water quality alerts such as harmful algal bacteria or chemical spills.
If you are just visiting for the day or staying at an established campsite, there are plenty of water stations available throughout the park at the visitor centers and campsites.
Cover Photo: Ypsilon Lake Trail by Breane McNitt
We want to acknowledge and thank the past, present, and future generations of all Native Nations and Indigenous Peoples whose ancestral lands we travel, explore, and play on. Always practice Leave No Trace ethics on your adventures and follow local regulations. Please explore responsibly!
Do you love the outdoors?
Yep, us too. That's why we send you the best local adventures, stories, and expert advice, right to your inbox.