Wabi Sabi Is a Vanlife Homage to Hokkaido's Backcountry
Henry Johnson and Charlie Wood took a tiny self-made camper van into the snowy mountains of Northern Hokkaido to snowboard and soak in onsens.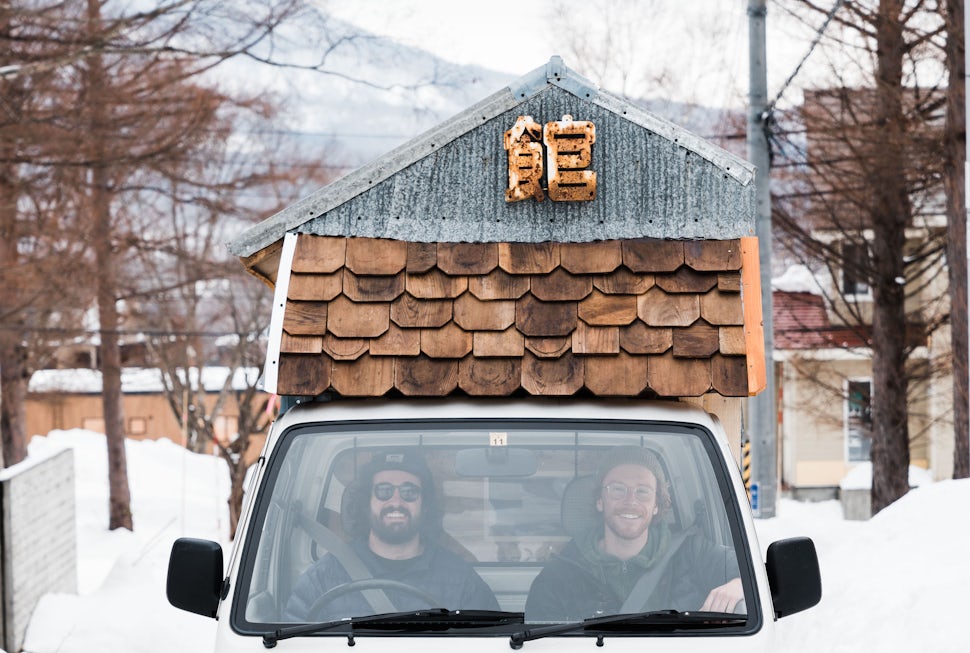 When Henry Johnson and Charlie Wood made Hokkaido their base this last winter, they set about taking on an audacious project. A meeting of the minds and a strong desire to do something different with a small injection of wabi sabi meant they were well on their way. The idea was simple: create something in the autumn whilst waiting for the winter that would focus their attentions, creating something the likes of which had not been seen before. The result was a transfigured campervan of the weirdest zeal, a true head-turner.

Have you ever heard of the Japanese expression wabi sabi though?
It's fairly safe to say that most people haven't. Traditionally the focus is on aesthetics; embracing the incomplete as well as imperfections in everyday things, but it also gives way to an entire manner of living, the ability to view the world in simplicity and the acceptance of transience.
In this scenario, mutual inspiration lead to creation, which in turn forged a journey, an odyssey you might say, into the interior of Hokkaido's snow-covered wilderness. But, how did it come and about, was it worth it and did simplicity ever get in the way of a good adventure? I sat down with the duo to ask them this question and more.
Alex Mitcheson: What gave you guys the idea to actually go ahead and do this?
Henry Johnson: When I first came to Japan I discovered these little Kei trucks. To me they were super quirky, and I just had this vision of making a campervan on the back of one of them somehow. I knew I wanted to document it as well, but as with most ideas I just never got around to it. Charlie and I met two seasons ago and we linked back up last season. He came and crashed at mine for a bit and as we were hanging out in the Autumn I told him my idea; how we could use both our skillsets to make it happen.
Charlie Wood: I'd been in Japan previously and I'd seen the Kei cars around, and even had one myself. I knew they were niche little bits of gear. The concept of making a campervan wasn't something I'd considered and only came about through chatting with Henry. Whilst traveling I've met a heap of people and had ideas for things and they just never came about for one reason or another. With this, though we are both creative people and I just thought we should definitely do this.

AM: How important was it to use recycled materials to you?
HJ: That was the main feature, we planned to use as much as we could. Before the winter and it started snowing, I put the word out and had a few friends get in touch and say that had spare bits of timber and roofing etc. The gathered materials made up the majority of the build, although we did have to buy some bits - we're proud of how much of it was repurposed though. The build took about 8 or 9 days, but they weren't consecutive days as we had engagements but some friends of ours came along and helped out here and there.
CW: Truth be told I'm pretty limited in carpentry and such for, so it was mostly Henry and the boys who did it. I did do the left side (nearside) which ended up being the side which got torn down (laughs) because it was too big and had to be changed due to road rules in Japan.
AM: Oh yeah?
HJ: Well, we didn't actually look into the legality of building this thing. When we were almost finished, we discovered that it was illegal if it was protruding beyond the original sides of the truck, which it was. We freaked out a bit as we didn't have a lot of time left as we had some sponsors on board and we'd said it was going ahead. We stalled a little and were unsure what to do, contemplating just driving it. But it was our friend Ewan who helped us out, he suggested we cut the side off, and that's exactly what we did — It was originally symmetrical but now it's quite lop sided and quirky as hell!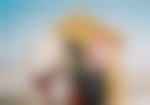 AM: Was there any point when you thought to yourselves, what on Earth are we doing?
HJ: Quite often.
CW: Always. Whenever we weren't sure or Henry was doing something that looked a bit dubious, he'd just look at me and go, "Wabi sabi baby!"
AM: Where did the trip take you guys?
HJ: The first day we drove to the city of Furano, which is in the North – that took us about 5 hours. Furano is right beside the Disetsuzan national park and after that, we went up to Asahidake, which is within the park. All of our riding was done within this area.
CW: There's a bunch of secret spots we hit that will have to remain a bit subtle…
HJ: One afternoon we were riding some steep backcountry and Charlie dislocated his shoulder. I wasn't sure if Charlie would want to continue — but, he came out of the medical centre and was like, nah let's continue on. We headed back South towards Furano and met up with a couple of mates, Stefan and Torren. Charlie was able to film all of us riding from our van with a drone and long lens.
CW: Yeah, that central range gets a lot of good snow and there's so many various mountains and setups. You can't really go wrong up there, especially when there is good weather, which we were blessed with on a couple of occasions. It's difficult to watch from the car park.
AM: The video speaks for itself, but seriously, how good were the conditions?
HJ: Pretty good! This winter was actually a low snow season for Hokkaido, the least they've seen in sixty years or something like that. The day we took off though it started hammering it down. The first few days of the trip it was snowing quite heavy. By the time we got up to Asahidake, it had snowed 50 centimeters from the night before.
CW: The drive up there was interesting. We're going along on a single lane road and a bus is coming towards us. If we'd pulled over we would have gotten bogged down for sure and had to have dug ourselves out.
HJ: Definitely the scariest drive I've had; Most of the time thinking we might tip over. It was normally a double lane road but it snowed so much everyone was driving in the one single lane. There were cars and buses coming at us and we were just flooring it to make it past them in this foot deep snow. We got there in the end though!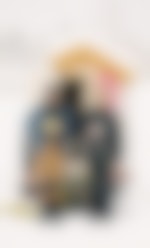 AM: How did the Kei truck go?

CW: I can't believe we made it up most of the hills we did. It was making some unusual noises by the end of it let's just say.
HJ: Yeah, for a Kei truck to meet its class requirements the engine has to be no bigger than 660cc. On snowy roads, it was a bit slow and sketchy but on normal roads it was fairly cruisey.
AM: What filming equipment did you use and how did you approach making this clip?
CW: I was using two cameras. My primary is a Black Magic Pocket 4k, which creates the better quality and my secondary is a Panasonic Lumix GH5, which in turn handles the poor weather conditions better. I do mostly get the Black Magic out because I want the better shot, but I'm wondering if that'll creep up on me when the camera just decides to stop working. You see, everyone loves to ride right past the cameraman and do a massive turn and fill his camera with snow. Filming in those conditions is challenging for sure, and I can't handle my equipment with gloves on either. But when you get the good shot all of that patience and numb fingers is worth it.
AM: After all, said and done. Was it worth it?
CW: Oh, Yesss.
HK: Definitely. Planning the next trip already. I've still got the van and I'm currently using at the moment as my regular car is at the mechanics. It's hilarious when you see people's faces, their mouths just drop.
Cover and inline photos by Elliot Waring (@elliott.waring) and Henry Johnson (@henryjohnson__). Find Charlie Wood on Instagram @charlie_wood_filmmaker.
Alex Mitcheson is often found battling the crowds for a few waves somewhere on the Gold Coast Australia. When he's not salty and covered in zinc his passions are finding great food, quaffing delectable wine, and getting lost in rock and roll biographies. Originally from Northumberland, England - a somewhat critical chap, prone to a good sunburn, a hedonistic virgo and probably Edgar Allan Poe's biggest fan.
We want to acknowledge and thank the past, present, and future generations of all Native Nations and Indigenous Peoples whose ancestral lands we travel, explore, and play on. Always practice Leave No Trace ethics on your adventures and follow local regulations. Please explore responsibly!
Do you love the outdoors?
Yep, us too. That's why we send you the best local adventures, stories, and expert advice, right to your inbox.