7 Reasons Why You Should Climb Mt. Whitney This Winter
Challenge yourself and improve your mountaineering skills by conquering the highest peak in the lower 48 in the heart of winter. Anyone can take it on in the summer, the truly adventurous climb Mt. Whitney in winter! John Muir said it first!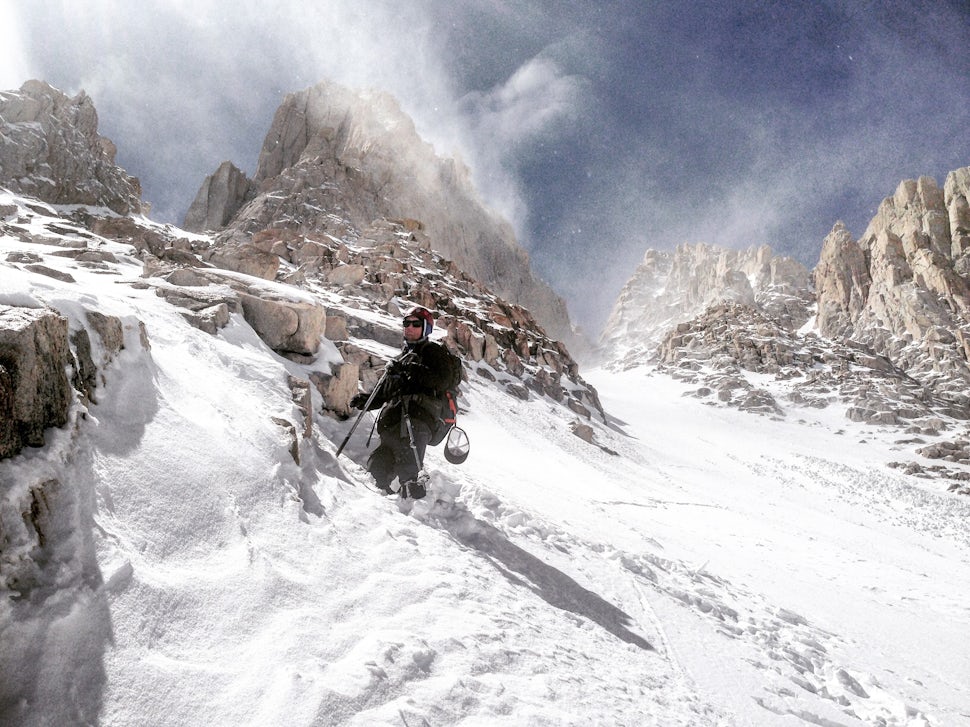 With the end of another warm season, most of us trade in our hiking boots for a pair of ski boots when the trails disappear under the snow. This year add a new and exciting challenge to your adventurous lifestyle. Anyone can hike the 11 mile trail up Mt. Whitney on a sunny warm day, but I think John Muir said it best when he said the Whitney Trail is for "soft, succulent people!" During the winter months, Mt. Whitney is an isolated and difficult challenge for even the best hiker. The highest mountain in the lower 48 (14,496 ft), Mt. Whitney is an entirely different animal during the winter months! Putting in the effort to climb Whitney during this time of year, means you won't have to wait on crowds or a lottery system for a permit. Before you put those boots away, strap on some crampons, grab your ice axe and truly embrace what climbing Mt. Whitney has to offer. Take the regular trail for an easier hike to the top or put your mountaineering skills to the real test on the Mountaineering Route! Here are the top 7 reasons to climb Mt. Whitney this winter.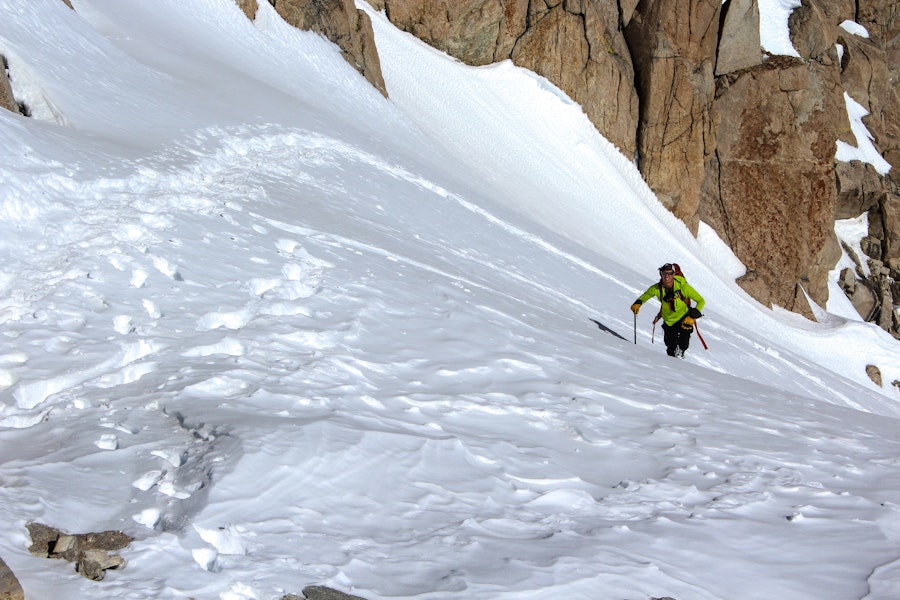 Climbing Near Trail Crest
1. The Challenge
Conquer the highest point in the lower 48 during the most difficult time of year. The two main trails are the Mountaineers route and the Whitney Trail. Both offer unique challenges this time of year. When you climb Whitney in winter, you are working for it by using winter climbing techniques, which makes the summit that much more special. The 99 switchbacks which might as well be an escalator in the summer time, are completely covered in snow and ice in winter. If you decide to take on the Mountaineers Route, it is much shorter, but gains elevation quickly! Crampons and an Ice Axe are a must!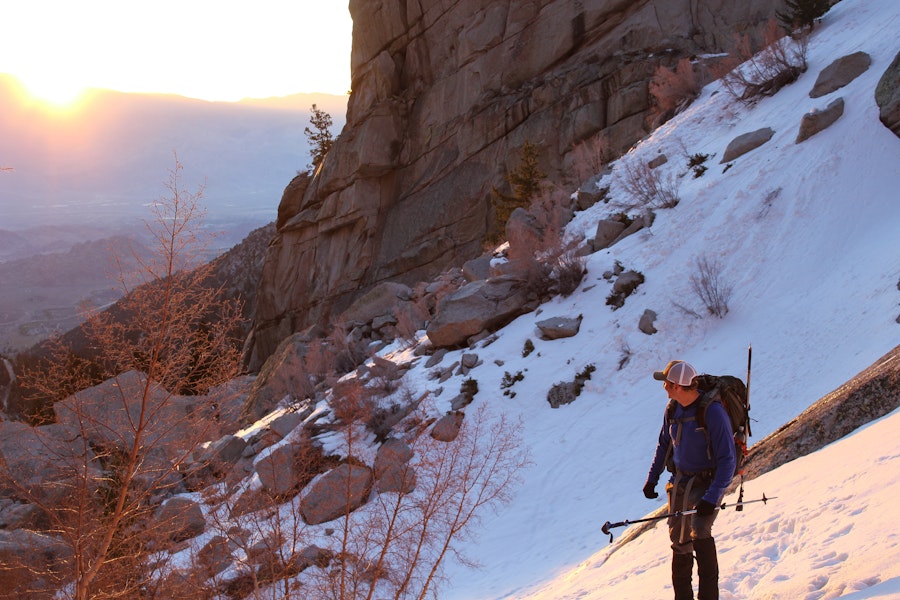 Early Morning on the Mountaineers Route
2. The Photography
Capture amazing shots of the snow covered Sierras, especially during sunrise and sunset. The light of the Alpenglow as it strikes the mountains is breathtaking. The snow that covers the mountains adds amazing depth and contrast to your shots. Frozen lakes, waterfalls and the beautiful sparkling snow add to the beauty of the area. Don't worry about a million other people or tents in your shots during this time of year, because you are more than likely to be the only one on the mountain that day. Especially if you go during the week.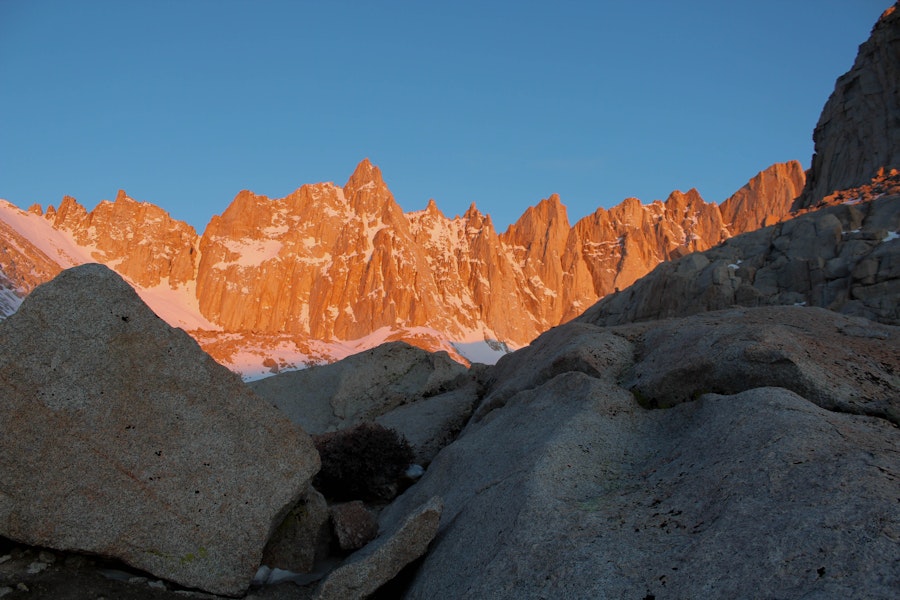 Alpenglow on the Needles
3. Better Yourself
Hone your mountaineering skills by repeatedly using an ice axe, snowshoes, and crampons. Stop buying gear just to take cool photos on snowy hills you can walk up in flip flops and board shorts. Take a course, or teach yourself, and get up on a real mountain that challenges you to use the tools you have. Using crampons and an ice axe is pretty much common sense with a little practice. The trail will provide you with plenty of opportunities and different snow conditions to practice your skills. The trail has deep snow, long sections of ice and steep uphill grades, which are all near death defying cliffs. Learn how to self arrest and walk properly in crampons in a safe location before you really need to use them to save your life.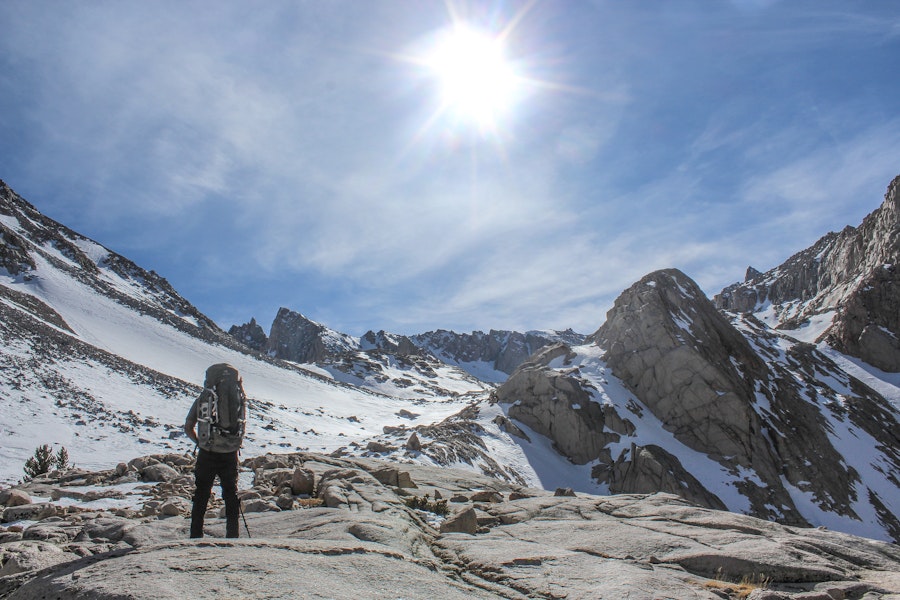 4. The Isolation
Avoid the annoying crowds of summer. Everyone can walk up a paved, pre-built trail, but only the brave few can climb up a mountain without a trail. Get out there this time of year when the trail disappears under snow and make your own route. You will have the mountain nearly entirely to yourself. The peace and quiet is surreal!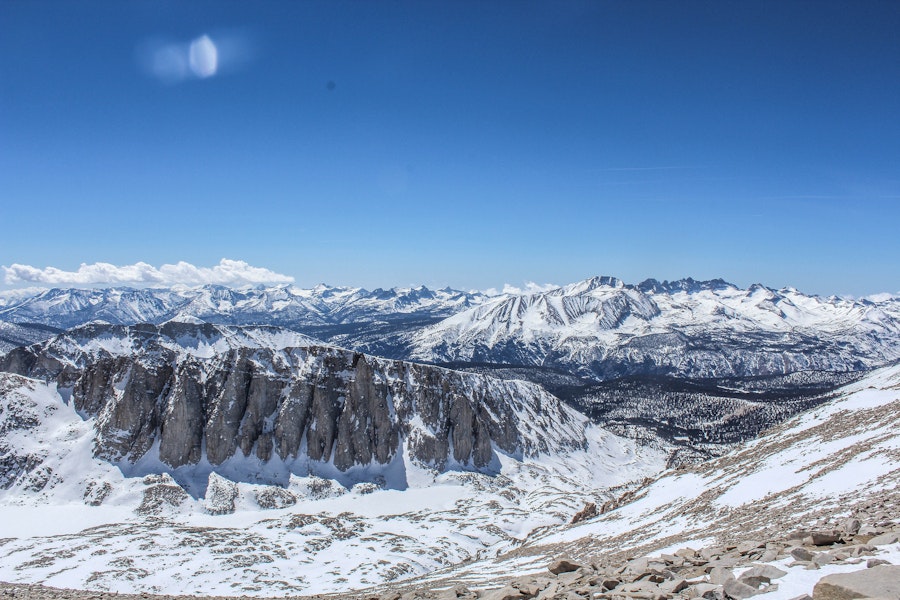 Looking West from the Summit
5. The Night Sky
Camp under an amazing endless starry sky. The Sierras offer some of the most beautiful night skies. With several major cities just hours away from Mt. Whitney, seeing the stars seems rare these days. Leave the city behind and fall asleep looking up at the TRUE night sky. You can also enjoy the night sky by hitting the trail early to reach the summit. You will enjoy shooting stars on the hike up and be rewarded with a sunrise view at the top of The U.S. of A.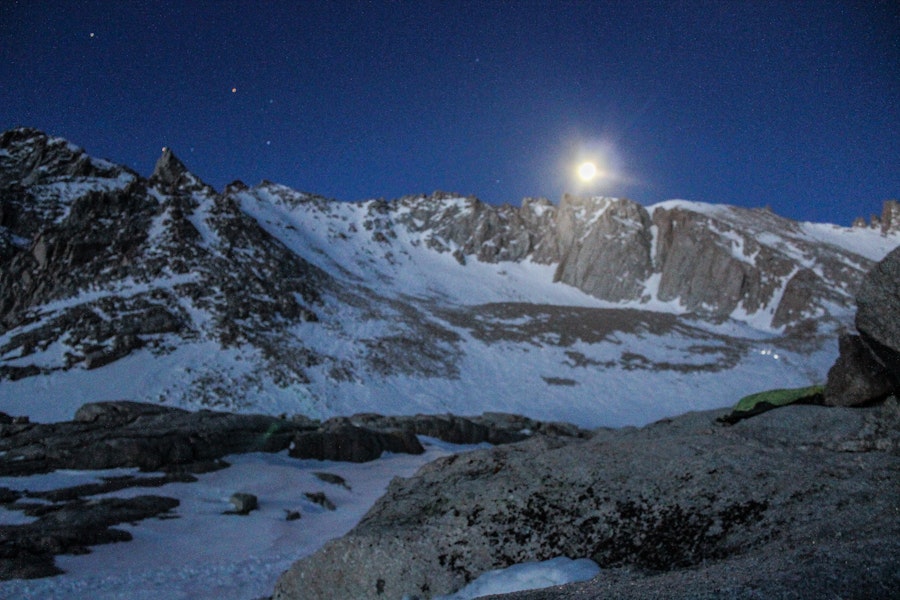 Headed for the Summit with a Full Moon
6. Learn New Skills
Learn to camp in the snow. Anyone can camp in a tent in the middle of summer, but what about winter? Bring a snow shovel to dig in for protection from wind, learn how to properly melt snow for water, learn how to keep your stove working at altitude, how to stay warm in frigid weather, and learn how to keep your wet wipes from freezing when nature calls. Practice a few new skills and you will find out that you can enjoy camping year around!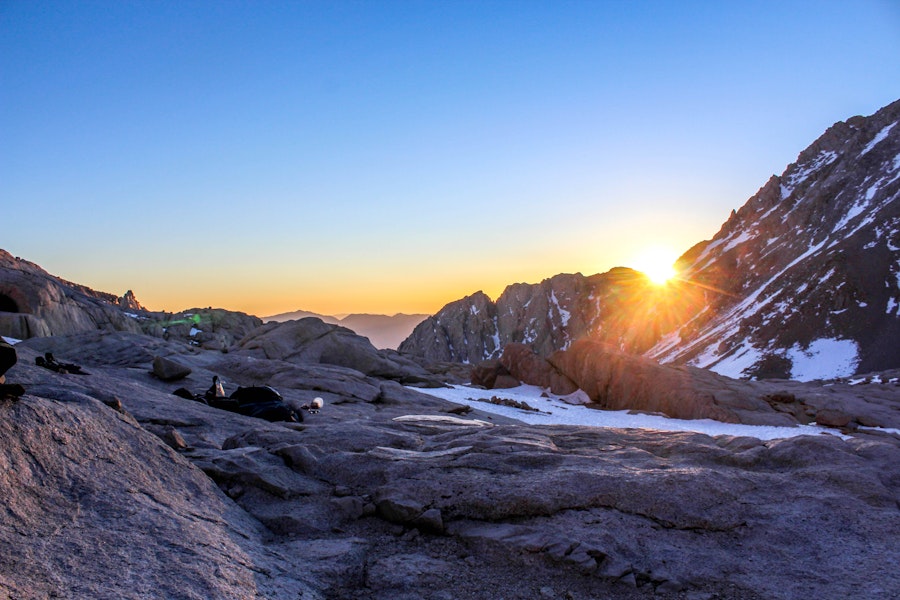 Sunrise at Trail Camp
7. No More Excuses
A Self Issue Permit means you won't be able to use the excuse, "I wasn't able to get a lottery permit to climb Mt. Whitney," that I have heard a million times. Everyone says they want to climb Mt. Whitney, then always find a reason to blame the Park Service for stopping them. Well if you really wanted to climb Mt. Whitney, then half the year is totally in your control. You can also probably get a walk-in permit during the other 6 months of the year. Stop making excuses to friends and family on Instagram or Facebook, and leave now for the mountain. Just get up, get outside and get up that mountain! No more excuses. You have between Nov 1st and April 30th to make it happen.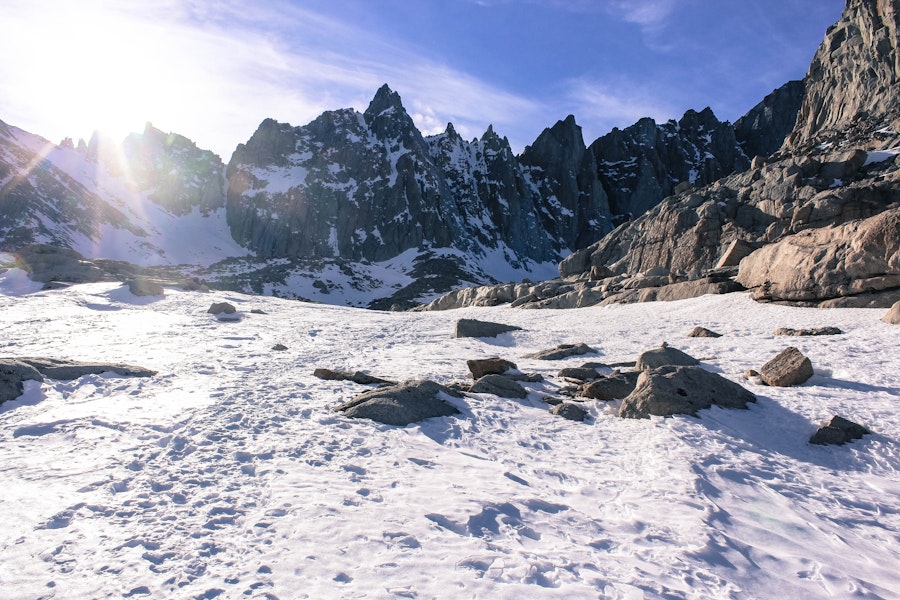 Sunset at Trail Camp
Plan Your Trip: Winter Summit of Mt. Whitney

We want to acknowledge and thank the past, present, and future generations of all Native Nations and Indigenous Peoples whose ancestral lands we travel, explore, and play on. Always practice Leave No Trace ethics on your adventures and follow local regulations. Please explore responsibly!
Do you love the outdoors?
Yep, us too. That's why we send you the best local adventures, stories, and expert advice, right to your inbox.