Everything You Need to Know about Hiking Yosemite's Half Dome
All the information you need to take on Half Dome and come out on top!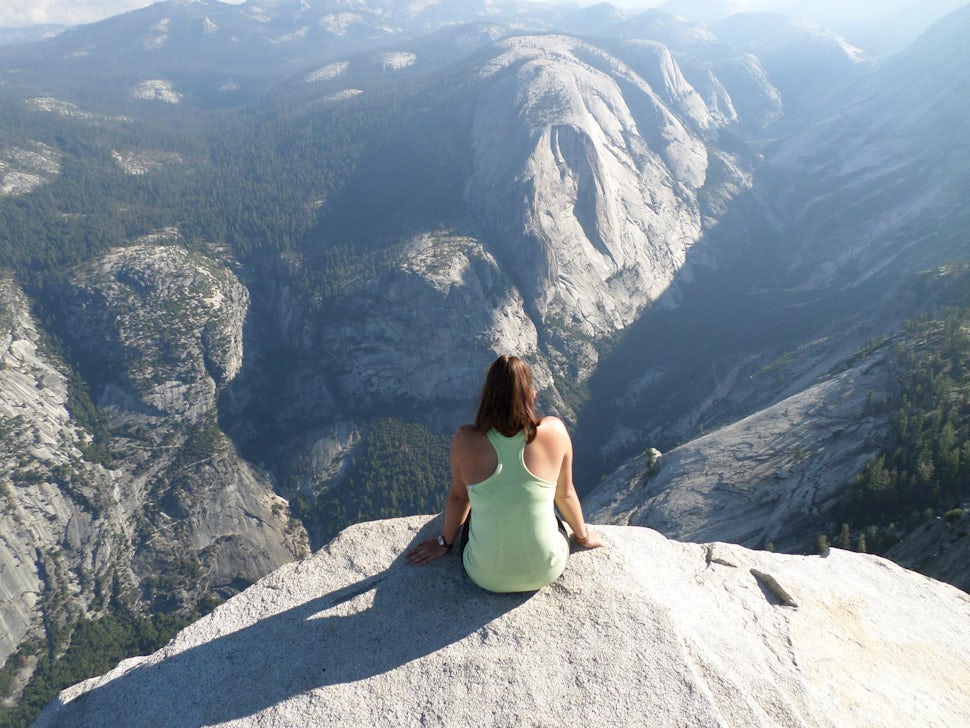 It might be the most recognized rock formation on Earth and it's the logo of one of the biggest outdoor brands on earth.
Towering nearly 5,000 feet above the Yosemite Valley floor at an altitude of 8,839 feet, Half Dome is in a class of its own when it comes to attracting outdoor enthusiasts and photographers.
I've had the joy, exhaustion, and pleasure to have conquered Half Dome twice in my short time on earth. And both times I've been fortunate enough to watch the sunrise from the wonderful slab of granite overlooking the valley.
Before you get to experience this terrific hike, you have to jump through a few hoops. This includes securing a permit, getting to the valley, packing, hiking up, and beating the cables. We'll break it all down here so you don't have anything to worry about when you wake up to summit the 'Dome.'
Permits, Permits, Permits
What you need to know:
You cannot hike the cables without a permit
Applications go live for the lottery on March 1 and end March 31.
They give out 225 to hikers and 75 to backpackers each day. They also give out 50 permits a day during the season for those who either don't plan ahead or do not get it in the preseason lottery.
If you plan to do a sunrise hike, you can probably hike with either the day of or the prior day. (It's a slight loophole and just say that you started on the day of the permit.)
As you'd assume, weekends will be more sought after than weekdays. In 2013, over half of applicants got weekdays while only 31% got weekends.
Staying in or near the Park
What you need to know:
Driving in:

Fresno: It's about a two hour drive into the valley floor
Los Angeles: Get ready for a haul. It's about five and a half hours from the City of Angels
San Francisco: Weather conditions may give you alternative routes but expect a four-hour long journey.
Reno: In winter, Tioga Pass is closed so you have to go way out of your way but in the summer, this is a four-and-a-half our drive.

You have options:

Yosemite Valley:
Tuolumne Meadows: This is a really nice spot to stay outside of the valley. Heads up, you're up around 8,000 feet which means regardless of the time of year, it'll be chilly at night. If you're planning to go hiking up in the meadow area, this is the spot to be. Or you could camp. That's an option too.
Outside of the Valley:

Bass Lake: There's plenty of lodging options around Bass Lake which is about 50-minute drive to the valley floor.
Fish Camp: A small lodging 'town' has options for hotels if you want to be closer to the entrance but not as close as Tanaya.
Tenaya Lodge: This is the nicest spot outside of the park and only three miles from the Yosemite entrance.
Getting Prepared for Dome Season
What you need to know:
Preparing Physically:

Half Dome is not easy. It's 16 miles round trip and you're gaining over 5,100 feet of elevation gain. In other words, you better get off the couch at least two months before doing this or else you'll be struggling. No one wants to be a struggling straggler.
Depending on when you go and where you live, there's nothing better than getting out and hiking in the outdoors. But if you live somewhere flat or uber hot during the summer, the stair stepper and treadmill will work.
I won't get on my high horse and pretend to tell you how to train (this might help, though) but if you can do a couple 8-10 mile hikes beforehand that include steps, you'll be fine. (The way down is pretty simple and you'll cruise after leaving the cables.)
If you're already active (gym 5+ days a week,) you'll be able to do this relatively easily but still leave the gym and get outside once in a while.

Preparing your pack:

Attire:

The weather will determine what you will need to wear but chances are high you'll be starting right around sunrise so a long sleeve shirt is probably needed. I'd also suggest bringing a separate shirt to change into on the top so then you're not in a soaking wet shirt all day.
In addition to the clothes (I'll leave the specifics up to you), you'll want to bring: A hat, sunglasses, sunblock, heavy duty gloves for the chains, and hiking boots. You could also bring some water shoes if you'd want to soak your feet in the stream on the way down and hiking poles if that will help you out. Remember, while this hike has a ton of prestige, it's only a day hike. There's not a ton you need to bring.

The Goods:

Now we're cooking...almost literally. This is the part that we all like to talk about. What to bring to keep our energy high and bellies full.

Lots and lots of water. When I hiked for sunrise, I brought a gallon of water and two 32oz Gatorades. However, be aware that I did the entire uphill in the dark with no sun. That played a huge role in not sweating a lot.
The food is much more subjective. First, get the salts as you'll be losing them in your sweat. This can include beef jerky, chips, and nuts. Second, protein. Usually, this can be lunch meat/sandwiches/PB&J. Third, but most importantly, carbs. Basically, eat anything you want. Trail mix is a great hiking food (hopefully this isn't breaking news to anyone reading this) along with crackers and well, whatever looks good to you in the store that isn't going to weigh you down. Also fruit. Eat your fruit, people!

The Pack:

You'll want a solid daypack (anything other than a normal backpack that you'd take to school) that has a belt strap to keep some of the weight off your shoulders. You probably don't need anything bigger than an 18-20L.
Half the Dome, All the Fun
What you need to know:
The Hike:

This is no joke. This is difficult. Do not underestimate it. Also, never, ever go past subdome when the weather could turn bad.
Enjoy it. It might be hard but the scenery is brilliant and you're out in mother nature. Don't forget to smile, laugh, and have a great time with friends.
Plan to spend 10 to 12 hours on this hike.
The Mist Trail:

This part of the hike will be crowded. The first 3.5 miles or so are on the Mist Trail, taking you next to and then over Vernal and Nevada Falls. Most people stop at Vernal, so, after that, the majority of the tourists will be behind you and the trail will clear up in a major way. On your final ascent next to Vernal Falls, the steps will be slippery. Take your time as there will be a lot of people coming up and down. Also, be prepared to get damp.
Little Yosemite Valley:

For the next mile to a mile and a half, it's flat letting you catch your breath and prepare for the upcoming summit push. This is the area where most of the backpackers stay, in Little Yosemite Valley.
Up to Subdome:

Now, you're back into a forest, giving you a break from the sun, though you'll hardly not notice as you're huffing and puffing through switchback after switchback. This part is 1.5 miles long. Once you get out of the forest, you still have to conquer the steps. This is where my quads started to die on each step up. I would not object if someone said this was the hardest part of the hike. Once you've made it to Subdome, you meander forward towards Half Dome. It should be pretty easy to spot. From the end of the forest to the cables is less than half a mile.
Up The Cables:

Depending on the time of day and your hiking time, take a few moments to relax and catch your breath. However, if looking at the cables and the way up will freak you out, I'd say keep going and power through.
The cables are unique. Going up the 400 foot granite slope, there are wooden slabs every 10 feet or so. This is provides a place to momentarily break and rest your legs. At the beginning, you'll be able to walk with little issue but as you keep going up, your arms will become a very valuable asset. Use them! There are some points where you will be at a 70% or more grade and it's a full on upper body workout.
Remember, take your time. If you're going up in the middle of the day, you'll likely be passing people on the cables. Don't freak out. Do it calmly and safely (think one person high one person low...one person left the other right. Whatever it is, talk it out and make sure both people are on the same page. If not, this is a place where if you fall, you die.
Half Dome Summit

You. Made. It! Yell to the heavens. High-five your friends or anyone near you. If you're a crazy person and hauled a bottle of champagne up, open that baby up!
Plan to be up here for a good 45 minutes to an hour while you take photos, eat, change clothes that are probably soaking wet, or even nap. Don't forget to stretch either, you still have eight miles to go.

Going Down the Cables

This is the only section of the downhill I'll go into detail on. Some say *raises hand* that this might be worse than going up. There are two schools of thought going down: facing out or looking back at the rock. I chose to look at the rock because yours truly isn't the biggest fan of heights - especially 400 foot heights where death awaits on either side. This is where the gloves come in real handy as you'll want to slide the gloves down the chains - instead of taking your hands off of it. The wooden slabs help, especially if you start to slip (please have good grip shoes).
John Muir Trail Down:

You can bypass Nevada Falls on the way down (and on the way up I guess) by going on the John Muir Trail. This is a slightly longer but less steep option and it takes you away from the crowds. It also provides a real nice view of Nevada falls. I did this my second time - simply to try something new - and it was nice. It's all a personal choice at this point.
Back In The Valley
What you need to know:
Just Eat:

Go grub. Hydrate up. Put your feet up. Relax. Sleep.
You've just completed one of the most well known hikes in the world and you'll forever have the memory to prove it. Hopefully, your next day in the park is a quiet one - maybe you'll float the Merced River - and you let your body recover.
Again, congrats on conquering Half Dome!
We want to acknowledge and thank the past, present, and future generations of all Native Nations and Indigenous Peoples whose ancestral lands we travel, explore, and play on. Always practice Leave No Trace ethics on your adventures and follow local regulations. Please explore responsibly!
Do you love the outdoors?
Yep, us too. That's why we send you the best local adventures, stories, and expert advice, right to your inbox.