Climb to the Summit of Mount Katolinat, AK
Rate this Adventure Alaska › Brooks Camp, Katmai National Park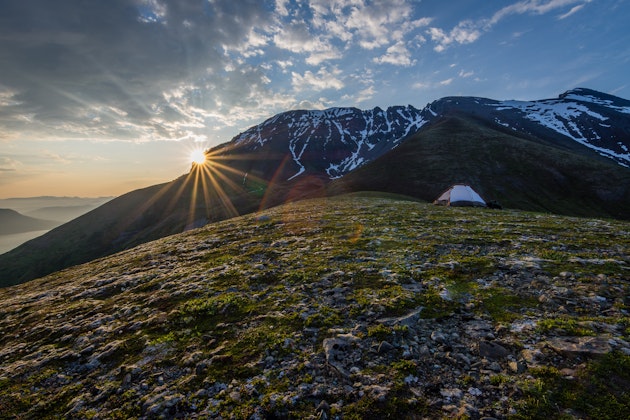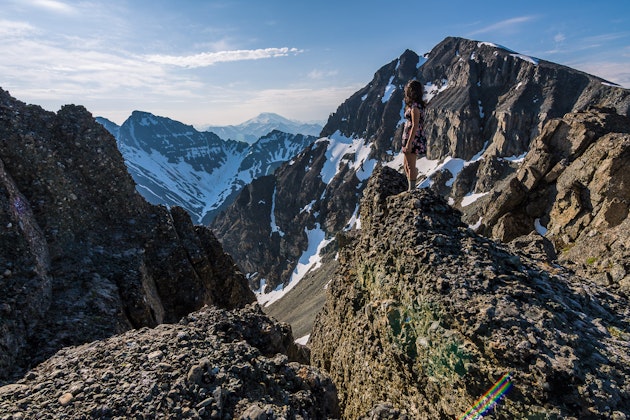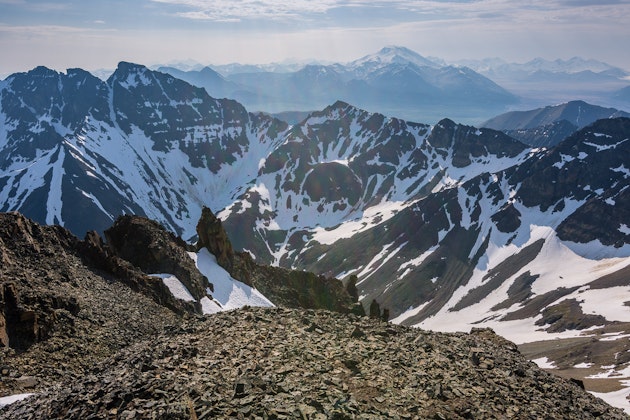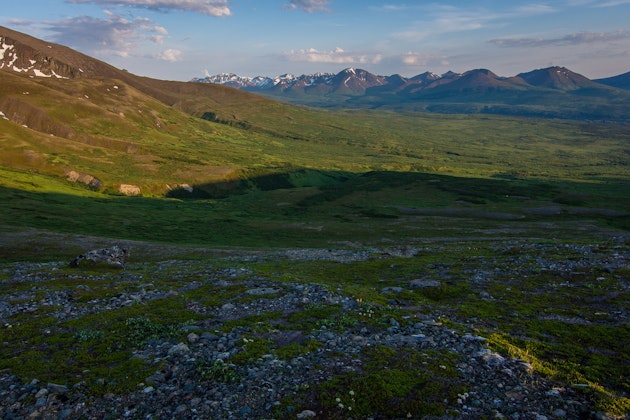 Added by Crystal Brindle
Experience a remote challenge an camp above treeline. Reach the 4,730 foot summit of Mount Katolinat and achieve THE BEST view in Katmai. See the glaciated volcanoes of the Aleutian Range and discover total solitude and true wilderness.
This adventure begins long before you start climbing the mountain. First you need to make your way to Brooks Camp in Katmai National Park on the Alaska Peninsula. The Alaska Peninsula is not connected to the road system of Alaska so all travelers must arrive by either boat or plane. Fly to the small town of King Salmon and then hop on a float-plane to arrive at Brooks Camp. Once at Brooks Camp you'll need to cross into and through the Iliuk Arm of Naknek Lake to arrive at the base of Mount Katolinat. You can do this in a number of ways and your best bet is to talk over your options with Brooks Lodge staff. The most cost effective yet challenging option is to rent a kayak and paddle your way across the lake. The distance is around 8 miles depending on where you choose to ascend the slope of Katolinat.
While paddling or boating toward the mountain aim for the obvious mounded ridge that juts out from the main stem of the mountain. Local knowledge is crucial here as there are NO trails so make sure you talk to someone before beginning this journey. This ridge has two distinct mounds that top out only a couple of hundred feet above treeline (which is around 1,500 feet in this part of Alaska). These mounds are directly to the left (east) of the mouth of Margot Creek so you can orient yourself this way if necessary. The easiest slope to ascend is the one that leads to the tallest and furthest east of the two mounds. Therefore, park your watercraft below this mound so that you can climb up to it in more or less of a straight line. Taking this approach reduces the need to bushwhack through spruce forest although any route to the top of the mounded ridge will suffice.
Be prepared for a grueling climb! Mark the location of your parked watercraft with a GPS if you're able to so that you can find it on your return and head into the alder and grass scrub from the shoreline. You will be climbing approximately 2,200 feet to reach the top of the mounded ridge and most of this will be in bushwhacking terrain - a mix of grass, alder, birch trees, and moss. It is best to do this climb early in the summer to avoid the tallest grass. THIS IS PRIME BROWN BEAR HABITAT - know how to behave in bear country and carry bear spray if possible. Travel in a group and make noise as you move through this thick vegetation to alert animals of your approach. The terrain is at a low angle to begin with so it is very difficult to see your route - as long as you are climbing you will be heading in approximately the right direction. However, the use of a GPS or compass bearings can be helpful. This is the most difficult part of the climb so take your time! Once you leave the tall vegetation you will find yourself in thick moss and eventually tundra. You are near the top of the ridge!
It's a good idea to camp on top of this ridge so that you can complete the second stage of the climb to Katolinat's summit the next day and return to the lake shore. Note that there is no water on top of this ridge and you must obtain snow from a nearby snowfield. By the end of July there is no more snow near the ridge so you must carry all of your water. Enjoy the stunning views over Naknek Lake from your high camp and study the ridge for your summit push the following day (see photo one).
The most straightforward ridge to ascend to reach the summit connects directly with the mounded ridge you have reached. Climb this simple but steep class 2 ridge to the top and then make a sharp right turn (south) and walk across scree and intermittent snowfields toward the summit ridge that stands obviously higher than the surrounding terrain. At this point you will have fantastic views into a steep canyon contained within the massif of Katolinat itself and beyond to the volcanoes that lie to the southeast (see second photo). There are a few small exposed sections with drops to the valley on your left as you walk toward the summit ridge but this is an otherwise simple walk. Ascend the ridge (which may have a large snowfield if early in the season) and reach the summit of Mount Katolinat! Take in the commanding view of Katmai's wonders - the Valley of Ten Thousand Smokes and the many snow-covered volcanoes. Descend the way you came, gather your gear, and return to your watercraft - being careful not to overshoot your landing spot on shore.
Pack List
Bear spray
Tent
Sleeping bag
Water bottles
Rain gear
Warm layers
Long lightweight pants and top
Sturdy waterproof footwear
Bug spray (if you choose to wear it)
Sunglasses
Map
Compass/GPS
Radio or other communication device
Camera and tripod
Have you done this adventure? Have something to add? You could be the first to leave a review!
Added by Crystal Brindle
I'm Crystal, a park ranger for the National Park Service in the United States and the Department of Conservation in New Zealand - you'll find me floating between hemispheres as the seasons change. I am an avid landscape photographer and wilderness explorer committed to capturing the scenes and moments that inspire me and require dedication to experience. Living in national parks throughout my life, I've developed a deep appreciation for the natural world. This appreciation drives my passion for protecting wild places today. My first job as a ranger in Rocky Mountain National Park inspired me to spend my time exploring the depths of the park's wilderness and instilled a sense of adventure that extends into all areas of my life. I now actively seek backcountry recreation that takes me into remote corners of mountainous regions all over the world. I have had the opportunity to live and work in some of the most intriguing places our world has to offer - from the high places of Colorado, to the South Island of New Zealand, to the rugged Alaska Peninsula, and many locations in between. I feel that the only way to truly get to know a place is to meet it on its own terms and to embrace its challenges through which its beauty is revealed. To me this is the definition of wilderness and the foundation of my photography. Since I began this journey of photography three years ago, I have honed my interests to focus on high-alpine mountain landscapes inaccessible to all except those who travel on foot. These are the landscapes that captivate me. I feel drawn to share their remarkable qualities through the visual narrative of photography and short stories of personal experience. This is a craft that I am refining daily and my photography is only a work-in-progress but I feel that this effort is worthwhile as I strive to let the landscape tell its own story and act as a vector for its message. What's next? After a summer of living with brown bears and climbing mountains under the midnight sun in Katmai National Park and Preserve on the Alaska Peninsula, I'm heading back to New Zealand to further explore the wonders of the South Island and work as a Hut Warden on the Heaphy Track in Kahurangi National Park.
Follow
Activities:
Camping, Photography, Kayaking, Backpacking, Hiking, Fitness
Features:
Forest
Lake
Scenic
Wildflowers
Wildlife
Are we missing something?
Suggest an edit
More Adventures Nearby
Camp at Teklanika River Campground
Alaska / Teklanika River Campground
Firewood can be purchased outside of Denali National Park, or at the Riley Creek Mercantile. No shower or laundry facilities are available at this campground.
Camp at Sanctuary River Campground
Alaska / Sanctuary River Campground
Reservations for this campground are only available on a first come, first service basis. The campground offers vault toilets, but no potable water.