Why Every Adventurer Should Learn How to Sew
It's not just for your grandma anymore…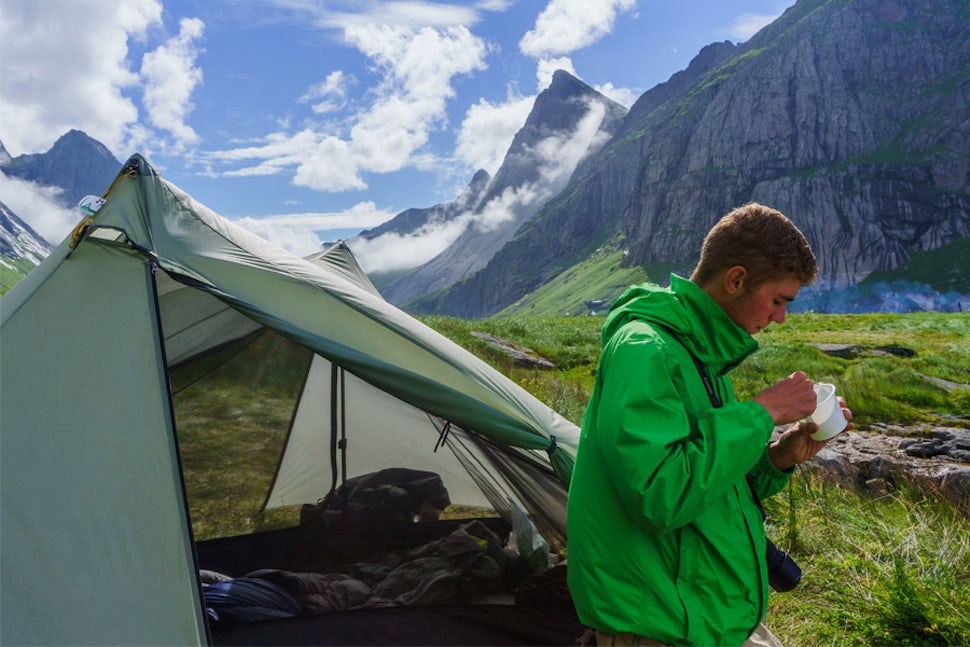 Over my winter break from college this year, I had an intimidating task to complete: either create or buy all of the remaining gear needed for this summer's upcoming road trip. As a stereotypical college student, I was of course looking to pull this off for the least amount of money possible. One way to achieve that goal was to minimize the number of "off-the-shelf" gear purchases and make as many items as possible from scratch myself. As I was working on a custom awning for additional space sheltered from the weather, I was reminded of how grateful I was that I'd become competent with sewing machines a few summers ago during my internship with Tarptent. Thinking it over more, I realized that sewing is actually an essential skill for any outdoorsperson. Before you dismiss that thought, allow me to elaborate on several specific benefits:
1. There's probably someone in your family who could teach you. Right now. For FREE.
Chances are someone in your family has a sewing machine and could get you up to speed on the basics over the weekend. Can't find anyone in your family? I'd be willing to bet that you can at least find a friend of a friend who knows how to sew and has a machine. Still stuck? Try a local quilting club. With the widespread use of sewing machines both for hobbies and home repair, there's really no excuse for not finding someone. The other great thing is that the majority of sewing related to outdoor gear is quite simple, so your family member (or friend) won't even have to work that hard to get you to an appropriate level of proficiency. For instance, the only things I can do on a machine are sew a straight stitch, sew in reverse, and wind a bobbin, and with those simple skills I have created a complete tarp and bivy setup, the car awning I mentioned earlier, stuff sacks with custom pockets, and many other cool gear items.
2. Save money by making your own gear (often called MYOG)
If going on more adventures for less money sounds like something you'd be into, knowing how to sew can help. Markups on outdoor gear, and clothing in particular, and often quite high because the base fabrics are so inexpensive. Fortunately, if you know how to sew you can cut out the middle man and start straight from the raw fabric. Granted, it does take a little more time and effort to sew your own gear compared to walking in and out of REI in 15 minutes, BUT I can say that most of my homemade gear is near or at the top of my favorites list simply because I made it. That's the sort of satisfaction and pride you can't buy in a store, plus you'll impress all your outdoor friends when they learn that you made that awesome shelter from scratch.
Most outdoors people (myself included) are not master pattern makers. Fret not though, there are plenty of helpful websites including Ray Jardine and Thru-Hiker which are run by long time hikers and sell kits to help get you started. Once you become a competent sewer (or if you already are), it's probably not necessary to purchase kits, but for those starting out it can be a nice set of training wheels to get you going.
3. Create exactly the gear you want and nothing more
This goes along with my second point above, but the more you get into backpacking (or whatever your outdoor activity of choice is), the more you are likely to get frustrated by the limited options available on the market. This jacket has pit zips, but wait this one is 2 ounces lighter, or there's that one over there with the latest waterproof breathable technology, but oh wait this brand is the only one that stocks my favorite color. Sound familiar? Well if you can sew, you can cut straight to the chase and make yourself a jacket with all 4 of those features (and probably for much less money as well).
4. Be better prepared for emergency field repairs
Almost all backpacking gear (maybe with the exception of electronics, your tent poles, and your stove) is primarily made from fabric, so if something fails during a trip, you will be much more capable of fixing it if you know a thing or two about sewing. Field fixes are usually temporary solutions, but sewing can also help with major repairs in between trips. For instance, after being used in extremely dusty conditions all summer long, none of the zipper sliders on my beloved 2 person tent were engaging the teeth on the coils anymore. Instead of paying $300+ for a new tent, I got the manufacturer to send me a free set of replacement coils and installed them myself. It only took a few hours, and now my tent is as good as new! For those who are curious, here are the instructions I followed. Apparently zipper failure is quite common in tents, so they might come in handy for you too some day.
5. Gain a better understanding of features you should look for in products
Without a background in fabrics or sewing, it's often difficult to tell the difference between a truly innovative piece of gear and something that's just marketing hype. Sewing forces you to be familiar with different types of fabrics and their properties as well as different construction techniques. This knowledge can be priceless when determining which features of a product are actually valuable to you and which ones are just hurting your wallet.
6. Sell your own gear or work for a small outdoor gear company that does
Ever wish you could design outdoor gear for a living? I certainly have. Well if you study some of the best small gear companies, you'll notice that nearly all the CEOs started out as hobby sewers who made gear for themselves because it was better than anything available on the market. Other people saw their gear, wanted it, and then after the production capabilities of the inventor's garage were surpassed, a company got started. Even if you aren't the entrepreneur type, according to this article there are still plenty of companies looking for skilled sewers. In fact, many are so desperate to hire that they have training programs in place to help their workers progress from novice to expert.
We want to acknowledge and thank the past, present, and future generations of all Native Nations and Indigenous Peoples whose ancestral lands we travel, explore, and play on. Always practice Leave No Trace ethics on your adventures and follow local regulations. Please explore responsibly!
Do you love the outdoors?
Yep, us too. That's why we send you the best local adventures, stories, and expert advice, right to your inbox.